U.S., China End Contentious Alaska Meeting With Little to Show
(Bloomberg) -- Top U.S. and Chinese officials ended their first face-to-face talks of the Biden administration, saying they voiced their disagreements candidly over hours of conversations in an Alaska hotel and signaling their failure to reach any agreement about the path ahead.
"We wanted to share with them the significant concerns we have about a number of actions China has taken," Secretary of State Antony Blinken said after the talks in Anchorage, Alaska, ended on Friday, citing China's crackdowns in Xinjiang, Taiwan and Hong Kong, as well as its cyber-attacks. "And we did that."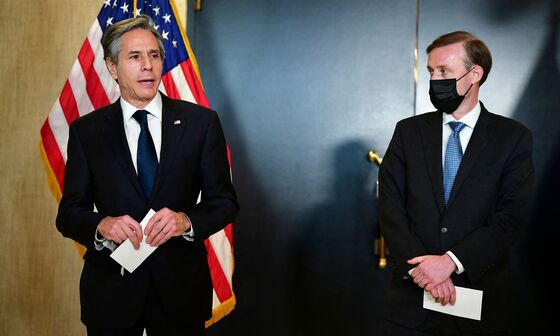 U.S. National Security Adviser Jake Sullivan said the delegation was ready to return to Washington "to take stock of where we are."
Blinken and Sullivan took no questions following their statements. Yang Jiechi, a member of the Communist Party's Politburo, told Chinese reporters after the U.S. officials spoke that the talks were "candid, constructive and helpful" but added that "there are still some important differences between the two sides."
"China is going to safeguard our national sovereignty, security, and our interests," Yang said. "We hope the two sides could enhance communication and exchanges.'
Neither side, however, said what they thought should come next.
While the U.S. had sought to tone down expectations for the gathering, there had been some hope of at least minimal progress. Before the meetings, officials had raised the possibility of a summit between President Xi Jinping and President Joe Biden linked to Earth Day next month, but neither side made such an announcement.
The failure to announce any accomplishment suggested they weren't able to reach the already low bar they had set ahead of the talks. Blinken said the negotiators discussed issues where their interests intersected, citing North Korea, Iran, Afghanistan and climate change.
The meeting's results also underscored that neither government feels great urgency to cooperate with the other. Lawmakers on both sides of the aisle in the U.S. have pressed President Joe Biden to maintain former President Donald Trump's tough tone on China, and his team has largely done so.
Heading into the Alaska meeting, Chinese officials were angered when the U.S. announced new sanctions on 24 Hong Kong and Chinese people over the erosion of democratic freedoms in the former colony, a move some analysts interpreted as suggesting the U.S. had no desire to start patching up the relationship.
The talks got off to the rocky start on Thursday when the two sides used normally perfunctory opening statements in front the cameras to trade recriminations and insults. Blinken said China's actions in Xinjiang and Hong Kong undermined the international order, while Yang blasted American hypocrisy and said the U.S. didn't speak for the world. He called the U.S. the "champion" of cyber-attacks.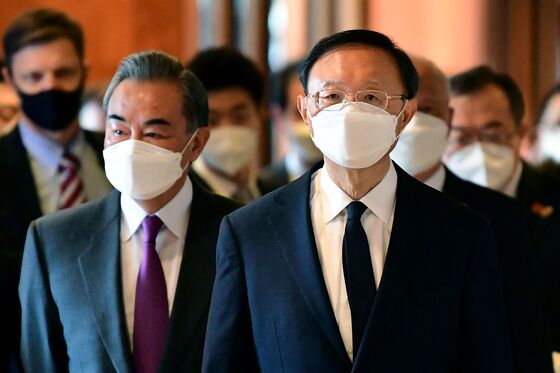 That prompted an extraordinary exchange in which Blinken and Sullivan responded with criticism of their own before reporters left the room, only to be ushered back in before Yang and Foreign Minister Wang Yi delivered their own sharp rebuttals.
Several current and former State Department diplomats, who asked not to be identified sharing their impression of the events, said they were horrified, saying that Blinken and Sullivan had lost control of the meetings from the start and gave the Chinese an easy opportunity to tee off on them.
"We expected to have tough and direct talks on a wide range of issues, and that's exactly what we had," Sullivan told reporters on Friday, in an oblique reference to the feisty exchange.