Johnson Appoints Truss to Key Brexit Role After Torrid Week
Boris Johnson promoted Foreign Secretary Liz Truss to take over post-Brexit negotiations with the European Union.
(Bloomberg) -- Boris Johnson promoted Foreign Secretary Liz Truss to take over post-Brexit negotiations with the European Union after a torrid week that left the U.K. prime minister under unprecedented pressure just as the coronavirus surges.
The appointment of the most popular cabinet minister among the Conservative grassroots was announced less than 24 hours after the shock resignation of David Frost. He was a one-time confidant of Johnson who fell out with the premier not only over Brexit but over the possibility of more clampdowns to stem the rise of the latest Covid-19 variant.
There's political peril for Johnson in the public health imperatives resulting from an alarming surge in the omicron variant of coronavirus. It risks straining the country's venerated National Health Service.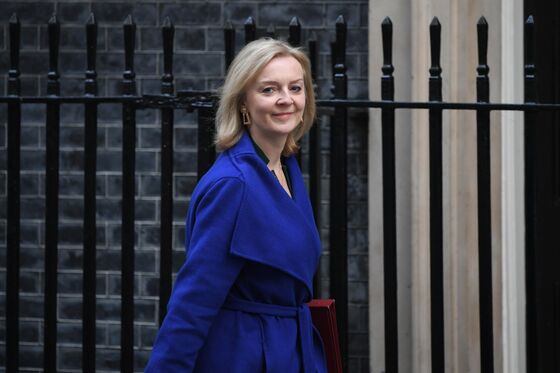 Yet Johnson appears powerless to intervene because his authority has dissipated in the past week. A record mutiny among his Tory party over further Covid-19 restrictions has tested what looked like unsurmountable majority in Parliament. That was followed by a humiliating defeat at the hands of voters in a special local election and it was capped by the loss of his Brexit right-hand man.
Any hope Johnson may have had for respite over the Christmas holidays and parliamentary recess has likely dissipated. His Tories have plunged behind Labour in national polls, and Johnson's personal ratings have dived. Two years after winning a landslide general election, his administration has been plunged into scandal, from members of parliament betraying a conflict of interest to his own people breaking Covid rules the government set.
The Guardian posted a photo of Johnson, with his wife and staff socializing outside in May when the country was in lockdown. It is the latest damaging revelation that showed how his inner circle held parties they shouldn't have -- though Downing Street has denied a party took place.
That brings into sharper focus the elevation of 46-year-old Truss, especially as Johnson's star has waned. After Johnson, she is arguably the most powerful person in government next to Chancellor of the Exchequer Rishi Sunak -- and both have been touted as potential successors to Johnson.
The Times reported that Truss and Sunak are among top 10 ministers resisting calls to toughen the Covid rules before Christmas. Business Secretary Kwasi Kwarteng, Transport Secretary Grant Shapps and Leader of the House of Commons Jacob Rees-Mogg also oppose the move, the paper said.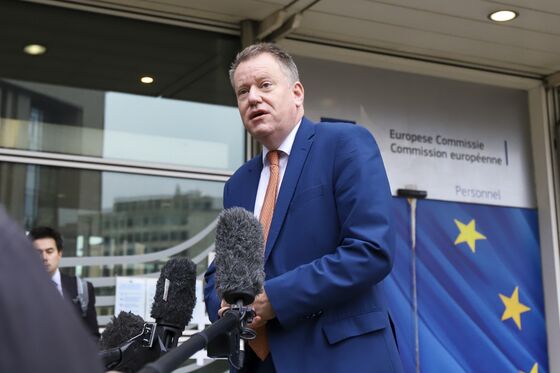 The Conservatives, one of the most successful parties in Europe, are ruthless at disposing of leaders they no longer see as winners. Many political observers are reading the tea leaves and looking for signs that a leadership challenge to Johnson could be brewing. The timing is tricky, in the middle of a pandemic with an actual general election that can be put off until 2024.
Johnson's quick move to fill the post with a cabinet big-hitter underlines the importance he places on the role as the U.K. tries to reshape trading terms it agreed just a year ago with the bloc. Truss campaigned for Remain in the 2016 referendum, but has since embraced Brexit with the zeal of a convert. 
She now has the power, and Johnson's ear, to shape the U.K.'s relationship with its closest neighbors after a fractious divorce from the EU. If Brussels was hoping for a soft touch, Truss would not be it. An ardent fan of Margaret Thatcher, both in her embrace of free markets and her disdain for the EU, she operates within a party that has purged many of its europhiles.
At the top of Truss's inbox in her new role will be to see through negotiations opened by Frost with the EU to unpick trading arrangements between Northern Ireland and mainland Great Britain. 
Under the so-called Northern Ireland Protocol, goods moving into the region from the rest of the U.K. are subject to customs checks if they may later be moved into the EU. Britain wants changes to the accord, which it says inhibits trade between different parts of the U.K.'s own single market.
Frost and the EU said Friday they wanted to resolve their differences early in 2022. Frost said he was prepared to reach an "interim" agreement resolving the most acute issues, and punting other areas of disagreement to future discussions. He cited barriers to trade, subsidy control and the role of European Court of Justice as the areas that need a quick resolution.
By entrusting Truss with the EU brief, Johnson is getting another hardliner in place but also building her up as a rival to Sunak, whose popularity soared in the early days of the pandemic as he turned on the Treasury spending taps. Truss was the first cabinet minister to endorse Johnson in the 2019 leadership campaign, and he rewarded her first by making her international trade secretary before promoting her to foreign secretary in September. 
She's credited by party members with reaching a succession of rollover trade deals during her tenure in her old post. Even after moving, she's said she sees trade as an extension of her new role in the Foreign Office and has overshadowed her successor, Anne-Marie Trevelyan, in the trade department. 
On Friday, the U.K. concluded a new trade deal with Australia -- its first that goes beyond rolling over a previous relationship with an EU trading partner. Much of the work was carried out when Truss held the trade brief.
Oxford-educated Truss comes from the libertarian wing of the party and has unashamedly invited comparisons with their icon, the "Iron Lady" who was prime minister in the 1980s. That includes posing recently riding a tank in eastern Europe -- much as Thatcher did on a visit to British forces in Germany in 1986. 
Truss's carefully-curated instagram feed rivals the social media operation run by Sunak's team, marking the two politicians out as the members of Johnson's cabinet with the keenest eye on their own image. 
While she still faces mockery for a 2014 speech in which she declared it a "disgrace" that the U.K. imports most of its cheese, she is rated the favorite cabinet minister in ConservativeHome website's monthly poll for the past year.
Her new EU powers give her even more scope to build her profile, at a time when Johnson has been severely weakened.
Last week, he faced the biggest Tory rebellion of his tenure -- over new Covid measures  -- and his party lost a Tory safe seat it had held for almost two centuries after his botched attempt to prevent the suspension of his friend, the holder of that seat Owen Paterson, over lobbying violations.
Johnson's latest dilemma is whether to bring in stricter U.K. coronavirus rules that may require Parliament to be recalled before Christmas.
His scientific advisers have urged him to implement tougher rules "very soon" if he wants to keep hospitalizations from Covid below a peak of 3,000 a day.