Boris Johnson Rules Out Tighter Covid Rules Before Christmas
Boris Johnson Rules Out Tighter Covid Rules Before Christmas
(Bloomberg) -- Boris Johnson ruled out stricter pandemic rules before Christmas, as he sought to draw a line under speculation Britons might have to tear up their festive plans for a second year.
But in a video address to the nation, the U.K. prime minister urged caution, saying "the situation remains finely-balanced" due to the omicron Covid-19 variant and that ministers may yet move to impose further curbs after Dec. 25.
The prime minister has been squeezed between his scientific advisers who warned last week that more stringent measures were needed "very soon" to avoid daily Covid hospitalizations rising into the thousands, and his mutinous MPs, who rebelled in record numbers last week against lighter-touch measures.
Driven by the fast-spreading omicron strain, Covid-19 cases have hit record levels, exceeding 90,000 confirmed infections on four of the past five days.
That's yet to translate into a sharp increase in hospitalizations, but last week, the government's Scientific Advisory Group for Emergencies warned they could reach a peak of at least 3,000 a day without fresh curbs, piling pressure on the National Health Service when it's typically under winter stress.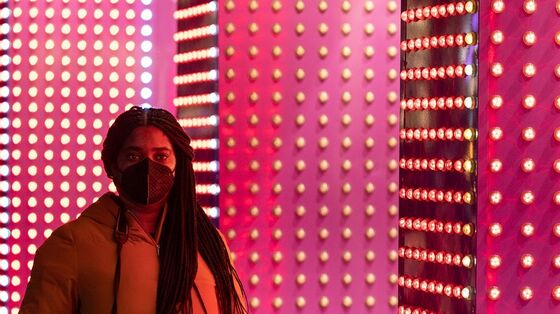 The risk for Johnson is that by waiting to act, the coronavirus wave could be prolonged and the health service put under greater strain. "The earlier interventions happen the greater the effect they will have," SAGE said.
"We don't think today that there is enough evidence to justify any tougher measures before Christmas," Johnson said. "If the situation deteriorates we will be ready to take action if needed."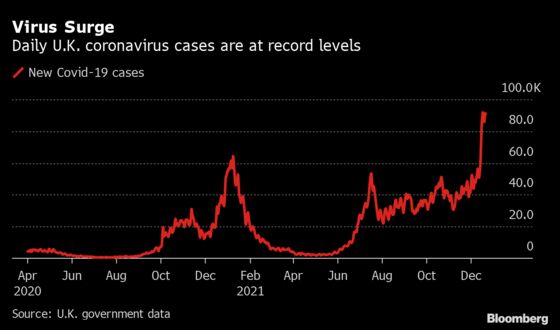 But Johnson faces intense political pressure not to tighten the rules. Some 101 Conservative members of Parliament voted against his plan last week to introduce Covid passes as a requirement of entry to venues and large events. It only passed because of the support of the opposition Labour Party. 
And on Monday, a cabinet meeting lasted for more than 2 hours as Johnson's top team debated when and whether to bring in new curbs, with ministers including Chancellor of the Exchequer Rishi Sunak wanting to see more data on omicron before supporting any new measures.
Johnson emerged afterward to tell broadcasters that he didn't plan new restrictions yet. But he left open the prospect they could be introduced before Dec. 25, leaving millions of people uncertain about their Christmas plans.
After a last-minute change of rules 12 months go triggered widespread chaos, Johnson has been determined to avoid a repeat this Christmas. 
Sunak on Tuesday unveiled 1 billion pounds ($1.3 billion) of fresh assistance to hospitality, leisure and cultural businesses, recognizing that even without a lockdown, they've suffered a big hit to their revenues caused by Britons limiting social interactions as omicron takes hold. The chancellor also hinted that if regulations are tightened, the Treasury is likely approve more support.
"I will always respond proportionately and appropriately to the situation that we face, people can have confidence in that," Sunak said.
The government's scientific advisers said bringing back some restrictions used earlier in the year -- including limits on household mixing and the closing of hospitality venues -- could "substantially reduce" the peak in cases. 
One option they suggested was going back to so-called Step 2 restrictions in Johnson's roadmap for emerging from the last lockdown. That included pubs and restaurants only being able to serve customers outdoors, a ban on indoor mixing between households and a maximum of six people or two households being allowed to interact outdoors.
Johnson has promised Parliament would get a chance to vote on new curbs if he did bring them in. Recalling MPs would need at least a day's warning, and it remains possible the prime minister will do that after Christmas.
"Naturally we can't rule out any further measures after Christmas," Johnson said. "We're going to keep a constant eye on the data, and we'll do whatever it takes to protect public health."