Turkish Drone Maker Baykar Makina Gets Government Support 
Turkish Drone Maker Baykar Makina Gets Government Support 
(Bloomberg) -- Baykar Makina, the private Turkish drone maker with family ties to President Recep Tayyip Erdogan, will receive government support to expand output.
The company plans to invest 600 million liras ($106 million) to increase its production of unmanned aerial vehicles, according to a presidential decree published Thursday in the nation's official gazette. The investment will double Bayraktar TB2 drone production to 92 units per year, while adding the capacity to manufacture 24 Akinci armed drones and 36 other combat drones, according to the decree.
Government support includes tax breaks but not purchase guarantees.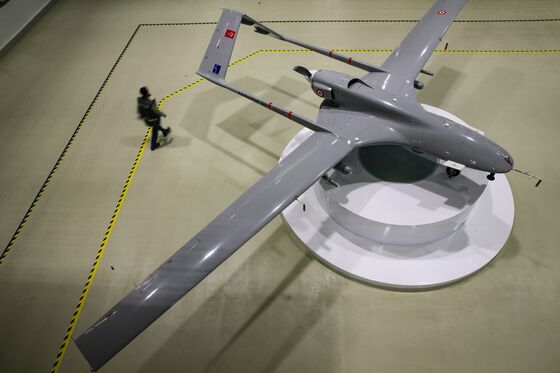 Baykar's chief technology officer is Erdogan's son-in-law Selcuk Bayraktar, who is described on the company's website as the "chief architect of Turkey's first indigenous, operational UAV systems." Erdogan's other son-in-law, Berat Albayrak, is the nation's treasury and finance minister.
Turkish-made drones have ended the military's dependence on UAVs leased from Israel and dramatically increased its capacity to track and attack autonomy-seeking Kurdish PKK militants within the country, as well as in Iraq and Syria.
Turkish drones are also being used in Libya, according to Tripoli government officials who spoke to Bloomberg on condition of anonymity. The drones rival Chinese and United Arab Emirates-operated drones supporting warlord Khalifa Haftar.
--With assistance from Samer Khalil Al-Atrush and Selcan Hacaoglu.
To contact the reporter on this story: Taylan Bilgic in Istanbul at tbilgic2@bloomberg.net
To contact the editors responsible for this story: Onur Ant at oant@bloomberg.net, Amy Teibel