Erdogan Meets UAE Royal as Nations Work to End Disputes
Turkey's Erdogan Holds Rare Meeting With Senior UAE Royal
(Bloomberg) -- A surprise meeting between Turkey's President Recep Tayyip Erdogan and a senior security official from the United Arab Emirates is the clearest sign yet that the regional foes are ready to turn the page. 
Sheikh Tahnoun bin Zayed Al Nahyan, the UAE's national security adviser, discussed with Erdogan "regional issues of mutual concern" and boosting investment, the UAE's state-run WAM news agency reported after the meeting in Ankara on Wednesday. Erdogan in a televised interview, hinted he may speak with Sheikh Tahnoun's brother, the UAE's de facto leader, Abu Dhabi Crown Prince Sheikh Mohammed Bin Zayed Al Nahyan.
The warming of ties has broad implications at a time of great uncertainty in the region. Regional states are assessing how to deal with Afghanistan, where the Taliban swept to power amid the U.S. withdrawal. And regional heavyweight Iran is weighing how to proceed with talks to revive its nuclear deal with world powers. 
"The UAE is signaling that it's being proactive about mending ties with adversaries," said Elham Fakhro, a senior Gulf analyst at Crisis Group. "The mood in the region has been one of de-escalation and that's mostly because countries are convinced the U.S. might not always be there to save its allies."
The rare high-level meeting built on growing signs of outreach over the past year. The overtures, including investments, have been largely tentative, however, due to longstanding tensions stemming from Turkey's support for the Muslim Brotherhood, an Islamist political organization viewed as a threat by the UAE's authoritarian rulers. Additionally, Turkey and the UAE have been on opposing sides of a proxy war in Libya and have disagreed on issues ranging from Syria to Iraq and the eastern Mediterranean. 
Sheikh Mohammed Bin Zayed is frequently bashed in Turkey's pro-government media, which accused him of aiding the 2016 failed coup against Erdogan and supporting Kurdish militants in Syria. In the UAE, Erdogan became a target after Turkey moved troops to Qatar to support the small Gulf nation amid a recently ended three-year boycott by the UAE and Saudi Arabia.  
"Ups and downs are possible between governments," Erdogan told TVNet late Wednesday. Anwar Gargash, diplomatic adviser to the UAE president, described the meeting as "historic" on Twitter. 
The dispatch of Sheikh Tahnoun involved more than a security component. His portfolio straddles the security and business world through his role as head of Abu Dhabi's newest sovereign wealth fund, ADQ, and technology firm G42. 
In the past two months, the UAE and Turkey have struck several business deals, after a years-long drought, though small compared to the multibillion-dollar agreements typical of Abu Dhabi's various wealth funds.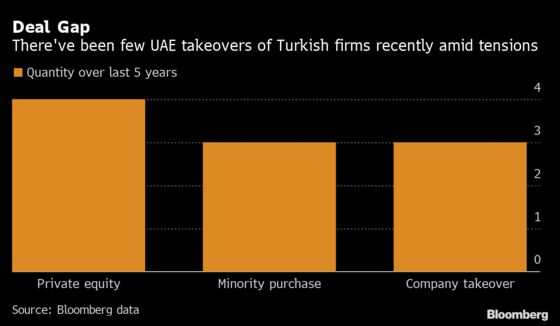 Abu Dhabi's Mubadala Investment Co. wealth fund invested in Turkish grocery delivery startup Getir, which raised $555 million in new funding in June. In August, UAE-based scooter company Fenix bought Turkish peer Palm for $5 million to expand into Turkey. Dubai-based cloud kitchen startup Kitopi raised $415 million from investors including Turkey's Dogus Group. 
The UAE is in the phase of "strengthening relations with everyone," Gargash said. "The divergence of attitudes towards some issues will not stand in the way of communication and enhancing opportunities for stability, prosperity and development."