Turkey Central Bank Undoes Tightening After Adding Lira Defenses
Turkey's central bank effectively rolled back a limited tightening of monetary policy it delivered this month, straining lira.
(Bloomberg) -- Turkey's central bank effectively rolled back a limited tightening of monetary policy it delivered this month, adding strain to the lira weeks before President Recep Tayyip Erdogan's party seeks to keep control of Istanbul in a controversial rerun of local elections.
The regulator said on Tuesday that it's starting to offer funds at its cheapest rate of 24% through the repo auction, 150 basis points lower than the overnight rate of 25.5% it's used for almost two weeks.
The move follows a slew of measures designed to defend the currency before next month's elections. Some of these steps have raised concern that the government is taking on a larger role in managing the market and inching closer to capital controls. Officials have repeatedly said Turkey would adhere to free-market policies.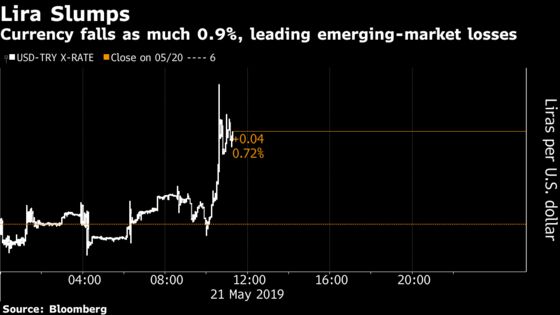 Turkey had no need for monetary loosening at this stage, according to Inan Demir, an economist at Nomura Plc in London. "The pace of domestic economic activity may argue for easier monetary conditions but clearly the FX market stress is too big to allow that," he said.
The Turkish currency traded weaker after the decision with a loss of 0.4% against the dollar. It was down as much as 0.9% earlier on Tuesday.
Here are some of the recent measures by Turkish authorities:
| | |
| --- | --- |
| May 21 | Lenders are told to wait one day before settling some large foreign-currency purchases. Some of the nation's primary dealers were also asked to support the government's borrowing drive last week, according to three people with direct knowledge of the matter |
| May 15 | A 0.1% tax is reintroduced on some foreign-currency transactions to prevent speculation in foreign exchange and bolster the state's income |
| May 9 | The central bank ceased to provide liquidity at its cheapest rate of 24% by suspending one-week repo auctions |
| May 6 | A new swap instrument is implemented by the central bank that will allow it to bolster its reserves by borrowing gold from commercial lenders |
"At the time when Turkey needs to restore confidence in the lira among households, corporates and foreign investors, contradicting measures have been announced," said Piotr Matys, a London-based analyst at Rabobank. "Such conflicting measures make Turkey increasingly unpredictable to foreign investors who will remain reluctant to deploy their capital despite an attractive valuation of Turkish assets."
--With assistance from Constantine Courcoulas.
To contact the reporter on this story: Cagan Koc in Istanbul at ckoc2@bloomberg.net
To contact the editors responsible for this story: Onur Ant at oant@bloomberg.net, Paul Abelsky, Lin Noueihed