Trump Teases Possible 2024 Run In Speech Recalling 2016 Themes
(Bloomberg) -- Former President Donald Trump stopped a hair short of declaring himself a candidate for 2024 on Sunday, but told a conference of conservative supporters he's already laying the groundwork for a third presidential campaign.
Bookending a 90-minute campaign-style speech with not-so-subtle hints of his future plans, Trump reassured the Conservative Political Action Conference that he had no plans to go away or to start a third party.
Trump's central argument is that he's the best candidate to win in 2024 because -- according to him -- he never lost the 2020 election. Trump spent about half of the speech reciting false claims of election fraud in 2020, quipping, "Who knows? I may even decide to beat them a third time."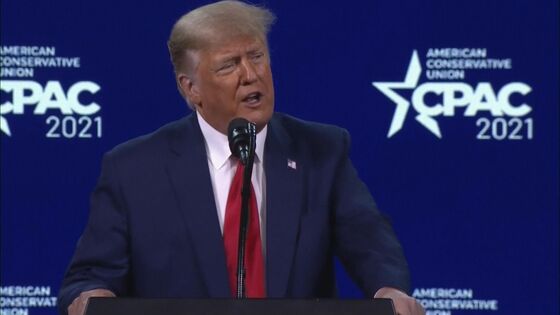 After extended criticism of the new Biden administration and a return to the issues that defined his years in the White House, such as illegal immigration and the U.S.-Mexico border wall, he closed the speech by declaring that a Republican would win in 2024, adding with a smirk, "I wonder who that could be?"
Trump's mere presence on the conference agenda had the effect of freezing the potential Republican 2024 field and demonstrating his continued command of the party, as he touted his Save America PAC and his website.
Earlier in the four-day conference, would-be candidates like former Secretary of State Mike Pompeo, South Dakota Governor Kristi Noem, and U.S. senators Ted Cruz and Josh Hawley seemed to be auditioning for a role that's already been filled, while at the same time professing their undying loyalty to Trump.
Trump unloaded on President Joe Biden, faulting him for closed schools and open borders and calling his signature economic stimulus proposal "a $1.9 trillion boondoggle."
Despite some efforts at the conference to downplay an intra-party civil war, Trump also attacked fellow Republicans. He name-checked each one of the seven GOP senators and 10 representatives who voted to hold him responsible for the Jan. 6 attack on the U.S. Capitol, ending with Wyoming Representative Liz Cheney, whose "poll numbers have dropped more quickly than any human being I've ever seen."
But other than a reference to the recent Texas power crisis, the impeachment and some specific Biden executive actions, Trump's first public appearance since he left office 39 days ago sounded more like a litany of election grievances and a rerun of his campaign stump speeches from 2020 and even 2016 -- or perhaps a preview of his 2024 pitch.
In a mix of scripted and unscripted remarks, Trump ruminated on his popularity in the Republican party, the unreliability of wind power, transgender women in sports, Central American gangs, "cancel culture" and other greatest hits from his campaign rallies, even repeating the 2015 line from his first event accusing Latin American countries of "sending rapists and murderers" as immigrants.
Notably, Trump didn't mention the riot that led to his second impeachment, a week after events at the Capitol, for inciting an insurrection.
The appearance followed a month in which Trump has kept an uncharacteristically low profile. He's been hampered in large part by social media bans in the wake of the Capitol riot that led to the second impeachment and subsequent acquittal in the Senate.
Since then, from his Mar-a-Lago club in Florida, in emailed statements and in a handful of interviews to friendly outlets, he's blasted Senate Minority Leader Mitch McConnell, eulogized talk show host Rush Limbaugh, and made unfounded allegations of election fraud -- all while avoiding questions about his future in the party.
Trump's concluding speech to the conference ratified the consensus of the attendees that this is not a conservative movement wallowing in its loss to Biden as much as it's a government-in-waiting, counting down the three years and 11 months for Trump to "Make America Great Again," again.
In a straw poll, 97% of attendees approved of his leadership of the party, 70% want him to run again, and 55% said he was their preferred candidate in 2024. (The other top contenders were Trump loyalists: Florida Governor Ron DeSantis, followed by Noem and Donald Trump Jr.)
"Hello CPAC, do you miss me yet?" Trump said after appearing on stage and hugging a flag -- his CPAC signature move.
The conference was moved to Orlando from its usual venue in the Washington area because of local pandemic rules against large gatherings. Speaking to a crowded and largely unmasked ballroom, Trump derided his former infectious disease adviser, Anthony Fauci, for his shifting advice on mask wearing.
His rousing reception at the most important conservative gathering on the calendar highlights just how much Trump has transformed the movement in just five years.
In 2016, Trump abruptly canceled his appearance at the event amid plans for a walkout from conservatives who questioned his commitment to the cause and demands that he answer questions from a moderator like the other candidates.
On Sunday, he was the undisputed headliner in a festival of Trump-flavored conservatism that bore his undeniable imprint.
The conference included at least seven panels credulously discussing Trump's claims of a stolen 2020 election, despite dozens of court rulings finding otherwise.
Major figures from the Trump cabinet -- at least, those still loyal to the former president -- were given speaking slots: Pompeo, former U.S. Trade Representative Robert Lighthizer, former acting Director of National Intelligence Ric Grenell and former budget director Russ Vought.
Prominent conservatives who've left Trump's orbit were nowhere to be found, including McConnell and his wife, former Trump Transportation Secretary Elaine Chao, and former U.N. Ambassador Nikki Haley. Even former Vice President Mike Pence declined an invitation.
And the conference offered a "surprise" appearance from NRA Executive Director Wayne LaPierre, who last week had said he wasn't attending.