Trump Imperils Claim in New York Case With Above-the-Law Stance
(Bloomberg) -- Lawyers for President Donald Trump may have overplayed their hand by arguing that neither he nor his businesses can be investigated by a Manhattan prosecutor.
On Monday a federal judge savaged the argument, saying it was "repugnant" to the U.S. Constitution. Now a federal appeals court will weigh in on a legal question never previously considered, and experts said Trump's expansive claim of broad presidential immunity probably will be rejected if he continues to assert that the president, his businesses and his associates are immune to even an investigation.
"I don't think there's a chance in the world that the theory the president is putting forth will be accepted," said Stephen Saltzburg, a former official in President Ronald Reagan's Justice Department who now teaches at the George Washington University law school in Washington.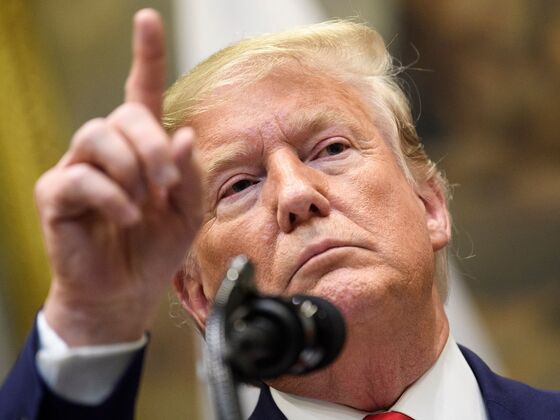 "It really might mean that everyone the president has ever dealt with cannot be investigated if he objects, regardless of how guilty they may be, regardless of what conduct you're investigating," he added. "That can't be right."
The ruling by U.S. District Judge Victor Marrero in Manhattan is yet another crack in the legal wall Trump has constructed around his personal financial records. Two judges have already ruled against Trump in federal cases over whether Congress can get his financial records, and the president is appealing those decisions. The stakes of the legal fight have only increased with the Democrats starting a formal impeachment inquiry.
In the latest case, Manhattan District Attorney Cyrus Vance Jr. is seeking from Trump's accountants, Mazars USA LLP, eight years of tax records and other financial documents that may shed light on whether the Trump Organization falsified business records related to hush payments to women who claimed they had sexual relationships with Trump. The president sued to block the subpoena, advancing a broad reading of immunity that Marrero described as "virtually limitless."
The case will be heard by a federal appeals court in New York as soon as Oct. 21 and could be taken up by the U.S. Supreme Court. In the meantime, Marrero's ruling is on hold as lawyers on both sides prepare legal briefs. Along with presidential immunity, the appeals court will consider whether Trump should be required to sue in state court instead of federal court.
"It's an accounting firm, not even the president that's been subpoenaed," said Washington lawyer Adam Lurie, who worked in the Justice Department under President Barack Obama and is skeptical of Trump's argument. "It doesn't seem like that would stop the president or really inhibit the president from exercising his constitutional duties."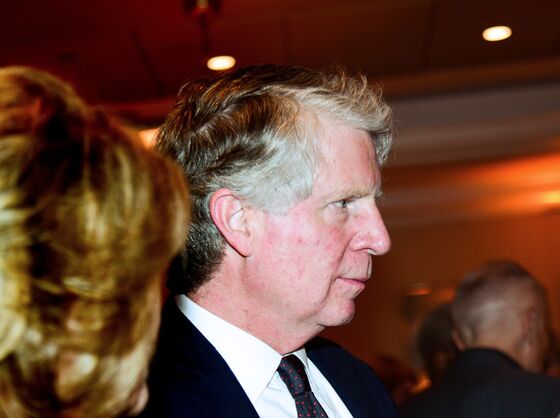 The Constitution doesn't explicitly say whether a president can be prosecuted or even investigated criminally. In their argument before Marrero, Trump's lawyers relied on portions of the U.S. Constitution and a pair of Justice Department opinions: one dating to 1973, the other issued in 2000 by then-Justice Department lawyer Randolph Moss, now a Washington federal court judge appointed by Obama. "We believe that the Constitution requires recognition of a presidential immunity from indictment and criminal prosecution while the president is in office," Moss concluded in 2000. The memos cited the impact that criminal prosecution would have on a sitting president.
The judge disagreed. While binding on Justice Department, he said the opinions don't have the force of law, at least in the way that Trump's lawyers desire.
"The court is not persuaded that it should accord the weight and legal force the president ascribes to the DoJ memos, or accept as controlling the far-reaching proposition for which they are cited in the context of the controversy at hand," Marrero wrote. They "do not constitute authoritative judicial interpretation" of the legal issues in Trump's case against Vance, he said.
Marrero used 21 pages of his 75-page opinion to criticize the memos, which former Special Counsel Robert Mueller cited as preventing him from considering obstruction-of-justice charges against Trump in his probe of Russian meddling in the 2016 election. He said they don't address state (as opposed to federal) investigations and are unclear on what stages of the criminal process from which the president is immune.
He found that the Trump team is wrong to argue that presidential immunity extends to an investigation that, Vance claims, involves third parties, such as Trump's companies and employees, for possible crimes committed before Trump assumed the presidency.
The memos "cannot serve as compelling authority for the president's claim of absolute immunity, at least insofar as the argument would extend to pre-indictment investigations and grand jury proceedings," Marrero said, adding that they have attained an unwarranted popular acceptance -- "as if their conclusion were inscribed on Constitutional tablets so etched by the Supreme Court."
The judge suggested that less sweeping immunity may be available to a president, calling for a "case-by-case approach in which a determination" of whether protection is warranted "is made by the courts." He cited a number of factors that might control, including whether the president or others are under investigation, and whether the suspected crime occurred before or after an election.
To contact the reporters on this story: Andrew Harris in Washington at aharris16@bloomberg.net;Bob Van Voris in federal court in Manhattan at rvanvoris@bloomberg.net
To contact the editors responsible for this story: David Glovin at dglovin@bloomberg.net, Peter Blumberg