Trump's Impeachment Trial to Start With Constitutional Debate
(Bloomberg) -- The unprecedented second impeachment trial of former President Donald Trump will begin Tuesday with a debate on whether the proceeding is constitutional, under rules being negotiated between Senate Majority Leader Chuck Schumer and GOP leader Mitch McConnell, according to a person familiar with the matter.
The constitutional question will be settled by a simple majority vote in the Senate after four hours of debate, according to the person. At noon on Wednesday the House impeachment managers and Trump's defense team each will begin up to 16 hours of presentations.
Schumer and McConnell are close to an agreement on the rules for the trial, less than 24 hours before it's set to start. There may be a separate vote on whether to call witnesses, the person said.
Many Senate Republicans have already been making the argument that trying the former president after he's left office is unconstitutional, a sign that Trump is all but assured of escaping conviction, as he did in first impeachment trial a year ago.
Last week, 144 lawyers and constitutional scholars from across the political spectrum argued in a letter reported by the New York Times that Trump's speech and conduct on Jan. 6 were not protected by the First Amendment, terming the suggestion "legally frivolous."
Still, 45 of 50 Senate Republicans voted to debate a resolution declaring the trial unconstitutional because Trump is no longer in office, a rough proxy for the vote on a verdict. It would take 17 Republicans along with all 50 senators on the Democratic side to convict Trump.
Trump's defense team, led by attorneys David Schoen and Bruce L. Castor Jr., filed its trial brief on Monday. They previewed their case in an initial response to the Jan. 13 House impeachment, contending that the trial is unconstitutional because Trump is no longer in office. They also plan to argue that impeaching Trump over his fiery Jan. 6 speech to a crowd of supporters near the White House violates his rights of free speech under the First Amendment.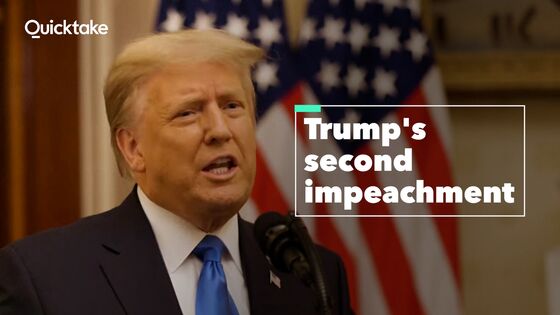 The nine House managers serving as prosecutors said in their 80-page brief last week that it's "unmistakable" Trump is responsible for the insurrection, and that he must be convicted and barred from holding federal office again. They will emphasize his words at the rally held before a mob descended on the Capitol, as well as his actions leading up to the attack, including his months-long attempt to overturn the election results.
Senator Rand Paul of Kentucky, who led the effort to have the article of impeachment dismissed on constitutional grounds, said Sunday there is "zero chance of conviction" in the Senate trial.
"It is unconstitutional, but more than anything it's unwise and going to divide the country," Paul said on "Fox News Sunday."
Pennsylvania Senator Pat Toomey, one of the five Republicans who voted against Paul's measure, said it's "very unlikely" there will be enough votes to convict Trump. "My job is going to be to listen to both sides of this, evaluate the arguments and make a decision," he said on CNN's "State of the Union" on Sunday.