Trump on Defense in Crucial States After Debate With Time Running Out
(Bloomberg) -- President Donald Trump is running out of time to reverse his campaign's downward trajectory after a widely criticized debate performance that left him little room to pick away at Democrat Joe Biden's lead with just 33 days to go until the election.
Biden has maintained a persistent lead both in national polling and in key states while Trump is defending parts of the map he should be able to take for granted, including reliably Republican Iowa and Georgia. In fact, nearly every state that pollsters view as competitive is a state the president won in 2016, meaning Biden is able to take the fight to Trump country.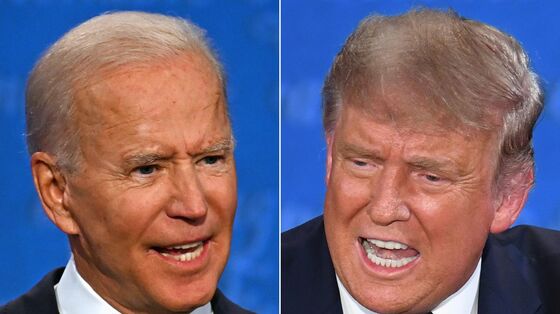 "I think you're seeing states that you thought a year ago would be slam dunks are now iffy or are near certain losses and that tells you how much the president is on his heels," said Tim Malloy, an analyst for the Quinnipiac University Poll. "Is there an October surprise? There better be, because this is headed off the cliff for him."
Trump's standing with voters has been battered by the coronavirus pandemic, the economic collapse that followed and racial unrest across the country, and his attempts to right his campaign have been met with criticism. And when he seems to make headway on one of those crises, he's hit with a new report over his alleged remarks about U.S. war dead, or revelations that he might not have paid all the taxes he owes, as the New York Times reported.
"The tidal wave of controversies have in a way boxed the president in as far as growth in the Midwest, in a place where he's made a lot of promises," Malloy said.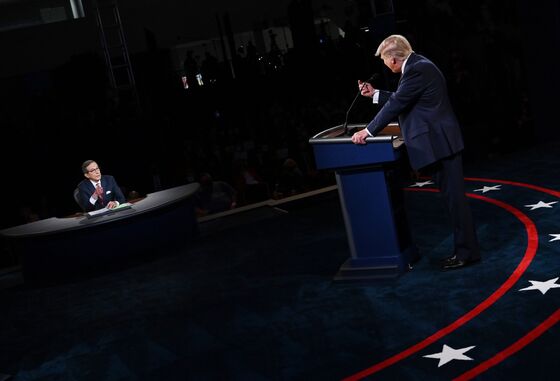 State-by-state polling averages in the three most competitive states in the Midwest that Trump won in 2016 -- Pennsylvania, Michigan and Wisconsin -- show Biden up by more than 5 points. Biden is also up by nearly 7 points nationally.
At the same time, Biden and Trump are neck and neck in states like North Carolina, Arizona and Florida. And this week news came that the president is tied with Biden in Iowa, Georgia and Ohio. Trump won all six of those states in 2016.
"Any major presidential debate is a chance to change things," Whit Ayres, a GOP pollster, said Wednesday. "You try to persuade some people who are not already for you to be for you and the debate last night didn't do that."
It will be hard for Trump to win re-election without appealing to at least some college-educated, suburban, female voters. But the president's combative attitude, his refusal to denounce a White supremacist group and his suggestion he wouldn't ensure a peaceful transition marred any effort to do so. Even one of his debate coaches, former New Jersey Governor Chris Christie, said Trump's performance was "too hot."
Trump campaign spokesman Hogan Gidley and White House spokeswoman Alyssa Farah both said Wednesday morning that Trump's response -- "sure" -- to the challenge to denounce White supremacists amounted to a condemnation.
"How many times, how many ways does he have to say it?" Gidley said.
Ayres said it's hard for an incumbent to preach change when that's what voters want.
"Only about one in five voters think the country is headed the right direction and that creates a powerful argument for change," he said. "The change message worked for Donald Trump in 2016. The change message works for Joe Biden today. And nothing has happened in recent months to alter that fundamental dynamic."
The Trump campaign continues to express confidence, even after Tuesday night's widely criticized performance. Trump told reporters Wednesday that "we won the debate by almost every poll that I saw" and Trump tweeted that the contest got the "highest cable television ratings of all time."
The electoral dynamic is worse for Trump now than in 2016. he was up by 2 points in Ohio four years ago today. Now he's down by 3.3 points. In Georgia he's gone from 5 points up to 1.2 points down, and in Iowa his 5-point lead has become a tie.
Iowa, a state that Trump won by 9 points in 2016, shows the two candidates virtually locked in a tight race. Trump was up 6 points in Iowa five months ago. Now he has completely pulled out of advertising in the state, going dark in advertising spending this week. Meanwhile, Biden has found an edge with voters over 65 and has begun placing advertisements in the television market.
"The fact that Trump has been dark here for four weeks is kind of stunning, because this has to be a firewall state for him," said Iowa-based Democratic strategist Jeff Link. "What's really driving things is these voters over 65 who are paying closer attention to Covid. They're more cautious and I think they are more likely to think that we're opening things up too quickly."
Trump also has stopped spending money on advertisements in Ohio, saving $2.7 million last week, even as Biden leads in the state by 3 points. Trump's communications director Tim Murtaugh said the lack of ads is a "sign of strength" and Trump's visits to Dayton and Toledo last week suggest the state is still in play.
"If Trump loses Ohio, I don't see how he's winning Minnesota, Wisconsin, Michigan and Pennsylvania," said Kyle Kondik of the University of Virginia Center for Politics. "Ohio is pretty consistently to the right of those states in recent times."