Trump Ally Pushes to Banish Cheney From House GOP Conference
(Bloomberg) -- A leading House conservative and close ally to Donald Trump wants Republicans to oust Liz Cheney from the party amid her public opposition to the former president and her ongoing role in the probe into the Capitol insurrection. 
Pennsylvania Representative Scott Perry, chairman of the Freedom Caucus, on Wednesday privately argued to colleagues that Cheney essentially left the GOP when she agreed to join the committee investigating the Jan. 6 riot and condemned Trump and other Republicans, two GOP lawmakers who were in the meeting said. 
"The point is we're going to have a meeting with the leader to talk about it. Hopefully this week," Perry said after the closed-door meeting, referring to his request to discuss a resolution to banish Cheney with Minority Leader Kevin McCarthy.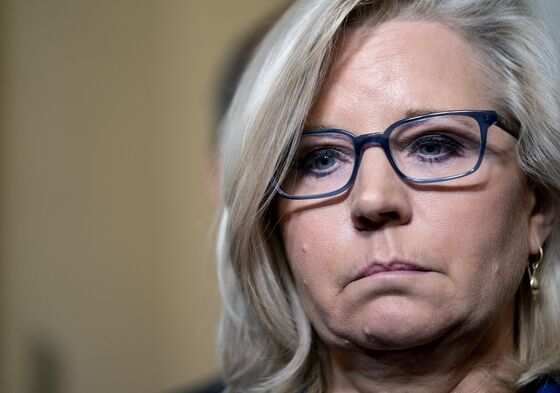 Cheney already has been stripped of her position as the No. 3 House Republican leader, but she has remained in the party. The Wyoming state party in November narrowly passed a resolution to no longer recognize her as a member of the GOP.
Perry, who declined a request to be interviewed by the Jan. 6 panel, argued to his colleagues that Cheney and Illinois Republican Adam Kinzinger -- the only other GOP member on the committee -- allow Democrats to claim the committee is bipartisan, lending credence to its work, according to the two lawmakers, who asked for anonymity to talk about the private discussions.  
It's not clear whether Perry would also attempt to banish Kinzinger, but the two Republican lawmakers in the meeting said they did not believe Kinzinger would be targeted for ouster from the conference.
Unlike Cheney, Kinzinger has announced he will not run for reelection in November. 
"They've made their decisions. They've effectively left the party," Perry said after the meeting. "We want to acknowledge in some way they have made the choice to leave the Republican party, condemn the Republican party."
Cheney spokesman Jonathan Adler said he didn't know anything about Perry's efforts. A McCarthy spokesman did not immediately respond. 
Perry was the first House lawmaker known to have been asked to testify before the  Jan. 6 panel. The committee has since requested interviews with McCarthy and Representative Jim Jordan of Ohio, who have also signaled they will refuse.
The committee had said it wanted to ask about Perry's involvement in or knowledge of Trump's efforts to install then-acting Assistant Attorney General Jeffrey Clark as head of the Justice Department to lead that agency in challenging the 2020 presidential election results.