Trump Administration to Appeal Ruling Halting Asylum Blockade
(Bloomberg) -- The Trump administration asked a federal judge to halt enforcement of his order blocking the government from sealing most of the southern border to asylum seekers, while the Justice Department appeals the decision.
The government says President Donald Trump should be permitted to enforce U.S. border and immigration policy without judicial interference. The president has already vowed to take the legal challenge to his directive, filed by the American Civil Liberties Union, to the Supreme Court.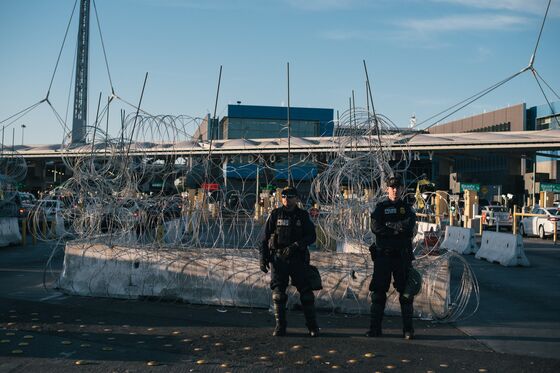 President Trump issued a proclamation effective Nov. 10 that required migrants to seek refuge at official ports of entry along the border, instead of entering anywhere then applying for asylum within a year.
The government has deployed more than 5,000 troops to the U.S.-Mexico border, including the San Ysidro Port of Entry where tensions escalated on Nov. 25 when asylum seekers protesting closure were met with tear gas.
Trump threatened to close the border with Mexico "for a long time" if authorities can't quell attempts by large groups of migrants to cross the border.
The policy is seen by critics as a broader effort by the administration to put an end to asylum and migration along the southern border.
U.S. District Judge Jon Tigar earlier Tuesday ordered both sides to appear in his San Francisco courtroom on Dec. 19 to consider a more indefinite order blocking Trump's policy
Trump has slammed the U.S. Ninth Circuit Court of Appeals on multiple occasions for ruling against his immigration policies
To contact the reporter on this story: Kartikay Mehrotra in San Francisco at kmehrotra2@bloomberg.net
To contact the editors responsible for this story: Elizabeth Wollman at ewollman@bloomberg.net, Peter Blumberg