Trudeau Nominates First Nonwhite Judge to Canada's Top Court
Trudeau Nominates First Non-White Judge to Canada's Top Court
(Bloomberg) -- Prime Minister Justin Trudeau has nominated the first-ever nonwhite judge to the Supreme Court of Canada.
Mahmud Jamal is set to fill a vacancy on the nation's highest bench after a hearing before the House of Commons justice committee. He has been a judge on the Ontario Court of Appeal since 2019 and has taught constitutional law at McGill University in Montreal and York University's Osgoode Hall in Toronto.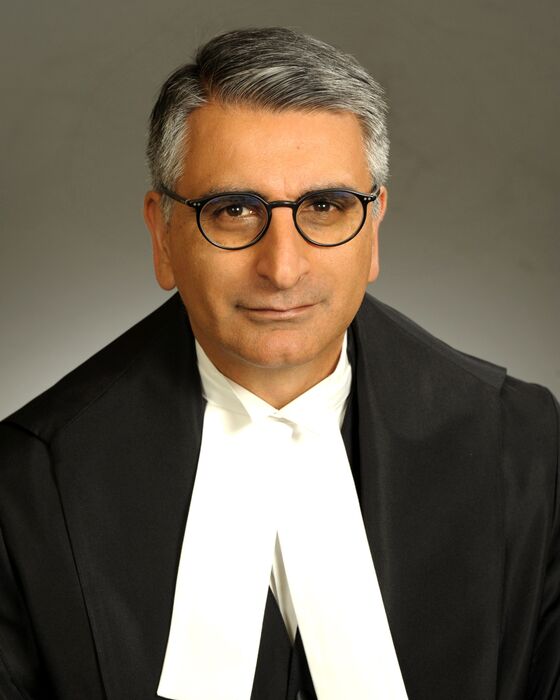 Born in Kenya to Ismaili Muslim parents, the 54-year-old grew up in England and Canada. He later converted to the Baha'i faith upon marrying his Iranian-born wife, according to a questionnaire made public Thursday as part of his nomination. He studied economics at the University of Toronto before graduating with law degrees from McGill and Yale University.
The move, which comes as Trudeau weighs whether to trigger an election this summer in a bid to win back his parliamentary majority, helps the prime minister fulfill a pledge to diversify Canada's public institutions. But while court watchers hailed Jamal's nomination as history making, they noted it fails to advance the government's Indigenous reconciliation agenda.
"Canada will finally have a nonwhite justice on the Supreme Court. It is an understatement to say it has been a long time coming," Emmett Macfarlane, a political scientist at the University of Waterloo who studies the Supreme Court, said by email.
"The prime minister's requirement that he will only appoint people fluent in both English and French has hampered his ability to appoint an Indigenous justice to the court," Macfarlane added. "There needs to be some thinking about how we treat 'official languages' in this country with respect to Indigenous representation."
Jamal will assume the seat left vacant by the retirement of Justice Rosalie Abella. He is the fourth judge Trudeau has nominated to the top court since taking office in 2015.
"Respected around the world, Canada's Supreme Court is known for its strength, independence, and judicial excellence," Trudeau said in a statement. "I know that Justice Jamal, with his exceptional legal and academic experience and dedication to serving others, will be a valuable asset to our country's highest court