Top Hong Kong Adviser 'Pretty Sure' Anti-Sanctions Law Is Coming
Top Hong Kong Adviser 'Pretty Sure' Anti-Sanctions Law Is Coming
(Bloomberg) -- A top adviser to Hong Kong's leader says the Asian financial hub will still enact a local version of a Chinese anti-sanctions law that has spooked businesses after the legislation was temporarily shelved.
Bernard Chan, a financier and convener of Hong Kong leader Carrie Lam's advisory Executive Council, said in a Bloomberg Television interview on Friday that it's likely the law will be passed after the government works out some final details.
"I'm pretty sure that the law is going to be enacted, it's going to happen," Chan said. "I think the law is still going to be passed, it's just that it's going to take more time. They want to make sure that we've taken every consideration before we actually enact the law."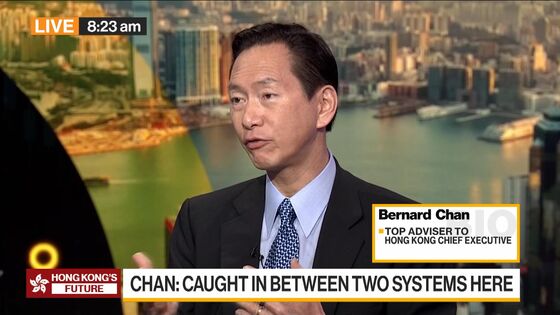 An anti-sanctions law would add to the frustrations of global businesses in Hong Kong that have struggled with some of the world's strictest Covid-19 travel restrictions, which prevent them from freely traveling in China or connecting with colleagues and family overseas. It would also increase political risk for an international financial center that has been buffeted by a China-imposed national security law and drastic changes to its electoral system ordered by Beijing.
Local anti-sanctions legislation would be based on a law passed on the mainland in June, which gave the Chinese government broad powers to seize assets from entities that implement U.S. sanctions, potentially putting companies in Hong Kong in the cross-hairs of a conflict between the world's two largest economies.
China's top legislative body had postponed a key vote on a proposal to impose an anti-sanctions law on Hong Kong in August as China's tumbled following a wave of government crackdowns on sectors ranging from technology to education. Earlier this week, local news outlet HK01 cited an unidentified person as saying that Beijing had decided not to impose the law on Hong Kong in the near term.
Hong Kong's government is liaising both with mainland officials as well as people in the city's financial services sector to figure out how to implement local anti-sanctions legislation, Chan said on Friday. 
"The Hong Kong government is also talking to the financial sector to understand how best we can also try to make sure it won't have a direct impact on multinational financial companies," he said.
In his comments, Chan also addressed the city's strict Covid-19 travel policies, which require even fully vaccinated residents to spend as long as 21 days in mandatory hotel quarantine if they return from the U.S., U.K. or other countries deemed higher risk by the Hong Kong government. 
However, Chan said that the government's top priority was trying to fully reopen the border with China by convincing mainland authorities that Hong Kong wouldn't serve as a source of "leakage" of virus cases into the mainland. He also said that while the city -- which has seen no local coronavirus infections in almost two months -- is still a global financial center, foreign executives with family overseas are a small part of the city's overall population.
"They would want Hong Kong to relax these quarantines, however, that is still actually the minority of Hong Kong," he said. "The great majority of Hong Kong people, they actually enjoy the Covid-free environment today. Recently, we've had no cases for a long, long time now. And public health is a concern. So they're worried that if we relax those quarantine measures, there will perhaps be a local outbreak."