Harris, Ocasio-Cortez Bolster Green New Deal: Campaign Update
Booker has met the Democratic National Committee's tougher requirements for the next round of presidential debates.
(Bloomberg) -- Senator Kamala Harris of California teamed up with Representative Alexandria Ocasio-Cortez on legislation to bolster the Green New Deal and ensure marginalized communities don't bear the brunt of climate change.
Climate change is a top issue for Democratic voters in polls. Harris, who is running for president, and Ocasio-Cortez recently co-sponsored Senator Elizabeth Warren's bill requiring publicly owned companies to disclose their exposure to climate-related risks. Harris is a co-sponsor of Ocasio-Cortez's Green New Deal, a plan to address climate change while creating "clean" jobs.
"Climate change is an existential threat -- it's critical we act now to achieve a cleaner, safer, and healthier future. But it is not enough to simply cut emissions and end our reliance on fossil fuels," Harris said in a statement.
The Climate Equity Act focuses on marginalized communities and aims to "establish accountability for justice and equity impacts of federal climate and environmental actions."
Biden Rises, Harris Drops in Pre-Debate Poll
Joe Biden regained the support he lost to Senator Kamala Harris of California and maintains his wide lead among African American voters, according to a Quinnipiac University poll released a day before the second Democratic debate.
The former vice president leads with 34%, up 12 points from Quinnipiac's July 2 poll. Harris conversely dropped to 12%, down eight points from the earlier poll, taken soon after the first Democratic debate in June.
Harris saw a large jump after she pressed Biden at that debate over his history of opposing federally mandated school desegregation busing. Harris and Biden will face off again on Wednesday night in Detroit.
Senators Elizabeth Warren of Massachusetts and Bernie Sanders of Vermont saw little change. Warren is at 15%, up from 14%, and Sanders is at 11%, down from 13% earlier this month.
Fifty-three percent of black Democrats back Biden. No other candidate has more than single-digit support from African Americans: Sanders has 8%, Harris 7% and Warren has 4%. -- Emma Kinery
Sanders, Warren 'Great Friends,' Aide Says
Viewers may be looking for divisions at Tuesday's debate in Detroit between Senators Elizabeth Warren and Bernie Sanders, but the two remain "great friends," Sanders's spokeswoman Briahna Joy Gray says.
"A lot of people have been trying to draw a contrast, but they are great friends," Gray said on Bloomberg Television.
Gray criticized Senator Kamala Harris's new health care plan, which she says won't save as much money as Sanders's plan and puts too much emphasis on preserving the private insurance industry.
Harris had co-sponsored Sanders's Medicare for All legislation that would collapse all insurance into one government plan. -- Giovanna Bellotti Azevedo
Cory Booker Qualifies for Fall Debate Lineup
Cory Booker's presidential campaign says the senator has met the Democratic National Committee's tougher requirements for the next round of presidential debates in the fall.
The Booker campaign has raised funds from 130,000 individual donors and has met the bar in polling support, campaign manager Addisu Demissie said.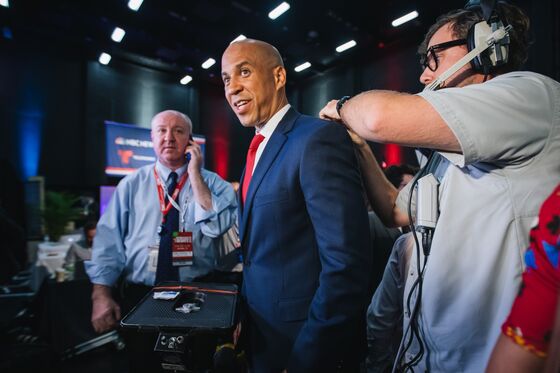 "We're building this campaign the right way, brick by brick from the grassroots up, and we're seeing the results of that strategy as we continue to build momentum," Demissie said in a statement Monday. He added that about 25% of the donations came in after the first round of debates last month.
In a drive to begin thinning out a crowded field of nearly two dozen contenders, the Democratic National Committee established a higher bar for the fall debates. For the September and October face-offs, candidates must get donations from 130,000 unique donors in at least 20 states, with at least 400 donors from each jurisdiction. They also must have at least 2% support in four party-approved polls conducted between late June and late August.
The only other candidates to qualify so far include former Joe Biden, Pete Buttigieg, Bernie Sanders, Elizabeth Warren, Kamala Harris and Beto O'Rourke.
The second round of debates are Tuesday and Wednesday of this week. -- Laura Litvan and Emma Kinery
Tom Steyer Says Impeachment Is Good Politics
As House Democrats examine whether to recommend articles of impeachment for Donald Trump, presidential contender Tom Steyer argued that it would be good politics for his party.
Steyer, 62, was an early proponent of impeachment, though he has usually justified the action on what he says are moral grounds. Speaking on NBC's "Meet The Press" on Sunday, he said advancing a case would mobilize young and disaffected voters who believe neither party is listening to them.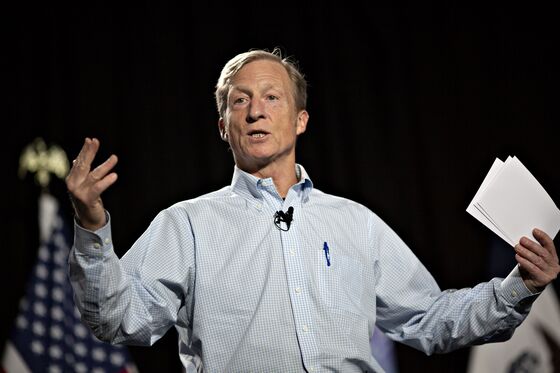 "It will always be good politics to tell the truth, protect the Constitution and protect the American people," the billionaire hedge fund manager said. Action would speak to the "tens of millions of Americans who don't vote, because they don't believe in the system," he said.
Surveys show that majorities of Democratic voters favor impeachment but most Americans don't want Congress to remove the president from office. House Democratic leaders have approached the issue cautiously for fear of being perceived as overreaching in their opposition to Trump. -- Sahil Kapur
Twenty candidates will be in Detroit for the second round of Democratic debates on Tuesday and Wednesday.
Steve Bullock, Montana governor
Pete Buttigieg, South Bend, Indiana, mayor
John Delaney, former U.S. congressman from Maryland
John Hickenlooper, former Colorado governor
Amy Klobuchar, U.S. senator from Minnesota
Beto O'Rourke, former U.S. congressman from Texas
Tim Ryan, U.S. congressman from Ohio
Bernie Sanders, U.S. senator from Vermont
Elizabeth Warren, U.S. senator from Massachusetts
Marianne Williamson, author
Here are the candidates who will appear on night two:
Joe Biden, former vice president
Kamala Harris, U.S. senator from California
Andrew Yang, entrepreneur
Julian Castro, former secretary of Housing and Urban Development
Cory Booker, U.S. senator from New Jersey
Tulsi Gabbard, U.S. congresswoman from Hawaii
Michael Bennet, U.S. senator from Colorado
Bill de Blasio, New York City mayor
Jay Inslee, Washington governor
Kirsten Gillibrand, U.S. senator from New York
--With assistance from Sahil Kapur, Laura Litvan, Emma Kinery and Giovanna Bellotti Azevedo.
To contact the reporter on this story: Emma Kinery in Washington at ekinery@bloomberg.net
To contact the editors responsible for this story: Wendy Benjaminson at wbenjaminson@bloomberg.net, Joe Sobczyk, Max Berley