Maldives Boots Out Pro-China President in Election Surprise
The U.S. and India have urged Maldives government of President Abdulla Yameen to recognize the election win.
(Bloomberg) -- A tiny island nation caught between India and China has elected an opposition candidate as its next president, a surprise result after years of authoritarian rule.
In the Maldives, a tropical tourist destination southwest of India with around 400,000 people, opposition candidate Ibrahim Mohamed Solih declared victory in Sunday's election after years of government suppression and the jailing of political opponents. Now the U.S. and India have congratulated Solih on his triumph -- and urged the Maldives government of President Abdulla Yameen to recognize the election win.
Yameen conceded defeat, according to a post from his spokesman on Twitter later on Monday, ending speculation about whether he would attempt to hold onto power.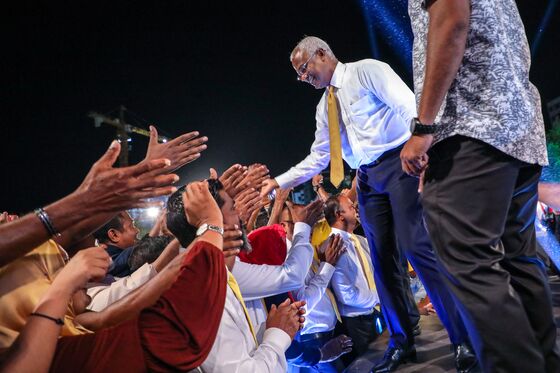 Independent news website Mihaaru.com showed Solih with 58.4 percent of the vote compared to Yameen's 41.6 percent. Voter turnout was nearly 90 percent, the website said.
This victory in the Maldives, which has a gross domestic product of just $4.6 billion, could have geopolitical significance. Like Sri Lanka, where a state-owned Chinese firm now owns and operates a sensitive port, the Maldives is strategically located in the Indian Ocean and has served as a battleground for India and China as both seek influence in South Asia.
Solih's Maldivian Democratic Party has taken an anti-China stance. Exiled former Maldives president and party founder Mohamed Nasheed previously told Reuters China has pulled his country into a "debt trap" and that a future opposition-led government would renegotiate Chinese loans. Nasheed said China had provided more than $2.5 billion in loans to the island nation.
In recent years, Yameen -- who declared a state of emergency earlier this year and has jailed both political opponents and judges -- has courted investment from China, as well as Saudi Arabia, since coming to power in 2013. Yet New Delhi, concerned about China's growing economic presence in South Asia, has been unusually vocal as the situation in the Maldives deteriorated. Ahead of the election, one outspoken member of India's ruling party, Subramanian Swamy, even suggested India invade the Maldives if the election was rigged. India's foreign ministry later distanced itself from those comments.
"We heartily congratulate Ibrahim Mohamed Solih on his victory and hope that the Election Commission will officially confirm the result at the earliest," India's foreign ministry said in a statement on Monday morning. "This election marks not only the triumph of democratic forces in the Maldives, but also reflects the firm commitment to the values of democracy and the rule of law."
The U.S., which condemned the state of emergency and criticized Yameen for "democratic backsliding" and jailing opponents, also praised the election and urged the government to respect the vote.
In the longer term, said Constantino Xavier, a foreign policy fellow at the Brookings Institution think-tank's India office, the "China balancing game will continue in the Maldives and other countries in the region."
To contact the reporter on this story: Iain Marlow in New Delhi at imarlow1@bloomberg.net
To contact the editors responsible for this story: Ruth Pollard at rpollard2@bloomberg.net, Jason Koutsoukis