The Moment Soeder Damaged Laschet Claim to Be German Chancellor
(Bloomberg) -- Armin Laschet still thought he had a shot at being German chancellor when Markus Soeder, his fellow conservative and arch rival, sunk the boot in. At a news conference, he said that when you come in second place, you don't get to run a government.
In one sentence, at 1:22 p.m., Laschet's chances of trying to cobble together a coalition died. The head of the CSU, the Christian Democratic Union's sister party, also took one more dig at Laschet: "There were no bonuses via personalities, of course."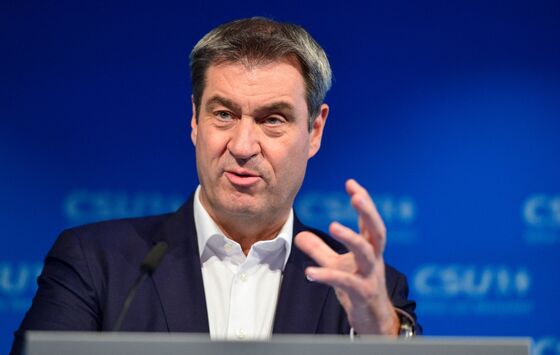 The leader of the Christian Democrats had until then insisted that the results were so close that it was entirely legitimate for him to try. But an hour later, in his own encounter with journalists, he was forced into a humiliating retreat. One reporter even asked Laschet how he was holding up as he struggled to answer questions about why he wasn't just admitting defeat.
It was a dramatic turnaround in just 24 hours. On Sunday evening, after the closing of the ballots in an extremely tight election, the CDU leader came out first to say he stood ready to talk with the Greens and the Liberals in spite of the fact that his party had its worst showing ever.
On Monday, Laschet began to walk back his position as top CDU figures began to round up against him. 
"The CDU lost this election," Michael Kretschmer, the CDU state premier of Saxony, said on Monday. "Mistakes have been made in substance, in government and also in personnel choices. If we carry on like this, then I'm extremely concerned about what will be left in four years' time." Kretschmer is state leader from his party in eastern Germany, where the CDU performed particularly badly.
After a meeting of the CDU leadership in Berlin, Laschet admitted "personal responsibility" for the party's abysmal results. 
Reporters quizzed him about why he was changing his mind. The embattled CDU leader began to argue with them about why that wasn't the case. He had never claimed that he had the mandate to form a government, he said, but that he would stand ready to talk about government under his leadership. 
Open calls for Laschet's resignation have not been expressed yet but that could change very quickly if the CDU leader gives up his claim for the top job. Waiting in the wings is Soeder, who always thought it should have been his name on the ballot paper.
Meanwhile, the exiting chancellor Angela Merkel stood by Laschet on Sunday night with a stony face. And didn't say a word.