The Man Who Put Lula in Jail May Become Bolsonaro's Nemesis
(Bloomberg) -- The legal star who brought down a ring of corrupt politicians and business leaders in Brazil is back in the hunt.
Sergio Moro's challenge now is to prove his allegations against Jair Bolsonaro -- even if it means the possible impeachment of another Brazilian president. A darling of the public, any political ambitions he harbors for the next election in 2022 may depend on whether he proves he hasn't lied.
Moro abandoned a 22-year career as a federal judge to become justice minister and one of the highest profile members of Bolsonaro's government when he took office at the start of 2019. He quit on April 24 publicly accusing Bolsonaro of attempting to interfere with police investigations by firing the nation's top cop, allegations the president dismissed as baseless.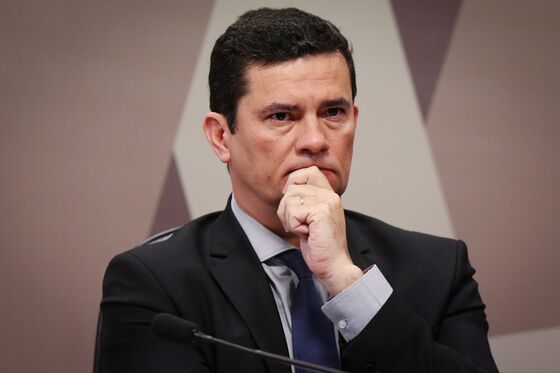 Fifteen months after his first foray into politics, Moro, 47, left government deeply disillusioned, said two people familiar with his thinking who asked not to be named discussing personal matters.
"I owed the truth to the Brazilian population. It wasn't my intention to damage the government," Moro said in written answers to questions. "The outcome of these revelations aren't under my control."
Moro now will need all the skills he acquired during his time as the judge in charge of the so-called Carwash corruption probe that brought him to public attention. Since the Supreme Court granted leave to federal prosecutors to investigate his claims, he has been fully invested in the case, working with his lawyers and making himself available to investigators at his home in the southern city of Curitiba. Moro is at the same time being investigated for libel and defamation by the General Attorney Office for his allegations made against the president.
In an eight-hour testimony to prosecutors on Saturday, the former judge expanded on his allegations of presidential meddling in the federal police. According to court documents leaked to the press, he described how Bolsonaro asked him to also replace the regional police chief in charge of Rio de Janeiro -- the state where the president began his political career and where some police probes may potentially involve his family.
Bolsonaro's office didn't reply to a request for comment on this story.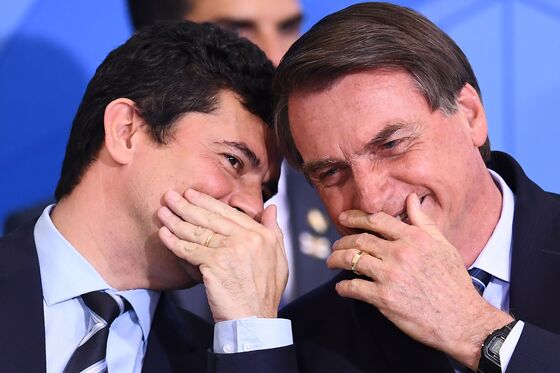 While Bolsonaro's removal from office may sound like a long shot, Moro's departure triggered a political crisis that has forced the president to seek the backing of lawmakers from centrist parties -- many of them involved in corruption allegations. They are now demanding positions in government to shield the president from impeachment proceedings.
Moro's departure echoed abroad, including in the Organisation for Economic Co-operation and Development, the multilateral body Brazil has been seeking to join.
"When you see a person like Moro leaving the ministry of justice, then you know something might be terribly wrong," said Drago Kos, Chair of the OECD Working Group on Bribery. "In Brazil I met very qualified police officers, prosecutors and great experts to deal with corruption cases. The question now is how free they will be to do their work?"
Even allies of the president, including members of the military, expressed their respect for the former judge, although many disapprove of his decision to leave the government in such circumstances.
"I'm sad to see the partnership between Moro and the Bolsonaro administration being undone for reasons that have yet to be clarified," said retired General Paulo Chagas, who remains close to active members of the Armed Forces and is a well respected voice from Brazil's military. "Bolsonaro should have shown more respect for what Moro stood for."
Described as very discreet by a political friend who spoke on condition of anonymity, Moro cuts an unassuming figure, eschewing a large entourage and maintaining only a small security detail. His lack of flashiness belies a stellar career, but hints at the risks of taking such a high profile stance against official corruption.
Already a federal judge in his early 20s, he took part in Harvard's summer Law School's Program of Instruction in 1998. He attended the 2007 International Visitors Program organized by the U.S. State Department, with visits to agencies and institutions in charge of preventing and fighting corruption and money laundering. In 2017, he received an award from Notre Dame University for his efforts to preserve the "nation's integrity through his steadfast, unbiased application of the law."
In a commencement address at Notre Dame the following year, Moro talked of his pride that his daughter was attending law school in Brazil and referred to the influence on him of Italian judge Giovanni Falcone, who took on the Sicilian mafia. The Mafia still exists in Sicily, but no longer with the same power as before. "Most important," he added, "impunity is no longer the rule."
Last year, a steady drip of revelations by The Intercept website showed Moro appeared to guide prosecutors' hands to secure a conviction of former President Luiz Inacio Lula da Silva. Moro denied any wrongdoing.
Moro resigned his cabinet post after several battles inside the government, including his campaign to approve a sweeping anti-crime bill that was greatly watered down before becoming law late last year. While defeats imposed by lawmakers didn't weaken his resolve to continue in government, he grew increasingly uncomfortable with presidential decisions that undermined him, according to people familiar with his thinking.
Another factor that eroded the relationship was the president's policy on the coronavirus pandemic. Moro was deeply embarrassed by Bolsonaro's stance against maintaining social isolation to minimize infections and his support for popular demonstrations against democratic institutions, one of the people said.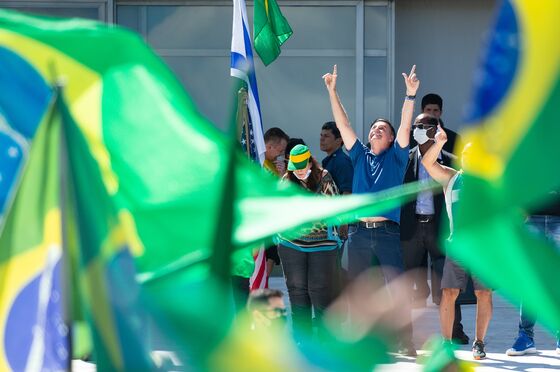 While he left office disillusioned, the nature of his departure and his status as one of the most popular celebrities in Brazil means speculation about his political future is inevitable. Most tantalizing is the prospect of a presidential run in 2022, probably against Bolsonaro.
Moro avoids such talk, saying that such "speculation only hurt me so far, first as a judge and later as a minister." Instead, he's now sifting through offers from universities and private companies to work as a law professor or security and compliance consultant, the people said. For all that he tries to evade the subject, Brazilian political parties have their doors open wide to try and lure him to their side.
Moro is well aware of his potential at the ballot box, according to his friend. His political capital is all the stronger because he is recognized as the man who put former President Lula behind bars.
"Moro has two options: to join a law firm and give lectures, or become a presidential candidate. There isn't much in between," said Jose Nelto, leader of the Podemos party in the Lower House of Congress. He noted that the former judge faced the fury of the left wing over the Carwash Operation and now he faces the rage of the extreme right that backs Bolsonaro.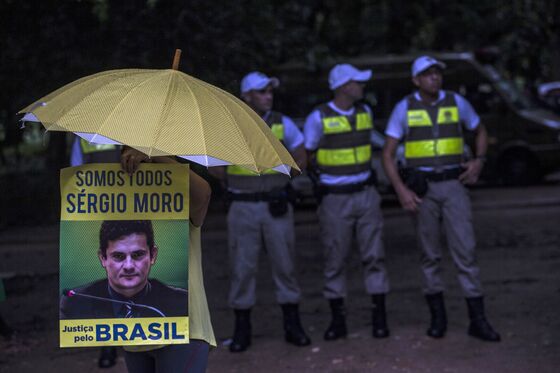 Just as Podemos has hopes of an affiliation with Moro, so does the Novo Party. "When it comes to fighting corruption, he is aligned with us," said Paulo Ganime, the party's lower-house leader.
In the meantime, because he had access to sensitive information and isn't allowed to get a job right away Moro will continue to get paid his ministerial salary of around 30,000 reais ($5,370) per month over the next six months.
Denouncing Bolsonaro brought Moro no pleasure, according to the two people close to him. But he felt it necessary to explain clearly his reasons for resigning - and it would be worse to cover up this sort of information. When asked by friends about any regrets, he said that this period was important to gain experience of the kind of obstacles he can be confronted with in his fight against corruption.
"I remained faithful to the commitments I made, in particular to the goal of strengthening institutions to fight corruption," Moro said in his answers to questions. "I don't regret anything."