Sweden Unveils $664 Million Aid for Soaring Energy Bills and Blames Russia
(Bloomberg) -- The Swedish government set aside 6 billion kronor ($664 million) to lessen the impact of soaring power bills on households, saying Russia's approach to supplying gas to Europe this winter was a major factor in stoking costs last month.
"Our Swedish consumers should not have suffer to this degree due to, among other things, Russia's behavior on the European energy market," Energy Minister Khashayar Farmanbar said at a media briefing in Stockholm on Wednesday. "It is an exceptional situation."
Russia's limited supplies of gas to depleted European storage sites has been one of the main drivers behind record energy prices across the continent this winter. Benchmark European gas surged again on Wednesday before a meeting of North Atlantic Treaty Organization and Russian officials at which they will discuss the latest source of tension between Moscow and its European neighbors, Russia's build-up of armed forces on the border with Ukraine.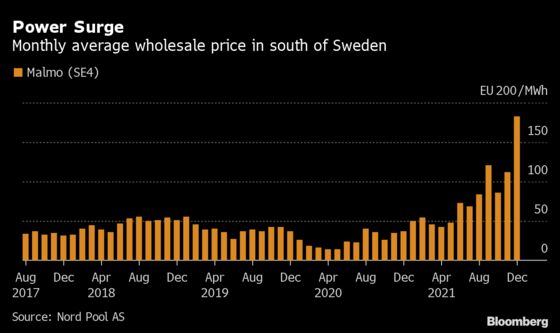 The government said it will provide winter-bill subsidies of as much as 6,000 kronor to about 1.8 million households whose power consumption tops 2,000 kilowatt-hours per month. The move comes after demands from opposition politicians to lower energy taxes, and similar actions in Norway.
Wholesale prices in the south of Sweden were almost five times higher in December than in the same month in 2020. With electricity still being the most common form of heating for small homes and a cold spell at the start of the month, many consumers are facing big bills as Europe's energy crunch drags on into the new year.