Spurning Masks Is Costing Two U.S. Lawmakers a Small Fortune
Spurning Masks Is Costing Two U.S. Lawmakers a Small Fortune
(Bloomberg) -- Defying the U.S. House of Representatives mask mandate is costing two Republican lawmakers a pretty penny. 
This year, Representative Marjorie Taylor Greene alone has accrued at least $48,000 in fines for refusing to cover her nose and mouth at work, according to documents posted to the House Ethics Committee website. That's more than a fourth of her $174,000-a-year salary.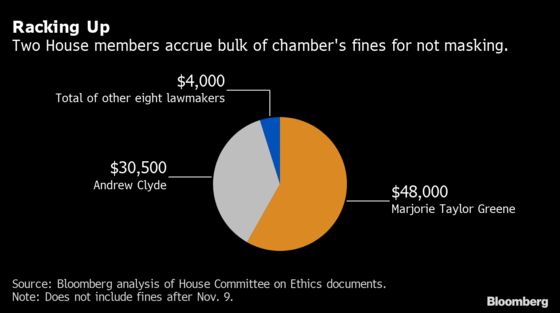 Greene's office says the true figure is even higher, about $78,000, as notices come out on a delay to give lawmakers a chance to appeal. In all, she's been fined around 32 times, according to figures shared by her spokesperson.
All the lawmakers cited for mask violations in ethics committee documents are Republicans. Georgia Representative Andrew Clyde trails only Greene in penalties, racking up at least $30,500. Eight other members have been fined around $500 each, records show.
House members who defy the mandate incur $500 for the first offense and $2,500 for subsequent violations. If lawmakers don't appeal or their request is rejected, the penalty is deducted from their $174,000-a-year-salaries. Dollars from the fines go to the Department of the Treasury. 
Greene appealed her first fine, according to ethics committee records, but hasn't filed any challenges since. The Georgia Republican, alongside Representatives Thomas Massie and Ralph Norman, sued Speaker Nancy Pelosi over the mandate in July, arguing that it's unconstitutional.