Thwarting Smugglers Leave Nigerians Counting Costs of Stony Rice
Thwarting Smugglers Leave Nigerians Counting Costs of Stony Rice
31 Jan 2020, 11:44 PM IST
(Bloomberg) -- In Adeola Adejare's market store in Lagos, two teenage boys separate stones from Nigerian rice, preparing it for sale after the government closed land borders and stemmed the flow of cheap, smuggled grains.
"Most people cannot afford to buy" even the least costly local variety, said Adejare, a trader in Daleko, the largest rice market in the country's financial hub. Sales have plummeted by 90%, with the 47-year-old now considering herself lucky to sell two 50-kilogram bags a day.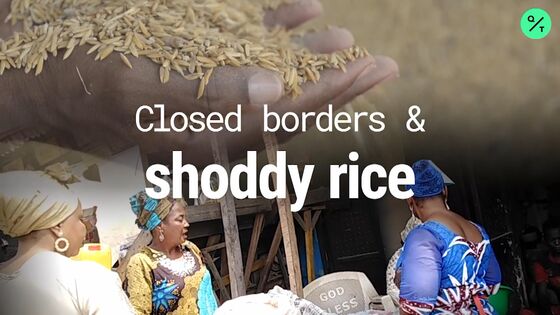 In a drastic effort to boost domestic production and stem widespread rice smuggling, Nigeria closed its crossings with Benin and Niger five months ago. Since then, it's been a bittersweet experience for locals in the world's second-biggest buyer of the white grain.
While some farmers have made fortunes taking advantage of the elimination of cheap foreign competition, prices of the Nigerian staple -- used to make delicacies such as jollof rice -- have soared by at least 70% in that period, according to traders. Many also complain about the shoddy condition of some local grain.
Adejare's hired help have to clean the cheapest produce to make it edible. "Our experiences range from receiving wet, rotten rice from the north, some of it turning black within two to three weeks," she said. "Some are so stone-filled."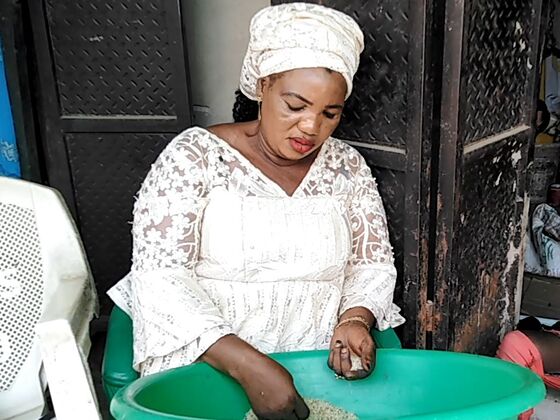 Once a major agriculture exporter, Africa's largest oil producer has long depended on imports after successive administrations since independence in 1960 allowed farming to languish following the discovery of crude. Easy oil money flowed into government coffers --though much was either pilfered or squandered by military dictatorships and democratically elected leaders.
President Muhammadu Buhari -- a 77-year-old austere former general who was elected for a second term last year -- is attempting to promote self-reliance and wean Nigeria off its dependence on oil and foreign goods.
His measures have been severe. Along with imposing restrictions on the use of foreign currency for imports, Buhari first ordered the partial closure of Nigeria's border with Benin in August to halt smuggling that undercut the price of locally produced rice. In October, his administration further restricted trade of all goods over land crossings with Benin and Niger.
Part of the problem with relying on domestic rice is Nigeria's lack of widespread industrial farming. Costs are further pushed up by woeful infrastructure that delays produce reaching the market.
With supply constricted, food inflation reached almost 15% in December, a 20-month high, hitting a population of about 200 million people who spend almost two-thirds of their income on food, according to Lagos-based SBM Intelligence.
The increase has affected many families, with 44% now unable to afford nutritious food, the Nigerian statistics agency said in its latest household survey published in December.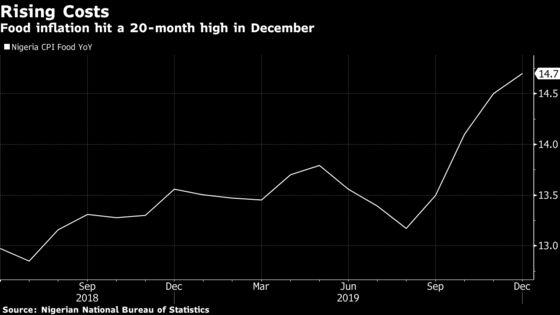 "Rice is one of the most consumed staples in the country and issues around pricing and quality affect the common man," said Michael Famoroti, a partner at Lagos-based Stears Business. "People are being short-changed in an already tough economy."
While the government has begun talks with the neighboring states, it has yet to find a way to stem smuggling if land trade resumes. Buhari told journalists in London last week that his administration has no plans to reopen the borders until a committee established to consider the issue releases a report. A spokesman for the president declined to comment further.
On Tuesday, Agriculture and Rural Development Minister Muhammad Sabo Nanono said in a statement that Nigeria would become a rice exporter by 2021 thanks to the border closures "if we maintain the momentum."
Despite widespread discontent over rising prices, many Nigerian farmers are happy with Buhari's tough stance.
Estimates of Nigeria's grain supply and demand vary wildly -- though they point to Buhari's measures boosting domestic cultivation. Data from the U.S. Department of Agriculture shows the country's milled rice production increased by 24% since 2015 to reach 4.9 million tons this year, leaving a near 2-million ton deficit.
The ban has improved the confidence of planters and expected output for this year is 13 million tons, said Muhammad Sahabi Augie, chairman of the Rice Farmers Association of Nigeria in the northwestern state of Kebbi.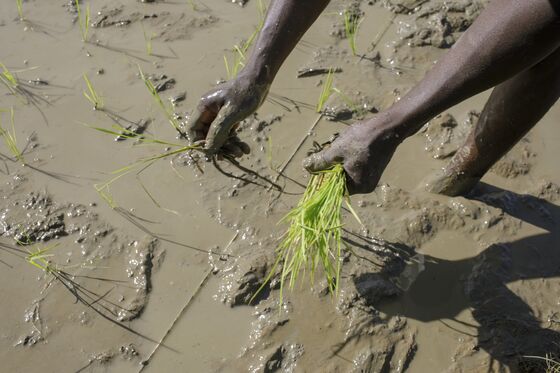 Millers are now refurbishing old abandoned facilities and are looking to expand production to about 10 million tons this year -- provided the borders remain sealed, said Peter Dama, the president of the Rice Millers Association of Nigeria, which estimates production to have more than doubled to 6.7 million tons this year.
The government also has to help bolster these efforts by increasing access to better quality, higher yielding seeds and modern milling technology, said Mojisola Oguntoyinbo, the head of agricultural business at Ecobank Transnational Inc. in Lagos.
Until then, rice sellers at the Daleko market continue to be squeezed. "We can't make profit and people are not buying," said Aderonke Adeniji, a distributor.
--With assistance from Emele Onu.
To contact the reporters on this story: Tope Alake in Lagos at talake@bloomberg.net;Ruth Olurounbi in Abuja at rolurounbi4@bloomberg.net;Anthony Osae-Brown in Lagos at aosaebrown2@bloomberg.net
To contact the editors responsible for this story: Chris Kay at ckay5@bloomberg.net, Karl Maier