Serbia Closer to Joining EU as Voters Back Constitution Change
(Bloomberg) -- Serbia took a step closer to joining the European Union as voters in the Balkan nation decided to change the constitution to create a more independent judiciary in line with the 27-member bloc's standards. 
Shielding judges and prosecutors from political influence is a key step in aligning the former Yugoslav republic's laws with the EU. Almost 62% of voters agreed that the constitution be amended so that the power to appoint and fire members of the judiciary is taken from the government and the legislature and given to top judges and academics. 
Serbia has sought EU membership for more than a decade, though the country's dispute with its former province Kosovo, which seceded in 2008, has proved a stumbling block for accession talks. With resistance to enlargement building within the EU, Serbia's prospects for joining seem to have dimmed.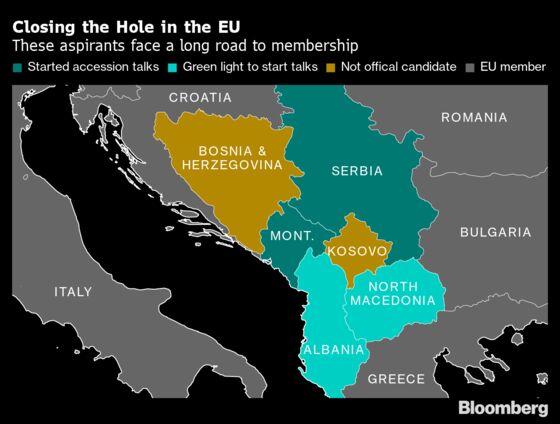 The vote, backed by the EU and the U.S. allows amending the nation's constitution that will still require parliamentary approval.    
"We've done a good thing for our country," President Aleksandar Vucic told reporters hours after polls closed on Sunday. 
The referendum also tested support for Vucic and his ruling Progressive Party less than three months before parliamentary and presidential elections due in early April. Vucic's party won by a landslide in 2020, when mainstream opposition groups boycotted the ballot over campaign conditions. 
Still, the overhaul has deepened divisions in Serbia's already polarized politics, as opposition groups from both the left and right urged voters to reject the measure. The Belgrade-based Judges' Association welcomed the outcome as supporting a "better institutional framework" for the judiciary.