Scholz Says Action Must Be Taken If Inflation Doesn't Ease
Scholz Says Action Must Be Taken If Inflation Doesn't Ease
Germany's incoming chancellor, Olaf Scholz, said his government will need to take action if inflation doesn't ease from its current high. 
Rising prices in Europe's biggest economy are a result of generous government spending to address the coronavirus pandemic as well as spiking energy costs, and they can't be accepted over the longer term, Scholz said Tuesday in an interview with Bild TV. He referred to analysts' predictions that inflation, now at 6%, is set to ease.
"If that isn't the case, we have to do something," Scholz said, without specifying what that action might entail. "We should not be aiming for high inflation like we have today," he said, adding that price developments "must be very, very closely monitored" in case forecasts that they will ease are wrong.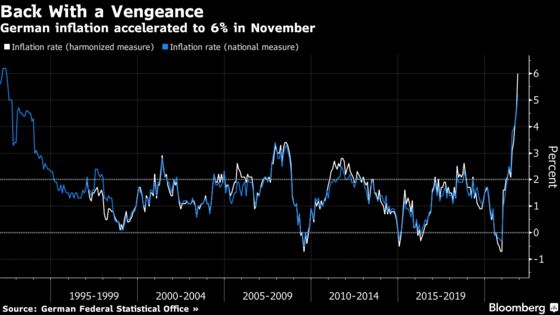 Scholz, who is due to be sworn in to replace Angela Merkel as chancellor next week, spoke just hours after data showed that inflation in the euro area surged to a record for the single currency era and exceeded all forecasts. That adds to the European Central Bank's challenge before a crucial December meeting on the future of its monetary stimulus.
The latest German data were published on Monday. Aside from the European Union harmonized measure of consumer prices at 6%, a national gauge rose to 5.2%, the highest since 1992.
Scholz's options aren't obvious. The ECB's independence is enshrined by an EU treaty, forbidding political interference. One response recently pursued by France was a 100-euro ($113) so-called "inflation compensation" subsidy for 38 million households, which came after the government announced it would block gas tariffs and cut electricity taxes. 
German citizens are especially sensitive to rising prices due to the country's experiences in the early 20th century, when hyperinflation wreaked havoc on the economy. 
ECB officials have been trying to reassure citizens that the squeeze on living costs won't last. German Executive Board member Isabel Schnabel gave a live interview on ZDF television on Monday in which she said that she understood "that many people have worries."
"This has to do with an extraordinary economic situation" Schnabel said, citing unusual base effects and increases in energy costs and prices for raw materials. "We expect that November will prove to be the peak."