Scholz Names Harvard Medical Expert to Oversee German Pandemic Policy
Scholz Names Harvard Medical Expert to Oversee German Pandemic Policy
Germany's incoming chancellor, Olaf Scholz, named a high-profile health expert who has taught at the Harvard School of Public Health to tackle a brutal surge in Covid-19 infections.
The Social Democrats' Karl Lauterbach, a professor of epidemiology who has become a public figure during the pandemic, will be Scholz's health minister when the new government is sworn in on Wednesday. He's a familiar face on German talk shows and has taken a hard line with his backing of strict lockdowns to ease the pandemic spread.
The 58-year-old lawmaker from the western city of Cologne has drawn ire from those who oppose restrictive measures and vaccine mandates, including the Bild newspaper, Germany's biggest-selling tabloid.
"The pandemic will last longer than many people think," Lauterbach told reporters on Monday at the presentation of the seven SPD ministers, adding that he's confident Germany will defeat the disease.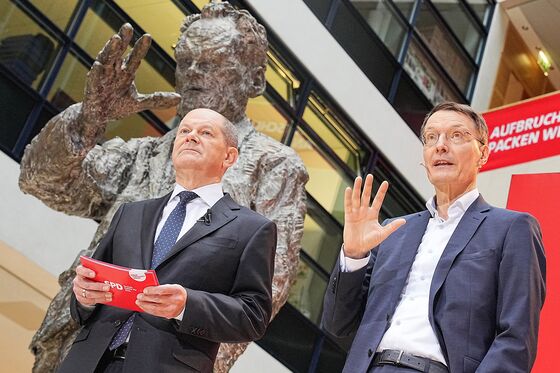 "Vaccines will play the central role, but not on their own, and we will also strengthen the health system," he said. "We will make the system more robust again so that we are better prepared for future pandemics than we were for this one."
Scholz's center-left Social Democrats will lead the government with the Greens and the pro-business Free Democrats. After the SPD and FDP overwhelmingly approved the 177-page coalition accord over the weekend, the Greens will announce the results of a party membership ballot later Monday and are also expected to back the deal.
Scholz on Monday named the seven ministers from the SPD who will be in the new government, including Christine Lambrecht as Germany's third-consecutive female defense minister and one of four SPD women in the cabinet. Hubertus Heil will retain his post as labor minister.
Scholz is set to be sworn in on Wednesday by the lower house of parliament, or Bundestag, bringing Chancellor Angela Merkel's 16-year term to an end.
The SPD's other cabinet posts are Nancy Faeser as interior minister and Klara Geywitz, who will take over the construction portfolio. Svenja Schulze, the current environment minister, will take charge of development policy, and Wolfgang Schmidt, a close aide to Scholz, will be his chief of staff as head of the chancellery.
Scholz's Cabinet
 
Women
Men
SPD

Christine Lambrecht, defense
Svenja Schulze, development
Nancy Faeser, interior
Klara Geywitz, construction

Wolfgang Schmidt, chancellery
Karl Lauterbach, health
Hubertus Heil, labor

Greens

Annalena Baerbock, foreign
Anne Spiegel, families
Steffi Lemke, environment

Robert Habeck, economy and climate protection and vice chancellor
Cem Oezdemir, agriculture

FDP

Bettina Stark-Watzinger, education

Christian Lindner, finance
Marco Buschmann, justice
Volker Wissing, transport