Scholz Begins German Coalition Push as Laschet's Hopes Fade
(Bloomberg) -- Olaf Scholz of the center-left Social Democrats appealed to potential partners to join him in a new German government as soon as possible as his conservative opponent's claim on the chancellery ran into the sand.
At party headquarters in Berlin on Monday, Scholz appealed to the Greens and the pro-business Free Democrats to back a three-way coalition following his narrow victory in Sunday's election. 
Armin Laschet, the candidate for Chancellor Angela Merkel's Christian Democrat-led bloc, reined in his claim to succeed her -- saying only that he would try to forge a majority out of Sunday's fragmented result. His Bavarian allies went further in diminishing Laschet's chances. 
"No claim to form a government comes from a second place finish," Markus Soeder, who heads the sister CSU party, told reporters.
That left the embattled CDU leader, who lost the election with the party's worst-ever result, struggling to reinforce support within his ranks -- and refusing to renounce his dream of being chancellor. He took some responsibility for his party's debacle, but said Scholz also had no claim to be chancellor. 
While Scholz faces potentially months of negotiations to lock in a coalition accord, the outline of a new German government is coming into focus. With three parties needed for a majority, the FDP will demand the tight fiscal policy that was the hallmark of Merkel's years in power and, within that framework, Scholz will have to find a way to deliver the energy transition that is the core of the Greens' plans.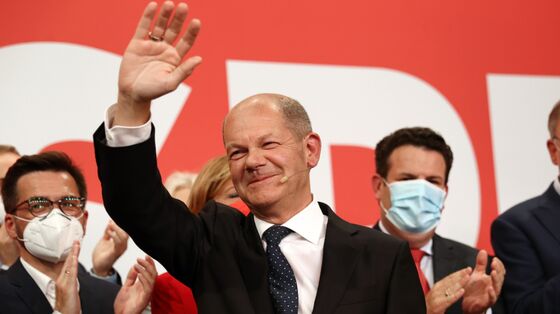 But after 16 years of CDU dominance under Merkel, the impact of the loss for the party that's led Germany for 52 of the republic's 72-year post-World War II history began to reverberate among its members. The blow also left Laschet defending his position after taking over in January.  
"The CDU lost this election," Michael Kretschmer, the CDU state premier of Saxony in the former communist East, said Monday. "Mistakes have been made in substance, in government and also in personnel choices. If we carry on like this, then I'm extremely concerned about what will be left in four years' time."
Laschet's bloc was beaten by the SPD 25.7% to 24.1%, according to provisional results.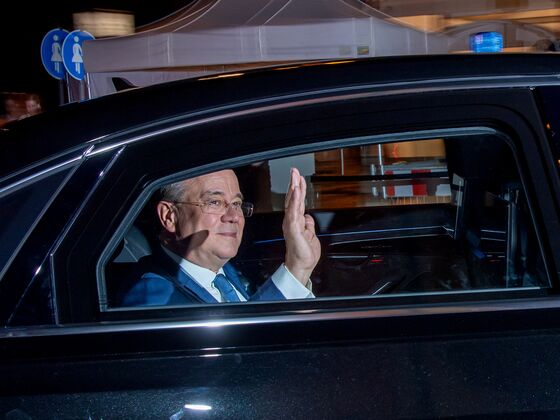 Christian Lindner, the FDP chief, proposed a first round of negotiations with the Greens in order to address their various policy differences before heading into discussions with either of the bigger parties. The Green party's leaders didn't explicitly endorse Lindner's order of events, with co-chairman Robert Habeck saying that Scholz's SPD would get a first hearing as the election winner. 
"Of course there is a certain priority for talks with the SPD and the FDP," Habeck told reporters. "But this doesn't mean we won't speak with" the CDU-led bloc.
The Greens finished third with 14.8%, their best-ever result, although the outcome was tainted somewhat for candidate Annalena Baerbock, who saw her support slide by about 10 percentage points after starting the campaign as a contender to be chancellor. 
Baerbock and Habeck, appearing together, sought to brush away questions about divisions between them, saying that they would jointly lead coalition talks for the party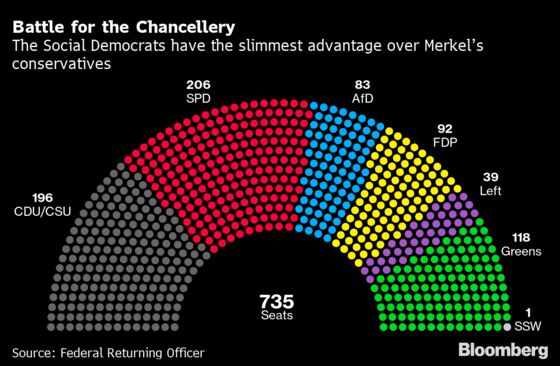 Habeck had also been pushing the idea of holding preliminary talks with the FDP and has won Baerbock around to the idea, according to one party official. While Habeck sees a deal he helped forge with the CDU and the FDP in his home state of Schleswig-Holstein as offering a possible precedent, the election result makes that outcome difficult for a national government, the official said. 
Habeck, a novelist-turned-politician who has brandished his reputation as an outsider, said any new alliance had to abandon assumptions that have dominated German politics for decades. 
"Hey Germany, are you still sleeping? Something new can happen," Habeck said alongside Baerbock. "It's actually a cool situation."
The Greens' leadership would face potential opposition from the members if it sealed an agreement with the Christian Democrats, though the FDP could face a similar problem if it joins an alliance led by the SPD. 
That means that Scholz may have to make Lindner a particularly appealing offer in order to pacify his base, and the FDP leader has made an explicit pitch for the post of finance minister.
"When a new government is eventually formed it is almost certain to involve the Greens, implying a greater focus on climate change policies," said Steven Bell, chief economist at BMO GAM. "The feasible coalitions would involve compromise on all sides and imply no major policy shift."
What Bloomberg Economics Says...

"Long and arduous negotiations lie ahead before a coalition government can emerge. That's likely to mean an extended period of uncertainty for financial markets as well as economic and fiscal policy."

-- Björn van Roye, Senior Global Economist. Click here for more coverage.
Standing near an outsize statue of Willy Brandt, the iconic former Social Democratic chancellor, Scholz was greeted with sustained cheers and applause from supporters when he appeared at party headquarters Monday. He said that he'd slept well, was pleased overall with his party's performance in the election and reminded his potential partners of how their parties had helped take Germany forward during previous coalitions.
"Germany always has coalition governments and it was always stable," he said. "My idea is that we will be very fast in getting a result for this government, and it should be before Christmas if possible."