Scandal-Plagued Bruce Willis Film Shot in China to Open in U.S.
(Bloomberg) -- Bruce Willis knew he wasn't in Hollywood anymore. When his private jet landed in China three years ago for the shooting of "Air Strike," the film crew didn't have the money to pay the deposit for his hotel room.
The plot -- behind the film, that is -- only thickened. The original producer fled the country after his business got caught up in a peer-to-peer lending scandal, leaving director Xiao Feng, who retold the story of Willis's hotel deposit on his blog, to tap his own savings to finish the film. Then Fan Bingbing, one of the top Chinese stars in the movie, went missing after becoming embroiled in a tax-evasion scandal that shook the industry.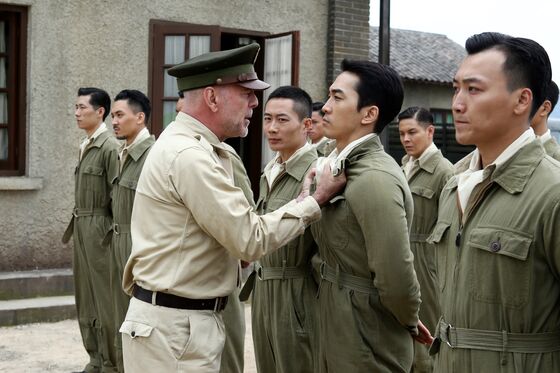 Despite all that drama, the movie is set to open in select theaters in the U.S. on Friday through a partner of distributor Lions Gate Entertainment Corp. In China, it's unclear whether the most scandal-plagued film in recent memory will be able to capitalize on the publicity -- negative as it was -- because its debut has been pushed back indefinitely. Lions Gate declined to comment on the scandals around the film.
More broadly, the movie's back story shows some of the growing pains of a burgeoning industry in China, where box-office sales are on track to overtake those of the U.S. in coming years.
"Air Strike's problems highlight the lack of professional management and risk prevention awareness among China's filmmakers," said April Ye, China chief executive officer of Film Finances Inc., which helps movie makers finish films on time and budget. "It's a necessary pain that the industry has to go through before it gets better and more transparent."
The movie's initial producer, Shi Jianxiang had other problems as well. In 2016, he seemed to hit pay dirt when "Ip Man 3," a kung-fu drama he backed starring Mike Tyson and Donnie Yen, had some success in theaters. Problem was, the movie's box-office figures were found to have been inflated, which led shares in companies affiliated with Shi to crater.
Shi also ran peer-to-peer lending operations under his Shanghai Kuailu Investment Group, which failed to pay investors. As scrutiny over that business intensified, he fled the country with "Air Strike" still in production. Last month, prosecutors told a Shanghai court that Shi's companies illegally raised more than 40 billion yuan ($5.8 billion), according to the Shanghai government-run Xinmin Evening News.
Shi couldn't be reached for comment.
Then there's the tax scandal surrounding Fan, one of the China's highest-paid actresses. Her woes began when a former talk-show host posted contracts on his social media feed that allegedly showed the actress had concealed some of her income.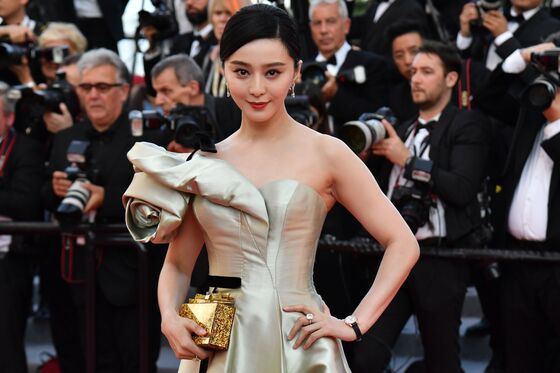 Fan then disappeared from public view. After months of speculation in China, she reappeared only after the government said she had been found guilty of under-reporting income -- including from "Air Strike." Tax authorities imposed one of the biggest fines ever in China's entertainment industry. Fan apologized publicly and agreed to cover her fines and back taxes.
Meanwhile, the government's tax evasion probe isn't done yet. Tax authorities have asked celebrities and studios to confirm their full compliance with tax laws and to immediately pay any arrears, according to the official Xinhua News Agency.
China's government has sought a greater reception for the country's films overseas to help build its "soft power" among viewers. But success has been limited. Director Ang Lee's "Crouching Tiger, Hidden Dragon" was a hit in 2000, but since then, films exported to the U.S. from China have largely failed to find big mainstream audiences.
Co-productions with U.S. studios have had mixed results. "The Great Wall," the costliest China-U.S. film ever made, flopped in the U.S. last year, even with Matt Damon as its star. "The Meg," an action thriller about a giant prehistoric shark, this year became the top shark movie in history after "Jaws."
It's unclear how the incidents involving Fan and Shi would have affected the box office of "Air Strike" in China had it opened there as scheduled. But one thing's more certain: Chinese movie makers will draw lessons from the films scandals.
"It's hard to designate any film as the most scandal-plagued, but this one is certainly up there because of all the negative publicity," said Stanley Rosen, a University of Southern California political science professor who studies China. "China's film industry is still undergoing a rectification that will last well into 2019."
--With assistance from Anousha Sakoui.
To contact Bloomberg News staff for this story: Jing Yang de Morel in Shanghai at jyang543@bloomberg.net
To contact the editors responsible for this story: Young-Sam Cho at ycho2@bloomberg.net, Dave McCombs
With assistance from Editorial Board