Saudi Money Lost Faith in Prince Long Before Khashoggi's Murder
Last year's roundup of business chiefs still haunts economy
27 Nov 2018, 6:30 AM IST
(Bloomberg) -- The murder of Saudi columnist Jamal Khashoggi last month has soured the world's politicians on the once-feted Crown Prince Mohammed Bin Salman. Private capital turned against him long before that.
Ever since dozens of royals and business chiefs were detained in November 2017 as part of a declared crackdown on corruption, a growing number of rich Saudis have been trying to move money out of the kingdom or draw up plans to leave, according to interviews with more than 10 people familiar with the matter. They all spoke on condition of anonymity because the issue is sensitive.
Saudis who stayed put are mostly parking their cash instead of increasing investments, adding to the headwinds buffeting the biggest Arab economy. Khashoggi's killing has only intensified the trends, some of the people said.
Prince Mohammed's grip on power has survived Khashoggi's death at the hands of government agents in Istanbul. But losing the confidence of local elites could wreck his most fundamental reform. Saudi wealth is supposed to be building a private sector capable of replacing state oil revenue as the main engine of growth -– not staying on the sidelines or trying to flee the country.
Even worse, jitters among local capitalists have spread to their foreign counterparts, who are also largely shunning the prince's project. "A lot of people are afraid of Saudi Arabia," veteran emerging-market investor Mark Mobius told Bloomberg TV.
The crackdown, whose targets were detained in the Riyadh Ritz-Carlton hotel, capped a series of steps that had hurt business confidence. Payments owed to contractors were held up, and in June 2017 the kingdom led an unprecedented boycott of neighboring Qatar.
"Domestically, the Ritz arrests were a transformative development -- economically and politically," said Hani Sabra, founder of Alef Advisory, a New York-based consultancy. They were the "crystallization of a process that had been building."
Officials say the arrests were necessary to level the playing field among investors and curb rampant corruption -- an argument that resonates with many Saudis who often complained that the elite were above the rule of law. Some of the prince's supporters also say a short-term decline in investment is an acceptable price to pay for a fundamental overhaul that will help create a more transparent business community.
The Saudi central bank, responding to Bloomberg questions, reiterated that the kingdom places "no restrictions on transfers."
But the scale of the purge, which ensnared people like billionaire Prince Alwaleed bin Talal, has left many worried about appearing to be rushing for the exit. To secure their release, detainees agreed to pay settlements that totaled more than $100 billion. Allegations of torture -- denied by the government -- and the lack of transparency over settlements made the operation look more like a shakedown.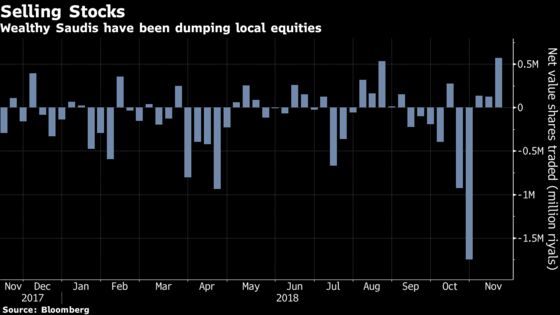 As a result, some Saudis who did subsequently take money out of the country used a web of companies to disguise their ownership, and avoided places with close ties to the kingdom. Many looked to Switzerland or funds elsewhere in Europe, investing in real-estate and private equity funds, some of the people said.
"It would be stupid not to make contingency plans,'' one Saudi businessman said.
One person involved in structuring international deals for Saudis said clients have been shying away from eye-catching purchases. Instead of buying a five-star hotel in London, for example, they would invest the same amount on warehouses in the north of England, the person said.
Money was leaving the country before the purge, partly because the economy slowed as authorities imposed austerity in response to low oil prices, said Steffen Hertog, a Gulf specialist at the London School of Economics. If anything, capital flight probably declined due to the "fear of drawing attention," he said.
Total outflows are estimated to rise 13 percent this year to $90 billion, about 10 percent of GDP, compared with 2017, according to JPMorgan Chase & Co.
But such aggregate figures include foreign investments by state institutions. There's no way to pinpoint how much private Saudi money has been trying to escape a country that's embarked on aggressive new policies at home and abroad. (On the same day they rounded up business leaders, Saudi authorities are also widely believed to have put Lebanon's visiting prime minister under effective house arrest.)
The purge took place days after global executives attended the prince's flagship Future Investment Initiative conference at the Ritz-Carlton and lavished praise on his economic plans.
After the arrests, some major banks lowered their forecast for loans to businesses, a key gauge of domestic demand. That quarter, private growth slowed sharply -- even though oil prices were rebounding.
Bloomberg Intelligence: Saudi Banks Grapple With Investor Sentiment, Waning Stimulus
Lagging investment from locals and foreigners, added to new taxes and fees on expats, has helped push unemployment to the highest in more than a decade.
In an interview the day after Khashoggi disappeared, Prince Mohammed said the jobless rate will start coming down next year. He also predicted a rebound in foreign investment – starting with a sizable non-oil deal to be announced at the FII conference later that month.
But then the outcry over Khashoggi began to build, prompting bankers and executives to drop out and turning this year's event into a subdued affair. The announcement never came.
Saudi Arabia will find it hard to attract foreign money because of concerns about the way the country is run, Mobius said in a Bloomberg TV interview in Dubai. "If the leadership has questionable governance, how about the companies?"
One regional investor, the head of an Arab family office who's put money into the kingdom before, said he has no plans to do so again. "Saudi Arabia is off my map now,'' he said, asking not to be identified for fear of jeopardizing his existing business.
His reasoning is simple. "If I see people taking their money out of Saudi Arabia, despite opportunities there, why should I bring my money?''
--With assistance from Donna Abu-Nasr, Jan-Henrik Förster and Archana Narayanan.
To contact the reporters on this story: Matthew Martin in Dubai at mmartin128@bloomberg.net;Alaa Shahine in Dubai at asalha@bloomberg.net;Layan Odeh in Dubai at lodeh3@bloomberg.net;Netty Ismail in Dubai at nismail3@bloomberg.net
To contact the editors responsible for this story: Alaa Shahine at asalha@bloomberg.net, Ben Holland