Bernie Sanders Absorbs Brunt of Rivals' Attacks in Debate Free-for-All
Mike Bloomberg says Russia is trying to help Bernie Sanders win the Democratic nomination. 
(Bloomberg) -- Bernie Sanders felt the burden of his front-runner status in the Democratic presidential race as all six of his rivals delivered an onslaught of attacks at Tuesday night's debate aimed at stalling his momentum before the next crucial stage of the primary race.
Elizabeth Warren accused Sanders of stealing details of her health-care plan. Michael Bloomberg said Russia's intelligence services favor the Vermont senator because Vladimir Putin wants President Donald Trump to be re-elected. Joe Biden criticized Sanders' past stances on gun control. Pete Buttigieg accused him of living in the past.
"I've been hearing my name mentioned a little bit tonight," Sanders said.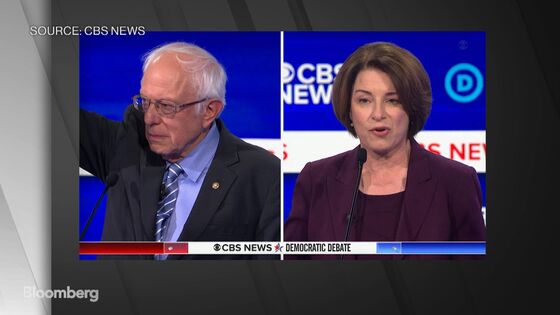 Warren, who has generally refrained from attacking her fellow progressive in previous debates, suggested Sanders has good ideas but hasn't offered details about how he'd accomplish his goals.
"Bernie and I agree on a lot of things, but I think I would make a better president than Bernie," Warren said. "And the reason for that is that getting a progressive agenda enacted is going to be really hard, and it's going to take someone who digs into the details to make it happen."
Most of the candidates spent almost as much time focused on Bloomberg, who has been rising in national polls as he's spent more than $500 million on advertising. Bloomberg isn't on the ballot in Saturday's South Carolina primary and is staking his campaign on the 14-state Super Tuesday round on March 3, which includes huge delegate prizes of California and Texas.
(Bloomberg is the founder and majority owner of Bloomberg LP, the parent company of Bloomberg News.)
Warren renewed her attacks on Bloomberg over non-disclosure agreements signed by women who've complained of discrimination at his company. Bloomberg said last week that he's willing to release women from three non-disclosure agreements related to offensive comments they say he made, but Warren called on him to sign a blanket release for anyone who has an NDA.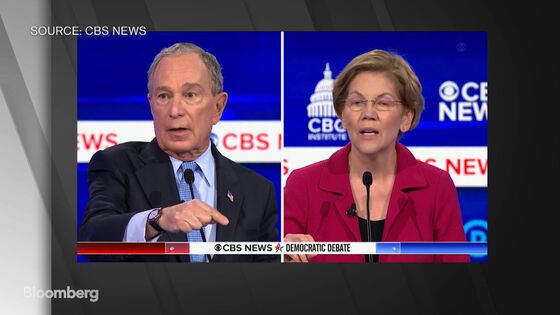 The former New York mayor dismissed Warren's criticism.
"I don't know what else she wants us to do," Bloomberg said. "The trouble is with this senator, enough is never enough."
Warren referred to one of the NDAs concerning a woman who filed a complaint in 1995 alleging that Bloomberg told her to "kill it" when she told him she was pregnant.
Bloomberg replied, "I never said it, period, end of story. Categorically never said it."
Warren used the exchange to raise money for her campaign, offering a shirt on her website with "Enough is never Enough" on the front and blasting out an email to supporters shortly after the debate ended. "Tonight, Bloomberg did get something right about Elizabeth: "With this senator, enough is never enough," the email said.
From the opening moment, the debate was a brawl, with Bloomberg responding to a question about the economy by saying that Putin wants to see Trump stay in office and has been meddling to help Sanders win the Democratic nomination.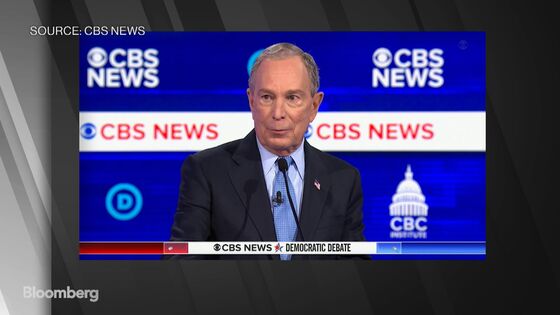 "Let me tell Mr. Putin, I'm not a good friend of President Xi of China," Sanders retorted in a reference to comments Bloomberg has made about the Chinese leader. "Hey Mr. Putin, if I'm president of the United States, you're not going to interfere in" U.S. elections, he said.
Amy Klobuchar and Tom Steyer joined in going after Sanders, saying he's unrealistic and hasn't accomplished much in all his years in Congress.
"It matters if you can actually get things done," Klobuchar said.
Buttigieg said nominating Sanders will lead to Republicans controlling Congress. The Democrats who won in 2018 giving the party the House majority are running from Sanders's platform "as fast as they possibly can."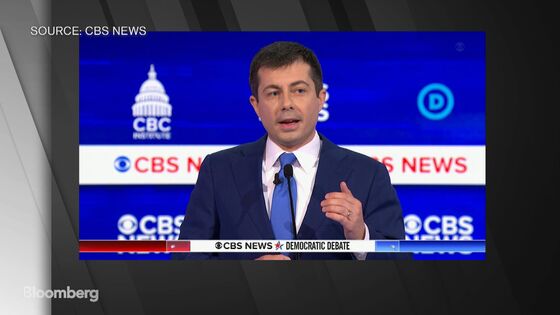 "I'll tell you what it adds up to, it adds up four more years of Donald Trump," Buttigieg said. "It's time for us to stop talking like the presidency is the only office that mattered."
Bloomberg also said if the party nominates Sanders, he will lose to Trump and "the House and the Senate and some of the statehouses will all go red." Warren noted Bloomberg has supported South Carolina Senator Lindsey Graham and other Republicans in the past and called him "the riskiest" candidate on stage.
"I don't care how much money Mayor Bloomberg has," she said. "The core of the Democratic Party will never trust him. He has not earned their trust."
When the topic turned to foreign policy, Sanders faced questions about his past statements, including those in a "60 Minutes" interview Sunday in which he praised Fidel Castro's literacy programs.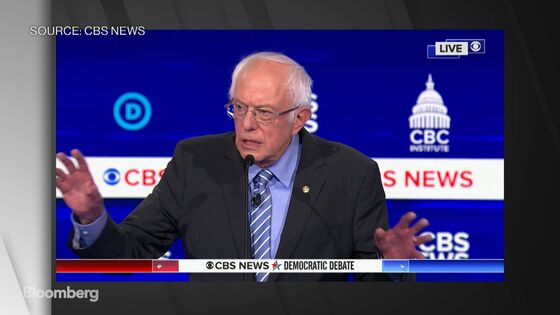 "Authoritarianism of any stripe is bad, period." Sanders said. "But that is different than saying governments occasionally do things that are good."

He said that former President Barack Obama had noted that "Cuba made progress on education" and other areas, and that he was doing the same.

That prompted an attack from Buttigieg, who said Democrats won't win elections by "telling people to look at the bright side of the Castro regime."

Bloomberg was asked about a previous comment that Chinese President Xi Jinping "is not a dictator" and whether he would allow Chinese firms to build U.S. infrastructure. Bloomberg said China shouldn't be involved in the nation's public works. He said Xi serves "at the behest of the Politburo" and the U.S. must be able to deal with China.

The statement drew a scoffing response from Biden and opened the way for Warren to raise questions about Bloomberg's business dealings with China. She also criticized him for not yet releasing his tax returns.

"It is not enough to be able to say, 'Just trust me on this,"' Warren said.

Bloomberg pointed out that he entered the race on Nov. 24, is working on releasing his tax returns as fast as he can and probably has "another couple weeks left to go."
The debate comes at a crucial time point for all the campaigns. The next two weeks likely will determine whether many of them can stay in the race or if Sanders builds an insurmountable lead in delegates for the nomination.
After the first three contests, Sanders has the lead in the delegate count, with 45 to Buttigieg's 25. Biden has 15, and the rest of the field each has fewer than 10.
--With assistance from Joe Sobczyk.
To contact the reporters on this story: Mark Niquette in Washington at mniquette@bloomberg.net;Jennifer Epstein in Charleston, South Carolina at jepstein32@bloomberg.net;Tyler Pager in Charleston, South Car at tpager1@bloomberg.net
To contact the editors responsible for this story: Wendy Benjaminson at wbenjaminson@bloomberg.net, Joe Sobczyk, Magan Crane