SALT Cap Is Hurting New York City, Adams Tells House Lawmakers
SALT Cap Is Hurting New York City, Adams Tells House Lawmakers
(Bloomberg) -- New York City Democratic mayoral nominee Eric Adams told a group of House lawmakers that the limit on the state and local tax deduction enacted in 2017 is a top issue harming the city, according to two congressional aides familiar with the conversation.
Adams made the comment while meeting Wednesday in Washington with a group of House Democrats whose districts include portions of New York's five boroughs, the people said.
A press representative for Adams didn't respond to a request for comment on the talks. Following the meeting, Adams told reporters that the discussion touched on climate change, education and housing, calling it the beginning of a long conversation between federal and local government officials about the future of New York.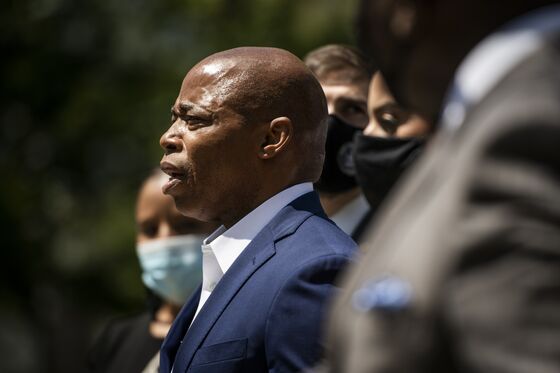 Adams's highlighting of the so-called SALT issue underlines a push by House Democrats representing New York, New Jersey and other high-tax areas to expand the federal tax deduction. It was capped at $10,000 per taxpayer under President Donald Trump's tax overhaul in 2017. Representative Tom Suozzi, a New York Democrat, has introduced legislation to completely restore the tax break.
New York Governor Andrew Cuomo appealed to congressional lawmakers at a press conference in New York on Wednesday, asking them to make a priority of repealing the SALT cap. He said that every day that the the cap is not repealed costs New Yorkers $33 million.
He did not specify how he arrived at that figure.
More than 20 House Democrats, including many representing New York City and the surrounding areas, have said they won't vote for President Joe Biden's proposed tax increases to fund his economic agenda unless the package also contains a more generous SALT deduction.
SALT deduction proponents say that the $10,000 limit harms taxpayers in high-tax areas because they can't deduct all of their property and state income levies. Critics, including some Republicans and progressive Democrats, say that the write-off would largely benefit wealthy taxpayers.
The issue has become a key source of tension between the White House and Democrats, with Biden releasing his American Jobs Plan and American Families Plan without addressing the SALT deduction. White House Press Secretary Jen Psaki has said that lawmakers can add the tax break to the legislation if they find a way to offset the cost.
Senator Bob Menendez, a New Jersey Democrat, said earlier this month that a $3.5 trillion budget plan drafted to enact the bulk of Biden's longer-term economic proposals does include funding for SALT, but the details are still being worked out.