Ten Tories Stand to Be PM in Crowded Leader Race: Brexit Update
The Conservative leadership race burst into life as candidates set out rival visions for how to deliver Brexit. Foreign Secretary Jeremy Hunt -- bolstered by new endorsements -- warned the party risks annihilation if it fails to take Britain out of the European Union. Environment Secretary Michael Gove tried to ride out a storm over his past drug use and took a swipe at the favorite, Boris Johnson.
Gove said he'd prefer to delay Brexit than risk a general election; he wants to renegotiate the deal
Hunt also indicated he'd prefer to extend than have an election that could annihilate the Tories; he also wants to renegotiate
Dominic Raab said he's prepared to take U.K. out of EU without a deal
U.K. GDP fell 0.4% in April, the biggest monthly drop since March 2016
The pound fell 0.4%
List of 10 Tory Leadership Candidates Announced (6:00 p.m.)
The list of candidates to succeed Theresa May as Conservative Party leader and prime minister was announced ahead of the first round of voting, scheduled to take place on Thursday.
The 10 candidates who got the required 8 nominations from their colleagues in the House of Commons to take part in the contest were: Boris Johnson, Michael Gove, Dominic Raab, Esther McVey, Jeremy Hunt, Mark Harper, Matt Hancock, Sajid Javid, Andrea Leadsom and Rory Stewart.
The result of the first round of voting will be announced at about 1 p.m. on Thursday, Cheryl Gillan, one of the Conservative lawmakers overseeing the election, told reporters.
Harper Says He Will Fight Leadership Election (5:45 p.m.)
Mark Harper said he has the required number of supporters to enter the race to succeed Theresa May as prime minister.
Harper said he would "keep no deal on the table" but would prefer to get a Brexit agreement with the EU. "I don't think it is at all credible to suggest that we will leave on October 31" he said in an interview, adding that he would sit down with EU negotiators to set out a new timetable for talks.
His suggested cut-off date for new talks would be March 2020.
Sam Gyimah Withdraws from Leadership Race (5:25 p.m.)
Sam Gyimah, who supports a second Brexit referendum, withdrew from the leadership race, saying in a statement on Twitter that there had not been enough time to build sufficient support for his candidacy.
Gove Forced on Defensive Over Cocaine (3:40 p.m.)
The candidate was repeatedly questioned over his past cocaine use. Reporters asked Gove why he felt he could be prime minister after admitting to taking cocaine.
He replied by saying he believed people should be given a chance to reform. "I have acknowledged that I made a mistake," Gove said.
He pointed to his time as justice secretary in David Cameron's government, when he championed work to rehabilitate offenders -- what he called finding "that treasure in the heart of every man."
Gove Attacks Johnson Over Brexit (3:35 p.m.)
Gove had more criticism of Johnson. He poked fun at the former foreign secretary for pulling out of the previous leadership contest in 2016. And then attacked his plans for Brexit.
Asked what he would do if no deal had been reached by the Brexit deadline of Oct. 31, Gove said he "would be willing to delay for a day or a week" or "whatever is required" to get the deal done. He thinks he could make "significant progress in getting a deal with Europe," as "there's good will on the part of other nations."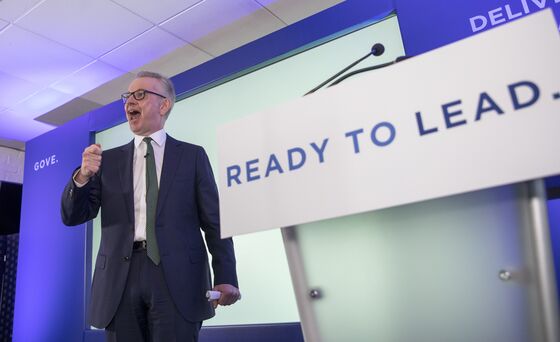 Gove warned that other candidates "including the person I'm told is the front runner" would risk a Corbyn government by forcing through a no-deal split. That would trigger an election because Parliament won't allow a no-deal divorce, "and that choice will lead to Jeremy Corbyn."
He declined to say whether he'd offer Johnson a job in his Cabinet if he won.
Gove Slams Tax Cuts for Higher Earners (3:25 p.m.)
Gove outlined his proposals for a "big, bold, radical" economic plan that will be pro-business and include tax reforms. It's a classic Conservative economic agenda.
But Gove drew a clear distinction between his own blueprint and that of his rival Boris Johnson, who outlined a proposal to cut income tax for higher earners. He didn't name Johnson directly.
"I will never use our tax and benefits system to give the already wealthy another tax cut," Gove said. "The poor must come first."

Gove Says He Will Deliver Brexit (3:15 p.m.)
Environment Secretary Michael Gove launched his leadership bid saying he takes Brexit personally, believes it's an opportunity rather than a "problem to be solved."
"It is not enough just to believe in Brexit, you've also got to be able to deliver it," he said, as he vowed to renegotiate the Irish border backstop.
Gove offered his role in the Brexit campaign of 2016 as an example of his commitment to the cause in the face of "friendships at risk and my family under strain."

Gove Confirms He's Running (3 p.m.)
Environment Secretary Michael Gove confirmed he is running for Tory leader, shortly before he was due to speak in Westminster.

Gove Won't Stand Down: Key Backer Says (12:45 p.m.)
With speculation mounting that Environment Secretary Michael Gove might drop out of the race to succeed Theresa May, one of his key backers, former Education Secretary Nicky Morgan, said "he absolutely will not" withdraw.
"He's 100% committed to standing and he's also guaranteed to take it all the way to the end if he gets to the final two," Morgan said in a text message. "He will not allow a coronation again!"
Gove, who had been seen as Boris Johnson's closest challenger in what is for now an 11-horse race, has come under pressure since revelations in the weekend newspapers that he took cocaine two decades ago.
Hunt Says He Could Get a New Deal With EU (12:15 p.m.)
Hunt, who has been in the Cabinet since 2010, said he believes a better deal with the European Union is possible if negotiations are approached in the right way.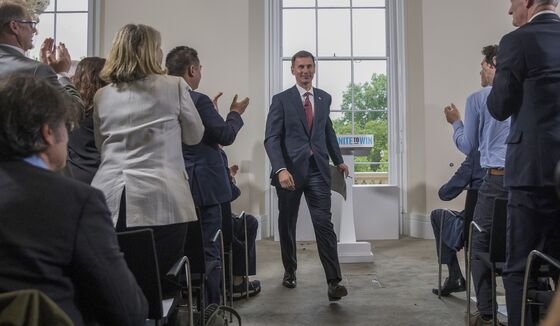 "If we want a deal we are going to have to engage seriously with Brussels," he said. "It's clear to me there is a deal to be done."
Hunt said he's spoken to EU leaders, including German Chancellor Angela Merkel and French President Emmanuel Macron, and said the EU now understands the Irish border backstop won't get through the British Parliament.
"With the right approach they will engage with our next prime minister," he said.
The EU has repeatedly said it won't reopen the divorce deal, which includes the backstop, but it is willing to redraft the non-binding political declaration, which deals with future trading ties.
Hunt said he wouldn't call a general election before Brexit has been delivered, and said pursuing a no-deal exit would probably prompt one. He's aiming to get a deal done by Oct. 31 but wouldn't comment on what he would do if that's not possible.
McVey Launches With Appeal to Working People (12:00 p.m.)
Former work and pensions secretary Esther McVey put out her campaign launch video, pledging to deliver Brexit before moving on to domestic issues that matter to "regular working people."
The video shows the candidate nodding and laughing on the doorstep with a selection of voters. The first words she says are: "But we've got to do Brexit first," before adding she's prepared to leave the EU without a deal.
The candidate herself then reinforces the message, saying: "I want to do something that's not expected of a Conservative, I want to reinvest in the public services and in the public sector."
Hunt: Tories Must Deliver Brexit or Die (11:50 a.m.)
Foreign Secretary Jeremy Hunt said the Conservatives must deliver Brexit or risk the party being consigned to history.
"Without Brexit there will be no Conservative government and maybe no Conservative Party," he told his launch event. "If we fight an election before delivering Brexit, we will be annihilated."
Hunt is pitching himself as an entrepreneur and an experienced negotiator. He said pursuing no-deal isn't an option because Parliament is against it. That means a prime minister would have to call an election -- which the Tories might lose. "A serious moment calls for a serious leader," he said.
Hunt argued that the Conservative Party must broaden its appeal to pro-EU supporters and young people. "Carry on like this and our party will die on its feet," he said.
Penny Mordaunt Backs Hunt (11:45 a.m)
Defence Secretary Penny Mordaunt, a pro-Brexit Conservative who was seen as a possible leadership candidate, said she's backing Foreign Secretary Jeremy Hunt for leader.
"I trust him on Brexit," she told his leadership launch.
Raab Calls for New Generation to Take Over (11:40 a.m.)
Raab said it was time for a "generational change of leadership," as he took a swipe at fellow Brexiteer and rival Boris Johnson.
May Still Has Confidence in Gove (11:25 a.m.)
In another sign that Michael Gove's leadership campaign might be faltering, reporters asked the prime minister's spokesman if Theresa May still has confidence in him as a member of her Cabinet.
While the spokesman said May does have confidence in Gove, it's not the kind of question the candidate would have wanted a few hours before he's due to launch his campaign to become prime minister.

Raab Says He's Prepared to Leave Without Deal (11:10 a.m.)
Former Brexit Secretary Dominic Raab said he is prepared to walk away from the EU without a deal. "We won't be taken seriously in Brussels unless we are clear that we will walk away on Word Trade Organization terms, if the EU refuses to budge," he said at his campaign launch event in central London.
Raab also said he'd raise the threshold for national insurance and "lead a revolution in competition policy to smash monopolies, liberate start-ups and strengthen consumer clout."

Hancock: Must Deliver Brexit Before an Election (10:30 a.m.)
Health Secretary Matt Hancock said the U.K. must leave the European Union with a deal, and that he's confident he'll be able to secure one with Brussels and that he'd then get it through Parliament. The best person to deliver Brexit "is someone who hasn't been involved in the Brexit rows," he said. Holding a general election beforehand "would be a democratic disaster," he said.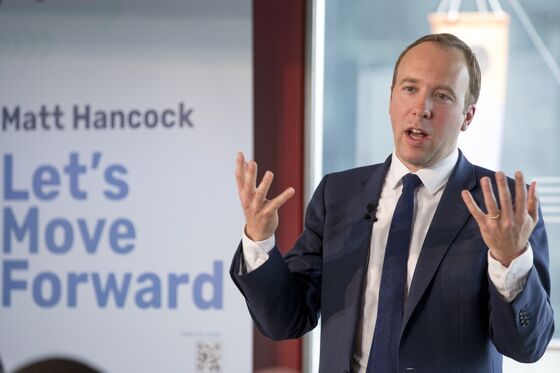 Asked about his leadership rivals, Hancock said to laughter "it's like asking me to choose between my children." He challenged his rivals on their tax-cut plans, arguing that the government must only do so if it can afford it.
Hancock Rules Out Suspending Parliament (10:05 a.m.)
Health Secretary Matt Hancock has opened his leadership launch speech, pitching a positive message and insisting he is the "optimist" candidate. "I love people," he said. "If you look inside people's hearts you will find something of value."
Hancock, 40, said MPs will not allow a no-deal Brexit, and promised he would never suspend Parliament to force the U.K. out of the European Union without an agreement. "I will not have it," he said. It's a clear contrast with his hard-line rivals such as Dominic Raab, who is due to speak later this morning.
U.K. Factory Output Falls Most Since 2002 (9:40 a.m.)
Conservative leadership candidates will be framing their Brexit arguments in the face of some gloomy economic data, after U.K. factories cut output at the fastest pace in almost 17 years in April. The 3.9% decline saw the economy as a whole shrink for a second month, highlighting the fragility of the economic outlook as Brexit uncertainty continues.
Javid Sees 'Mini Economic Boom' With Deal (9 a.m.)
Home Secretary Sajid Javid told LBC radio he's "absolutely certain" that the British economy will get a boost once a Brexit deal has been secured.
"We're going to have a mini economic boom if we get a deal," Javid said. "Once that fog of uncertainty has lifted, there will be an increased investment both from home and abroad."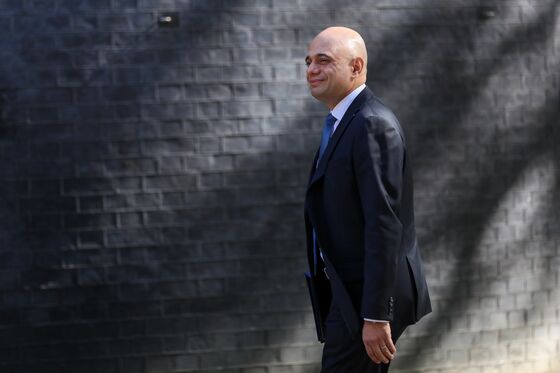 That boost, Javid said, will "more than pay" for the cost of maintaining border arrangements with Ireland he's promised to keep the frontier open after Brexit. He said the U.K. should pay border management costs in perpetuity, estimating set-up costs -- including for trusted trader programs -- at 500 million pounds ($636 million), and annual running costs at 200 million pounds.
Javid Says Tory Government 'Looks Incompetent' (8:30 a.m.)
Home Secretary Sajid Javid told LBC radio the government "looks incompetent" because of its failure to deliver Brexit, and said it will take an "outsider" like him to win voters over.
"Look at me. Do I look like a Conservative candidate from central casting?" said Javid, the son of a Pakistani immigrant bus driver who would be the U.K.'s first prime minister from an ethnic minority. "If you have someone that is different that looks and feels more like modern Britain, I think you get a fairer hearing from the public."
Leadsom Questions Viability of Rivals' Tax Plans (8:20 a.m.)
Andrea Leadsom, the last person to quit Theresa May's Cabinet, cast doubt on her rivals' ability to deliver on their tax-cut pledges without having a majority in Parliament, after favorite Boris Johnson unveiled a plan to reduce income and business taxes.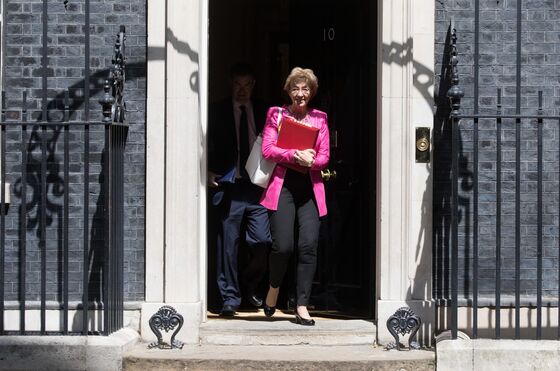 "In a hung Parliament, everything you do has to carry cross party support," Leadsom told BBC radio on Monday. "In this Parliament, I think it would just be impossible to get wholesale tax changes" through, she said.
Leadsom also touted her plan for what she calls a managed no-deal Brexit at the end of October, taking "the elements that we all agree on" from May's deal with Brussels. She said there's no guarantee the EU would allow Britain to delay Brexit again.
"Unless there were a second referendum or a general election, it's very unlikely we would get an extension," she said. Leadsom also said she'll have enough backers to stand in the leadership election, even though just three MPs have publicly announced their support.
McVey: No-Deal Only Way to Leave on Time (8:15 a.m.)
Conservative leadership candidate Esther McVey said she would use all the tools available to her to deliver Brexit on Oct. 31, and that leaving the European Union without a deal is the only way to exit on time.
In an interview with ITV, she acknowledged she is the "outsider" in the contest to succeed Theresa May, and said she doesn't know if she will have enough support to get through the first round.
Rudd Says Hunt Is 'Man for the Job' (8 a.m.)
Work and Pensions Secretary Amber Rudd reiterated her backing for Foreign Secretary Jeremy Hunt to succeed Prime Minister Theresa May, saying he's the "man for the job" and that only he can break the deadlock over Brexit.
"The best shot we have of breaking this impasse is for Jeremy Hunt to use his best endeavors and his relationships with the European Union and with fellow MPs to try and break it," Rudd told BBC radio on Monday.
Rudd described Environment Secretary Michael Gove -- whom it was speculated she would support -- as "a good, honorable person" and said it's up to him whether he continues in the race after admitting to taking cocaine 20 years ago. She said that while favorite Johnson had an optimistic view of the future, "that's not enough if you haven't got a plan behind it."
--With assistance from David Goodman, Alex Morales and Tim Ross.
To contact the reporters on this story: Kitty Donaldson in London at kdonaldson1@bloomberg.net;Robert Hutton in London at rhutton1@bloomberg.net
To contact the editors responsible for this story: Emma Ross-Thomas at erossthomas@bloomberg.net, Thomas Penny