Ramaphosa Defends South Africa's Neutral Stance on Russia's War
Ramaphosa Defends South Africa's Neutral Stance on Russia's War
(Bloomberg) -- President Cyril Ramaphosa defended South Africa's neutral stance toward Russia's war with Ukraine, saying it placed him in a stronger position to help mediate an end to the conflict.  
"Neutrality can cost and fortunately we're not alone in all this, there are many others that have chosen the same path," Ramaphosa said in an interview with Bloomberg Television on Thursday on the sidelines of an investment summit in Johannesburg. "The benefit in all this is that we can talk to both sides."
South Africa has close ties with Russia, which backed the fight to end White-minority rule, and was among 35 countries that abstained from a March 2 vote on a United Nations resolution criticizing the invasion -- a stance that drew criticism from the U.S. and European Union. 
Ramaphosa spoke to Russian President Vladimir Putin earlier this month, and in a subsequent Twitter posting he said that South Africa had been "approached to play a mediation role" in the war.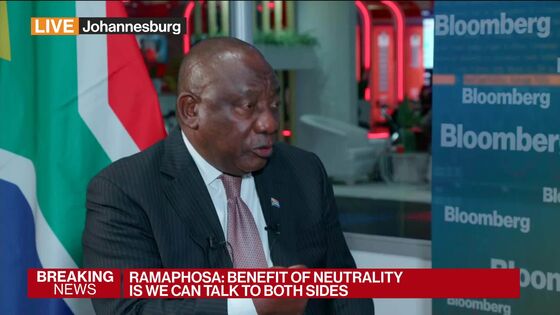 On Thursday, the South Africa leader said that approach had come from "non-state institutions," and that Putin had indicated support for talks to end the crisis. 
"He is in negotiations now and he wants to see the negotiations succeeding,"' said Ramaphosa, who has also held talks on Ukraine with Chinese Premier Xi Jinping. "The stance that we've taken is that we need to look at everything in totality, but also base it on the need for people to sit and talk."
Ramaphosa described the boom in commodity prices that has in part been spawned by the conflict as "great news" for South Africa because it would generate extra revenue that could be directed toward investment, creating jobs and providing social services. The country will be balanced in how it uses the windfall, with part of the money being used to reduce its budget deficit, he said.