Powell Backed by Majority of GOP Senators on Banking Panel
(Bloomberg) -- Federal Reserve Chairman Jay Powell has the backing of more than half the Republicans who sit on the Senate Banking Committee, support that could help him earn a second term to lead the central bank, despite sharp criticism from Senator Elizabeth Warren, a Democrat.
Senator Mike Crapo of Idaho said Tuesday he would vote to confirm Powell if President Joe Biden were to nominate him for another term, making him the seventh of 12 Republicans on the Banking panel to endorse the sitting Fed chair. Crapo is also the top Republican on the Finance Committee. Biden has yet to announce his nomination.
Powell, whose term expires in February, also enjoys support from some Democrats, who have praised his actions during the coronavirus pandemic. However, Warren, a Massachusetts progressive, is opposing his reappointment, calling Powell "dangerous" for his stance on banking regulations and saying he "failed as a leader" in managing a scandal involving stock trading by top Fed officials.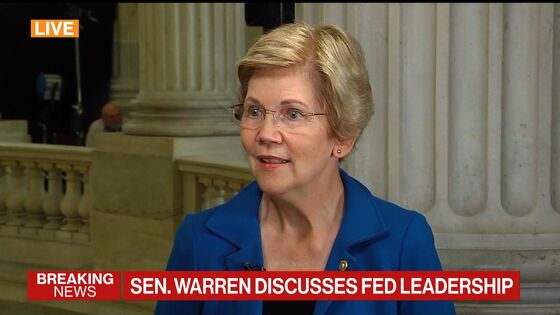 The growing support from Republicans mean that Powell may be able to get confirmed again in the 50-50 Senate, even if a handful of Democrats oppose him. He was confirmed for his present term on an 84-13 vote. Other Republicans who have said they would vote for Powell include Senators Thom Tillis of North Carolina, John Kennedy of Louisiana, Steve Daines of Montana, Jerry Moran of Kansas, Mike Rounds of South Dakota and Kevin Cramer of North Dakota.
Biden, questioned by reporters during a visit Tuesday to Michigan, said he still had confidence in Powell and the integrity of Fed. Powell also has the backing of Treasury Secretary Janet Yellen, Bloomberg has reported.
Senate Banking Committee Chairman Sherrod Brown, an Ohio Democrat, like Warren, has criticized Powell's moves to lighten regulation, and hasn't endorsed him for another term. Several other Senate Democrats, including Sheldon Whitehouse of Rhode Island, also have expressed reservations about his approach on some policy issues.
The scrutiny of the central bank following revelations about unusual trading activity by some senior officials in 2020 as the central bank fought to shelter the U.S. economy from Covid-19 has given Warren, a member of the banking panel, a fresh line of attack.
On Tuesday, she said the disclosures raised questions about Powell's leadership.
"My view is: He ends his term, we put somebody else in place," she said in interview with Bloomberg Television's David Westin.  "I think the Fed will be better off and our economy will be safer."
Yet she and other Democratic senators haven't called on Biden to name a specific alternative to Powell -- such as Fed Governor Lael Brainard. 
Powell had already opened an internal examination of the central bank's ethics rules. The Fed said Monday that Powell has asked its inspector general to conduct a review of the trades to make sure they were in compliance with Fed rules and the law.