Japan's Kishida Vows in Speech to Remain Cautious on Virus
Poll Finds 89% of Japanese Back PM's Ban on New Foreign Arrivals
(Bloomberg) -- Japanese Prime Minister Fumio Kishida pledged to stay alert to the dangers of the coronavirus in his first policy speech to parliament since taking office in September, as a poll showed broad public support for his ban on new entry by foreigners. 
"Coronavirus infections have eased in Japan," he said Monday at the opening of an extra session. "But some countries in Europe where vaccinations are widespread are still seeing record numbers of cases," he said, adding: "we must be prepared for the worst-case scenario."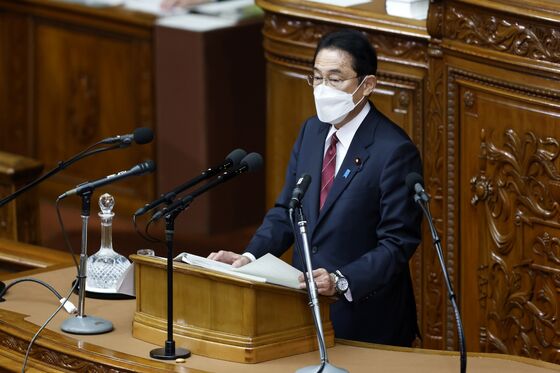 The public appears to want swift action to prevent the omicron variant from spreading in Japan, which currently has some of the lowest overall infection numbers in the developed world. A media poll over the weekend by the Yomiuri newspaper found that almost 90% of respondents approved of the government's decision to close Japan's borders to new entry by foreigners over concerns about omicron, which some reports say is more contagious than previous variants. 
Kishida has been quick to react to new virus developments after his two predecessors quickly lost public support amid criticism they were sluggish in their response to the pandemic. After winning a general election last month, he faces an upper house election in 2022.
The survey by the Yomiuri also found support for Kishida had risen six percentage points to 62%. That was one of the highest ratings for the premier, and about double that of his predecessor, Yoshihide Suga, when he was forced from office after being seen as slow-footed in his pandemic management.
Kishida said he would ensure that sufficient medical care was available in case of another major wave of infections. While outlining plans to pour cash into helping the economy recover from the hit of Covid-19, including preparing to re-start subsidies for domestic tourism, he warned that restrictions on people's movements could be reimposed if infections begin to spread again. 
As Japan maintains its tough stance on border measures, there may be worries about the ramifications for broader domestic policy. The U.S. Embassy in Tokyo issued a rare warning Monday about foreigners being stopped and searched by Japanese police in what it said were suspected to be "racial profiling incidents."
Some of the other points Kishida made in his speech were as follows:
Won't hesitate to provide funds to tackle the Covid-19 crisis
Economic growth leads to fiscal balance
New wave of cases could mean that Japan again imposes restrictions on activities
Concerns growing that rise in global price could hit Japan
To draw up new national security strategy in a year