EU Leaders Set to Approve Budget as Poland, Hungary Accept Deal
(Bloomberg) -- Hungary and Poland lifted their veto over a landmark European Union stimulus package in exchange for a delay in a sanctioning process that could strip them of access to the funds.
The compromise brokered by Germany will be put to the bloc's leaders meeting on Thursday in Brussels, where they'll likely approve the deal, according to an official familiar with the discussions. An agreement will pave the way for the flow of $2.2 trillion to the continent's battered economies.
Hungary and Poland vehemently opposed making funding conditioned on rule-of-law standards, and threatened to torpedo the EU's 750 billion-euro ($909 billion) pandemic aid fund and the 2021-2027 budget.
The proposal still ties disbursements from the package to democratic standards, though such sanctions can't be triggered before the European Court of Justice has ruled on the legality of the new rules, a process that could take more than a year to complete, said the official, who asked not to be identified because the process is private.
Polish Deputy Prime Minister Jaroslaw Gowin said earlier that an agreement had been clinched with Germany, which holds the EU's rotating presidency, clearing the way for a compromise. A German spokeswoman said a solution hadn't been reached yet and all member states would need to sign off.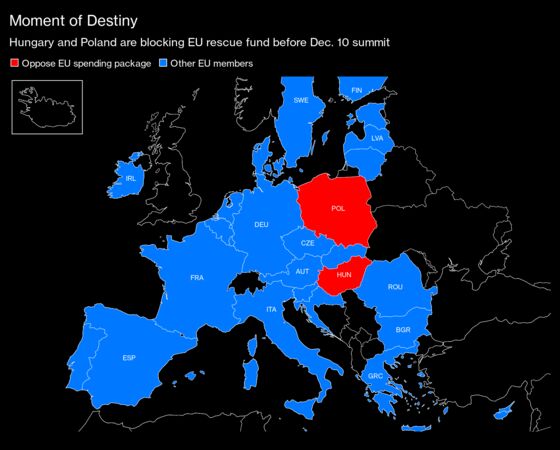 The deal was also confirmed by a Hungarian official familiar with the state of talks who commented on the condition of not being named.
A solution would offer a climb-down for Hungarian Prime Minister Viktor Orban and Polish counterpart Mateusz Morawiecki, who'd backed themselves into a corner over their opposition to the money being tied to democratic standards.
The compromise would see the EU leaders making a statement in which they reassure that any cuts in the flow of funds will be linked to rule-of-law breaches that affect the financial interests of the EU, such as failure to prosecute government corruption. This was already the case under the agreed rules, despite claims in Poland and Hungary that the deal would force them to bow to unrelated demands such as legalizing gay weddings and accepting immigrants.
The zloty jumped 0.7% to the highest level against the euro since September on news of the EU deal. The forint also gained.
Read more:
Bitesize Podcast: East Europe Gets a Boost From EU Budget Deal
The budget holdouts said the link threatened to cut their funding and undermine their governments, which are being probed for alleged violations of the bloc's norms.
The deadlock threatened at least 180 billion euros that Hungary and Poland were due to receive in the coming years, as well as payouts that are urgently needed to help ease the record recessions caused by the virus.