Peru Stocks, Sol Plunge With Presidential Vote Too Close to Call
Peru's Presidential Runoff Is Too Close to Call, Exit Poll Shows
(Bloomberg) -- Peru's currency and stocks tumbled after incomplete results of Sunday's presidential runoff showed the leftist candidate gaining momentum even as he trailed by a thin margin in the count.
The sol headed to its biggest drop in more than a decade at one point and the S&P/BVL Peru General Index fell as much as 6.8%, the most since November, with mining companies and financial firms among the hardest hit. Overseas bonds edged lower in light trading while the cost to insure against a default climbed.
Analysts were left to scour incomplete vote tallies for hints at who had the advantage, after investor favorite Keiko Fujimori saw her early lead over leftist opponent Pedro Castillo fade overnight and in the early morning. With almost 93% of votes counted, Fujimori had 50.1% support to 49.9% for Castillo, a former school teacher turned union organizer from the Peruvian highlands.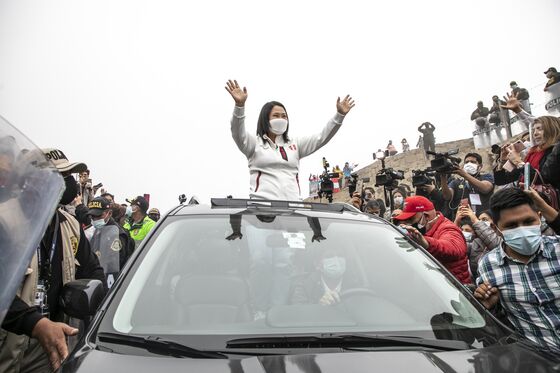 "The country is pretty much split down the middle," said Alfredo Torres, director of Ipsos Peru. An unofficial quick count published earlier by Ipsos gave Castillo a 0.4 percentage point advantage over Fujimori, within the margin of error, while an Ipsos exit poll after Sunday's voting showed Fujimori with a slight lead.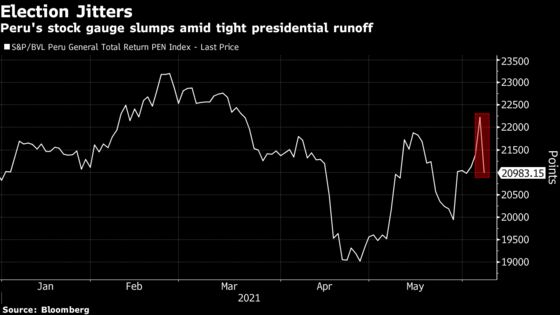 Fujimori, who is under investigation for corruption and campaigned while out on bail, gets more of her support from urban centers, while Castillo has the advantage in the countryside. She has vowed to save the country from "communism" by preserving a liberal economic model and boosting cash payments to families affected by the pandemic. The daughter of a jailed former president, it's her third attempt at the top office.
Castillo, who launched his political bid with a Marxist party and was virtually unknown at the start of the year, ran on a platform of extracting more taxes from multinational miners and oil drillers to increase outlays on education and health. He blames the country's inequality on the ruling elite whom he says have long been content to run Peru from Lima while ignoring swathes of the country.
He was scheduled to hold a news conference at noon New York time.
Peru's benchmark stock index fell 6.7% as of 11:41 a.m. in New York, with Volcan Compania Minera SAA and Credicorp Ltd. both down more than 12%. Dollar-denominated bonds due in 2031 lost about half a cent to 100.2 cents on the dollar. Five-year credit defaults swaps rose 5.3 basis points to 96 basis points. The sol tumbled 1.7% to 3.905 per dollar, a record closing low.
"Regardless of who wins, there will be outsized moves in Peruvian assets and investors don't want to be caught on the wrong side," said Brendan McKenna, a currency strategist at Wells Fargo in New York.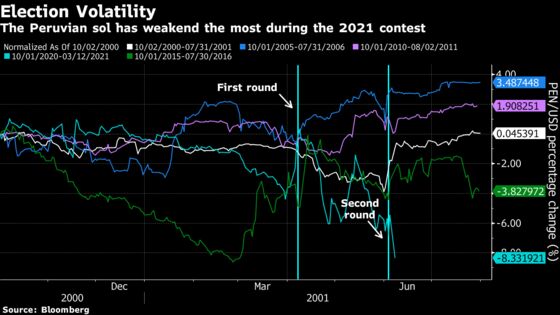 Castillo emerged the front-runner from April's first round after unexpectedly beating out a field of 17 other candidates, but he did so with less than 19% of the vote to Fujimori's score of just over 13%.
Peru's markets have swung wildly on the election, with a sell-off whenever Castillo gained in polls. The sol has weakened 6% since the first round, the biggest drop among major emerging markets over the period.
The tight runoff mirrors the last presidential election, in 2016, when Pedro Pablo Kuczynski eventually beat Fujimori by a narrow margin after days of uncertainty.
The class and geographic divide this time around was evident in Sunday's exit poll. Fujimori won the capital Lima and in northern coastal areas, while Castillo took the more rural Andean regions, including the mining districts of the south of the country.
"The country is divided ideologically into two blocs," Jorge Montoya, a congressman-elect for the conservative Popular Renovation Party, said in a TV interview on Sunday evening.
Castillo called on his supporters to be patient and wait for their votes to be counted. Fujimori also called for calm and said that whoever wins will have to seek to unite the country. Local TV showed clashes between rival supporters in Lima.
A country of 32 million people, Peru is struggling after suffering the world's highest death rate from the pandemic as well as a deeper economic slump than every other major economy in the Americas.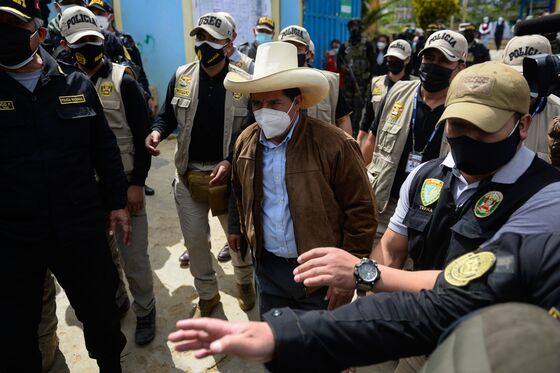 The nation has also endured a bout of political volatility and scandal over the last year. The next president, who is due to be sworn in July 28, will be Peru's fourth leader since November.
Castillo's top economic adviser, Pedro Francke, said this week that the candidate would pay the nation's debt, respect the central bank's autonomy and has no plans to nationalize Peru's mining sector. But many investors are skeptical. Fujimori has run her campaign by telling voters that Castillo will turn Peru into Hugo Chavez's Venezuela.
The campaign was roiled by violence when 16 people were massacred in a remote village by what authorities said was an offshoot of the Maoist guerrilla group Shining Path. Fujimori has called for a hard line on the movement, and polls before the election suggested her campaign got a boost from the incident.