Blinken Cuts Short Asia Trip Over Covid Case in Entourage
Person Traveling With Blinken Tests Covid Positive in Malaysia
(Bloomberg) -- U.S. Secretary of State Antony Blinken cut short a three-country trip to Southeast Asia and will return to Washington after a journalist traveling with him tested positive for Covid-19. 
The changes meant Blinken made only a brief logistical stop in Thailand rather than holding meetings there with Deputy Prime Minister Don Pramudwinai and other officials. He also canceled plans to meet with U.S. Indo-Pacific forces in Hawaii.
"I spoke today with Thai DPM Don Pramudwinai to express my regret at not being able to visit Bangkok this week," Blinken said in a tweet Wednesday. "I invited DPM Don to Washington at the earliest opportunity and noted that I would re-schedule my visit to Thailand, as we continue to build the U.S.-Thai Alliance."
Blinken and other senior staff have tested negative for Covid, State Department spokesman Ned Price said. The person who tested positive didn't participate in Blinken's events Wednesday in Kuala Lumpur, the U.S. embassy in Malaysia said in a statement.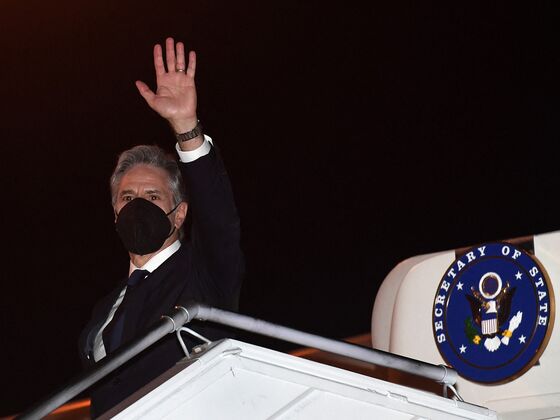 "We learned this morning, through our routine PCR testing, that a member of our traveling press pool tested positive for Covid-19 upon arrival in Kuala Lumpur," Price said. "The individual had last tested negative in Jakarta, our previous stop." 
Price said the decision to abbreviate the trip had been made "out of an abundance of caution." 
In addition to Blinken, all other senior staff also tested negative upon arrival in Kuala Lumpur, Price said. The journalist who tested positive stayed behind in Malaysia for quarantine.
In addition to Malaysia, Blinken visited the U.K. and Indonesia on his latest trip abroad, and was originally scheduled to return to Washington on Friday. 
The swing through Southeast Asia is part of the Biden administration's efforts to bolster alliances in the region and highlight contrasts with China. In a speech in Jakarta on Tuesday, Blinken criticized China's "aggressive actions" while underscoring U.S. efforts to deliver high-quality infrastructure and vaccines to the region.  
Earlier Wednesday, he also said the U.S. is exploring ways to pressure Myanmar's ruling junta, as civilian strife escalates in the Southeast Asian country. 
"It's important in weeks and months ahead to look at what steps we can take to pressure the regime, to put the country back on a democratic trajectory,"  Blinken said in a joint press appearance with Malaysian Foreign Minister Saifuddin Abdullah.
The junta ousted civilian leader Aung San Suu Kyi in a coup in February, sparking clashes between her supporters and the army. She was found guilty last week by a court for inciting dissent against the military and sentenced to two years in prison. 
Blinken also said that the U.S. is "actively looking" at whether the Myanmar government's actions toward the country's Muslim Rohingya minority should be labeled "genocide." A 2018 United Nations report said Myanmar's top generals should be investigated and prosecuted for committing genocide and war crimes against the minority population.