Pentagon Chief Defends $715 Billion Budget Aimed at China
Pentagon Chief Defends $715 Billion Budget Ask Aimed at China
(Bloomberg) -- Secretary of Defense Lloyd Austin said he's confident that President Joe Biden's $715 billion defense budget request is sufficient to meet the challenge of an "increasingly assertive" China, even as Republicans called it inadequate.
"The request is driven by our recognition that our competitors --especially China -- continue to advance their capabilities," Austin said Thursday during a Senate Armed Services Committee hearing on the Pentagon's fiscal 2022 defense authorization request. "We must out-pace those advances to remain a credible deterrent to conflict around the world."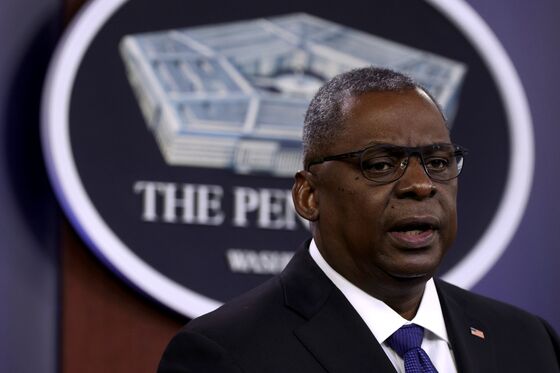 The proposed budget for the year starting Oct. 1 would be 1.6% more than the $704 billion enacted for this year but would amount to a decrease of about 0.4% in real terms adjusted for inflation.
Senate Republicans decried the budget request as insufficient. Senator James Inhofe of Oklahoma, the panel's top Republican, said the budget "forces today's military leaders to choose between being ready for today's fight and the fight of the future." Inhofe said he feared the efforts to deter China could fail. "We're not making hard choices. We're making bad choices and short-sighted choices," he said.
General Mark Milley, chairman of the Joint Chiefs of Staff, said that the combined total of Chinese and Russian military spending now outstrips that of the U.S. once unofficial totals are factored in, but didn't say how he reached that conclusion.
Milley described China as the "number one" military threat to the U.S. In response to the potential for an "accidental" conflict with China in a place like the South China Sea, Austin said he'd still support having a hot line, or direct means of communication, with the leadership of the People's Liberation Army.
Austin's testimony comes as the Biden administration begins to flesh out its China policy. On Wednesday, Austin issued a directive aimed at reorienting America's military to better compete with Beijing.
On Tuesday, the Senate passed an almost $250 billion bill to invest in manufacturing and technology in an effort to out-compete Beijing. The legislation authorizes $190 billion in spending, much of it aimed at increased research and development at universities and other institutions. It also authorizes an additional $52 billion in emergency outlays to help domestic manufacturers of semiconductors expand production.
Austin told lawmakers that the Pentagon supports a new sea-launched nuclear cruise missile. Both Austin and Milley said they weren't consulted on a memo written by the acting Navy secretary proposing to defund the missile, a move that has incensed Republican lawmakers. The weapon had been proposed by the Trump administration as part of its Nuclear Posture Review.
Austin said the proposed Pentagon budget also reflected Biden's decision to withdraw from Afghanistan by Sept. 11, nearly 20 years after U.S. forces first invaded to depose the Taliban and try to capture Osama Bin Laden.
"This is an important step in responsibly ending this two-decade-long conflict, and it offers us an opportunity to redirect our resources toward strategic competition," Austin said.
Biden's pledge to withdraw U.S. forces has drawn criticism from lawmakers from both parties who warn that the move could further destabilize the war-torn nation and provide an opening for terrorist groups. Austin said the U.S. is already capable of launching "over-the-horizon" operations in Afghanistan to protect against terrorist threats and that the Pentagon is looking to secure stationing capabilities in neighboring countries in order to shorten response times.
Asked about sexual assault, Milley said he would be open to a "significant" change in how the military prosecutes cases within the ranks. "We have not successfully moved the needle in resolving sexual assault," he said.
Senator Kirsten Gillibrand, a New York Democrat, for years has pushed for changes to how the military handles sexual assault cases. Her legislation, which has more than 60 co-sponsors, seeks to remove prosecuting all major crimes, including sexual assault, from the military chain of command. Milley said that while he is open to changes to sexual assault prosecutions, removing all serious crimes from the chain of command "requires some detailed study."
Taking a break early on from the hearing, the committee also advanced seven Biden administration picks for top Pentagon jobs, including the nomination of Frank Kendall to be secretary of the Air Force. Those nominations will now proceed to the full Senate for a floor vote.