Democrats Scale Back on Stimulus to Prod McConnell to Talk
Pelosi, Schumer Back Bipartisan Plan as Base for Stimulus Talks
(Bloomberg) -- Democrats are making a bid to break the standoff on a new stimulus package with House Speaker Nancy Pelosi and Senate Democratic leader Chuck Schumer scaling back demands on a relief plan, as President-elect Joe Biden urged Congress to find a bipartisan path forward.
Retreating from the $2.4 trillion pandemic relief package they had been pushing before the election, Pelosi and Schumer said a $908 billion proposal from a bipartisan group of lawmakers should serve as the baseline for negotiations with congressional Republicans and the White House.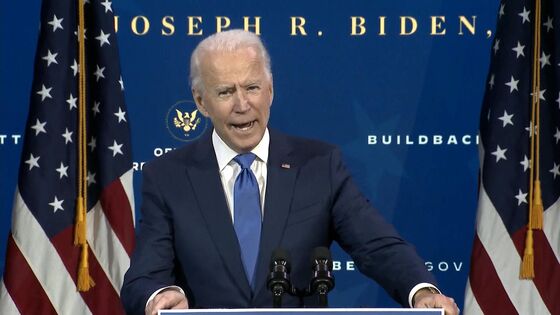 "We and others will offer improvements, but the need to act is immediate and we believe that with good-faith negotiations we could come to an agreement," the two Democratic leaders said in a statement.
The state of the economy, the fast emergence of coronavirus vaccines, pressure from party moderates and Biden's election all likely influenced the move by Pelosi and Schumer, which was the first real break by either side from long-held positions. The compromise plan would cover a shorter period of time than the leaders' earlier proposal, providing aid through the winter, with Democrats hoping the Biden administration will help pass another significant relief bill next year.
All that now puts pressure on Senate Majority Leader Mitch McConnell -- who has circulated a plan that largely followed the contours of an earlier roughly $500 billion proposal that was rejected by the Democrats -- to negotiate a deal that can be attached to a year-end spending bill.
Congress has a short window to act this year. And it's still not clear whether President Donald Trump would sign any relief measure beyond what McConnell has already proposed, despite previously endorsing a $2 trillion-plus stimulus. Both parties expect Biden to propose a bigger tranche of spending once he takes office on Jan. 20 as the pandemic continues threatening the recovery.
While some parts of the economy are doing well and various figures have showed continued improvement, many analysts are increasingly warning that growth will slow further or even deteriorate in coming months with the pandemic still causing shutdowns and impeding consumers. Initial filings for unemployment benefits have increased for two straight weeks, while restaurant reservations have cooled amid the virus spike and colder weather.
Biden on Wednesday encouraged bipartisan action on a stimulus, saying whatever relief plan that could get through Congress now "wouldn't be the answer but it would be immediate help." Speaking at an event in Delaware, he said whatever Congress passes would only be a "down payment" on what he'll be proposing.
Another stimulus package next year is hardly assured. Republicans will still control the Senate unless Democrats can pull off a longshot bid to win both Georgia Senate seats in a Jan. 5 runoff. Although there is a group of Republicans who would back more stimulus spending, there is also faction that sees no need for any additional stimulus and McConnell would control the chamber's agenda if he remains as majority leader.
McConnell didn't immediately respond to Schumer's and Pelosi's gambit, but the No. 2 Senate Republican, John Thune of South Dakota, said the Democrats were "moving in the right direction."
The White House was non-committal.
"We're supportive of Leader McConnell's efforts and continue to work with him on the best path forward to get more targeted coronavirus relief out to the American people," administration spokeswoman Sarah Matthews said in an email.
House Republican leader Kevin McCarthy on Thursday said he continues to back the McConnell plan. "We can do this in a systematic way to help those who need it" by deploying unused funds left over from previous congressional action, he said on Fox News. "I stand with Mitch McConnell and Mnuchin," he said when asked about a $908 billion versus a $500 billion package.
Before the November election, Pelosi had been under pressure from some swing-district Democrats to get some stimulus passed rather than hold out for the massive package the House backed in May. Her position has been weakened by the loss of at least nine Democratic seats in the election, giving Democrats a much narrower majority.
But a House Democratic aide associated with the moderate wing of the party said that Pelosi appeared to have acted without overt pressure from centrist members. She had been apprised of the work by the bipartisan group on a new proposal and they had emphasized that it would be an interim measure.
The $908 billion bipartisan plan is designed to produce benefits through March, giving a new deadline for Biden to work with next year for his own successor package, according to the aide, who spoke on condition of anonymity to discuss internal party deliberations.
The bipartisan proposal produced signs of cracks in GOP unity as McConnell attempted to produce a plan that all Senate Republicans would support. It had four GOP senators including Mitt Romney of Utah and Lisa Murkowski of Alaska working with a cluster of Democrats on a bill that could be introduced on Monday. At the same time, McConnell has struggled with defections of conservative Republicans who won't back any further stimulus at all or who want a very limited package.
Goldman Sachs Group Inc. is now penciling in $700 billion in fiscal measures by year-end -- "roughly halfway between the Republican proposal and the bipartisan proposal that Democratic leaders appear to be backing," the bank's analyst Alec Phillips wrote Wednesday.
Under the bipartisan proposal, small businesses would get a roughly $300 billion infusion for a version of the Paycheck Protection Program of forgivable loans and other aid, and state and local governments would get about $240 billion, including money for schools, according to three people familiar with the proposal.
An additional $180 billion would go to an extension of pandemic unemployment benefits, providing an added $300-a-week for four months.
The proposal doesn't include direct payments to individuals.
The compromise has the backing of the Problem Solvers, a 50-strong group of House Democrats and Republicans that had made another attempt at bridging the divide before Election Day.
"We are confident we can continue to build on this momentum and get a deal done quickly," Democrat Josh Gottheimer of New Jersey and Republican Tom Reed of New York, the co-heads of the group said in a statement.
House Majority Leader Steny Hoyer earlier Wednesday expressed optimism that a deal could be reached by the weekend, to set up votes by the middle of next week.
Over the next 10 days, Congress also has to deal with passing a $1.4 trillion annual spending bill to fund government operations. The U.S. government has been working under a stopgap measure since the fiscal year began on Oct. 1. That expires Dec. 11, and missing the deadline would trigger a partial government shutdown.