Europe in Line for Another Nationalist Leader as Jansa Gets Nod
(Bloomberg) -- Slovenian opposition leader Janez Jansa won a chance to form a new government, birthing a new nationalist administration in a region already struggling to control a surge in populism.
President Borut Pahor's nomination of Jansa as prime-minister designate torpedoes a plan to trigger early elections by former Premier Marjan Sarec. A former television comedian and mayor who blocked Jansa from power after 2018 elections, Sarec unexpectedly resigned last month in a failed tactical bid to win more seats in parliament.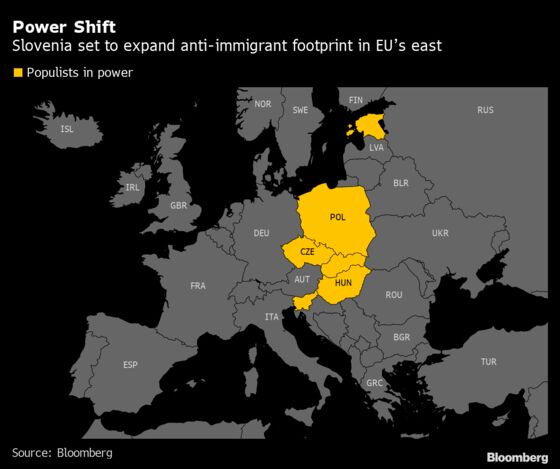 Jansa, an anti-immigrant ally of Hungarian leader Viktor Orban, instead convinced three parties, including two from the wreck of Sarec's coalition, to back him with a majority in the 90-seat assembly.
The move hands power to the party furthest to the right in the euro-area member and may strengthen ties with like-minded forces in neighbors Hungary, Italy and Austria.
"We have enough votes to form a majority coalition," Jansa said after meeting Pahor on Wednesday. Backed by the Modern Center Party, the New Slovenian party and Desus, Jansa is expected to face a confidence vote next week.
The move represents an about face from Sarec's governing allies. They shunned Jansa as a ruling partner after he won the most votes in the 2018 ballot because of his anti-immigrant and nationalist positions.
Among other goals, Jansa has pledged to tighten control of Slovenia's border and introduce housing benefits for parents with children in the Alpine nation of 2.1 million. He also said he would try to improve health care and address economic issues tied to Slovenia's ageing population.
His critics will also be watching his handling of the courts and the NATO member's intelligence apparatus.
"I expect the new government to be sworn in in March," Pahor said after meeting Jansa Wednesday. "I will neither support nor thwart the new government, but cooperate with it."
Slovenia may increase its support for Orban, under whom Hungary has clashed with the EU over its adherence to the rule of law. One of Jansa's most vocal sources of support is from right-wing Slovenian media that is financed by allies of the Hungarian leader.
Jansa remains Slovenia's most divisive political figure. In 2013 he was found guilty of taking a bribe in a military-procurement deal and given a two-year prison term that was later overturned by the Constitutional Court.
--With assistance from Zoe Schneeweiss.
To contact the reporter on this story: Jan Bratanic in Ljubljana at jbratanic@bloomberg.net
To contact the editors responsible for this story: Irina Vilcu at isavu@bloomberg.net, Michael Winfrey, Andrew Langley