Ocasio-Cortez Rallies Progressives to Push Biden for Bold Action
(Bloomberg) -- The newly expanded group of young progressive Democrats in the House, led by Representative Alexandria Ocasio-Cortez, is moving quickly to pressure President-elect Joe Biden for bold action on climate change, racial justice and other issues despite wariness among some in the party's establishment of moving too far, too quickly.
"We have champions, like Mondaire Jones, like Jamaal Bowman and Cori Bush, that are now being ushered into this new wave," Ocasio-Cortez said during the rally Thursday outside the Washington headquarters of the Democratic National Committee.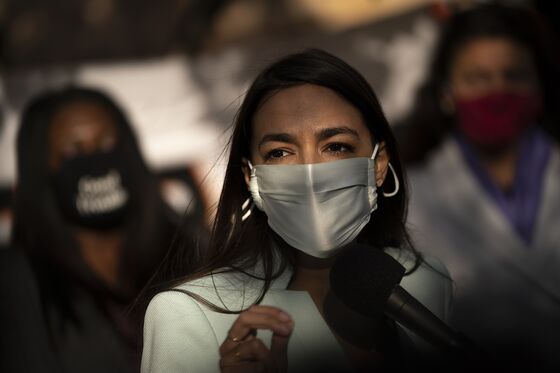 Ocasio-Cortez was referring to three progressives elected in November, replacing longtime Democratic incumbents. Jones and Bowman won in New York City, and Bush in St. Louis.
"They're not a flash in the pan, they're not a hot new thing," Ocasio-Cortez, of New York, said. "What it shows is a deep yearning for climate justice and environmental action in the United States of America."
Ocasio-Cortez has been the most visible and vocal members of the so-called Squad of four progressives who won election in 2018, who are now joined by Jones, Bowman and Bush. Yet their calls for sweeping actions from a Biden administration will run into the constraints imposed by Republican gains that narrowed the Democratic majority in the House. In addition, Democrats still are fighting for control of the Senate, with two Jan. 5 runoffs in Georgia to determine which party controls the chamber.
They also face opposition from more moderate Democrats from swing districts, some of whom have argued the high profile of a few progressive members gave Republicans an opening to portray the party's candidates as radical, leading to losses on Nov. 3.
Minnesota Representative Ilhan Omar, elected in 2018 and often referred to as a member of the Squad, acknowledged the intra-party conflict.
"Some of the leaders of the Democratic Party, or even some of our colleagues who are freshmen, talk about us getting back to basics," Omar said. "I was confused because what is more basic than fighting for clean water? What is more basic than fighting for a breathable planet?"
Jones indicated he's ready to work with Biden, even making reference to the slogan for the president-elect's economic plan.
"I'm excited to build back better and to pass the most robust ambitious climate proposal offered by any major party nominee for the presidency," Jones said.
Bush, the first Black woman elected to Congress from Missouri, said the nation must deal with environmental justice and how climate change disproportionately affects minority communities.
"When we don't act, people that look like me die," Bush said.
Climate change has been a signature issue for Ocasio-Cortez since she was first elected in 2018. She co-sponsored the Green New Deal, with Senator Ed Markey of Massachusetts in 2019. Markey also spoke at the rally.
The rally included groups such as the climate-focused Sunrise Movement that had backed Ocasio-Cortez and other progressive candidates. It recalled a similar effort in 2018 when they organized a protest at House Speaker Nancy Pelosi's Capitol office to demand Democrats act more decisively on climate issues.