Cuomo Praises Adams in NYC Mayor Race and Dismisses Rivals
New York City Voters Chart Post-Pandemic Course After Fractious Mayor Race
(Bloomberg) -- Governor Andrew Cuomo on Wednesday gave front-runner Eric Adams a vote of confidence in the ongoing Democratic primary for New York City mayor. The second- and third-place candidates, meanwhile, cautioned patience while the ranked-choice voting played out.
With nearly all precincts reporting Wednesday, Adams, who is the Brooklyn borough president, had almost 32% of the vote, followed by civil-rights lawyer Maya Wiley with 22% and former Sanitation Commissioner Kathryn Garcia with about 20%.
Due to ranked-choice voting and a large number of absentee ballots, a final result may take weeks, although come-from-behind wins are rare in the system.
Cuomo, who has clashed repeatedly with term-limited Mayor Bill de Blasio, praised Adams, a 60-year-old former police captain, as a competent politician. He said Adams is uniquely qualified to address the rising crime rate, which was the race's driving issue.
"Eric Adams's being a former police officer says ipso facto he has experience dealing with crime," Cuomo told reporters in New York City on Wednesday. "He knows the political system, because he's been borough president."
"He represented a combination of confidence in leadership and competence in management," Cuomo said, noting that he and Adams cooperated when Adams was a state senator.
The terms of New York mayors are often defined by their relationship with the state's chief executive in Albany. Governors wield great power in the nation's most populous city, holding sway over day-to-day municipal matters such as traffic congestion, economic development and the lifeblood subway system.
Cuomo's words of praise for Adams came after years of friction with de Blasio. The men repeatedly failed to coordinate policies and actions, hindering the response to the pandemic, which stormed the city early. They alternately sniped at and praised each other as circumstances dictated.
With Adams, "the relationship will be better by definition," Cuomo said Wednesday. "It's hard for me to work with an administration that is hyperpolitical and is incompetent."
The governor didn't mention Wiley and said he didn't know Garcia.
In the overwhelmingly Democratic city, the party's nominee is heavily favored to win the November general election. But Wiley and Garcia weren't ready to hand the nomination to Adams.
Adams is likely to increase his lead in first-choice votes when absentee ballots are included in the tallies. Of those returned to the Board of Elections by Tuesday, 46% came from state Assembly districts that Adams won, followed by 31% from districts Garcia won, according to data compiled by Bloomberg.
Just 12% of uncounted absentee votes came from districts Wiley won. And she faces another problem: Neighborhoods where her support is highest also have the lowest absentee ballot return rate, with just 30% arriving by Tuesday. To be counted, those ballots must have been postmarked by Tuesday and received within a week.
Wiley, who was backed by national progressives like Massachusetts Senator Elizabeth Warren and New York Representative Alexandria Ocasio-Cortez, said she would wait until every vote was counted.
"Folks showed up," she said. "We do know the ranking is going to matter."
"We know we can win; the voters will decide; we will wait patiently," she added.
A spokeswoman for Garcia, Annika Reno, said the former sanitation commissioner and de Blasio trouble-shooter had no plans to concede.
City Comptroller Scott Stringer, who received 5% of the unofficial vote count, dropped out of the race Wednesday, as did former Obama administration official Shaun Donovan, who garnered 2%. Former Democratic presidential candidate Andrew Yang, who was fourth in the pack of 13 candidates, conceded late Tuesday and dropped out. The retreat capped a remarkable tumble from front-runner to also-ran.
With the issue of police brutality driving much of the nation's policy agenda, Adams balanced his former career as a New York cop with his record of pushing for reform after being assaulted by an officer as a teen.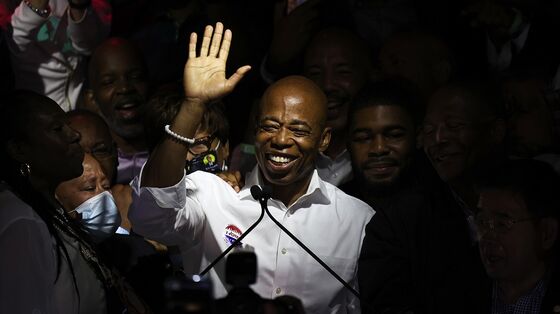 "My journey began on the floor of the 103rd Precinct when I was beaten," Adams said. "Now I'm going to be the mayor of this city."
Adams isn't the Democratic nominee yet. Despite a 9-point advantage over Wiley, he must survive subsequent vote counts to win.
Under New York's system, voters choose as many as five candidates. First-choice votes cast for last-place candidates are then redistributed to second choices and totals retallied until a single winner emerges. Next Tuesday, the city will announce the final two candidates. But even if one has a majority, there may be too many outstanding absentee ballots to declare a winner. So the votes will be counted again the following Tuesday, with the final results coming as late as July 12.
At 7 a.m. Wednesday, with nearly all the early and Election Day votes counted, the New York City Board of Elections had tallied 799,827 votes in the Democratic primary, according to unofficial results. Adams won 253,234 first-choice votes.
Republicans nominated Curtis Sliwa, founder of the red beret-wearing Guardian Angels, a crime-prevention group, over restaurateur Fernando Mateo.
If Adams prevails, he would be the second Black man to hold the mayor's office, following David Dinkins in the early 1990s. If Wiley, 57, or Garcia, 51, overtake Adams, the city would have its first female mayor.
Unofficial results show a city divided. First-choice votes showed Adams took a commanding lead in Staten Island, East Harlem, the Bronx and the outer regions of Brooklyn, the most populous borough, where he's been president since 2014.

Wiley ran strong in the inner regions of Brooklyn, as well as the wealthier parts of Queens. Garcia dominated in Manhattan, except in Chinatown and the Financial District, where Yang took the leading position in first-choice votes.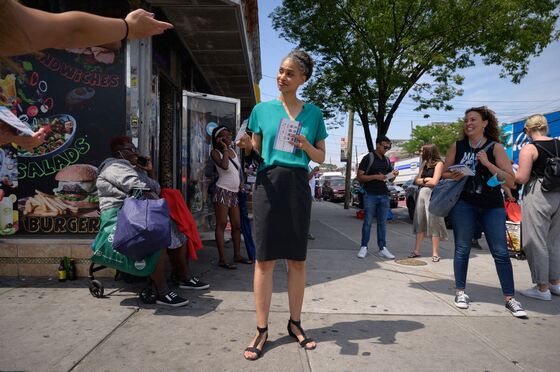 The crime debate shifted after a summer of pandemic and protests. A push for police reform in New York City that arose after George Floyd's murder gave way to concerns about shootings and violence. Crime on the whole is down, but shootings are up 64% in 2021 over the same period last year and hate crimes have more than doubled, according to New York Police Department statistics.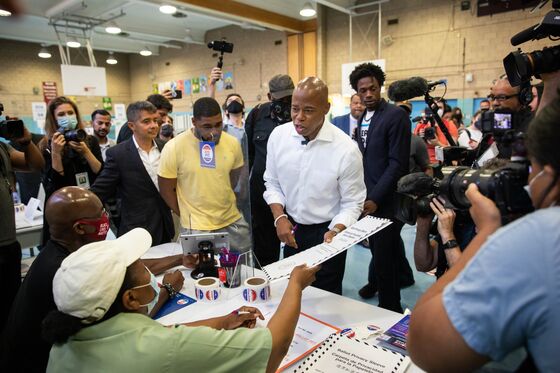 Despite national Democrats' opposition to tough-on-crime stances, Adams maintained that traditional policing was the solution. He backed a modified version of stop-and-frisk tactics that have disproportionately affected young Black men. He also said he would restore a plainclothes police unit assigned to confiscate illegal weapons that was disbanded after complaints that it used excessive force.
Wiley, former counsel to de Blasio, has suggested a cut of at least $1 billion from the police budget. She proposed reinvesting the money in communities and social services.
For more coverage
Follow TOPLive blog coverage of results in real time
Click here for scrolling election news
The mayoral primaries weren't the only races Tuesday. The city is using ranked choice balloting for elections for the mayor, city council members, borough presidents and city comptroller. Voters selected just one candidate for Manhattan district attorney, a state election.
With 90% of the precincts reporting Tuesday night, Brad Lander was leading the race for comptroller in the first round of counting with 31%, followed by City Council Speaker Corey Johnson.
For the Manhattan district attorney, former prosecutors Alvin Bragg and Tali Farhadian Weinstein were leading with all precincts reporting. Bragg had 34% and Farhadian Weinstein 31%, but the thousands of absentee ballots that remained outstanding meant the race was too close to call.