Mexico Threatened All U.S. Cooperation Over General's Arrest
(Bloomberg) -- Mexico threatened to cut cooperation with the U.S. after the surprise arrest of its former defense minister in Los Angeles, Foreign Minister Marcelo Ebrard said Thursday.
The U.S. violated a 1992 pact that all investigations on Mexican soil must be shared with the Latin American nation, Ebrard said at a press conference alongside President Andres Manuel Lopez Obrador.
"There are two paths. Either this violation of the accord that exists between us is repaired, or we put all cooperation off the table," Ebrard said.
"We just want mutual respect," Lopez Obrador added.
After Mexico's warning, the Justice Department asked for the dismissal of charges against General Salvador Cienfuegos, which included drug trafficking and money laundering. A federal judge in Brooklyn on Wednesday agreed to the charges being dropped.
Cienfuegos was sent back to Mexico hours later. The Mexican government told him he'll be investigated by local authorities, and allowed him to go home.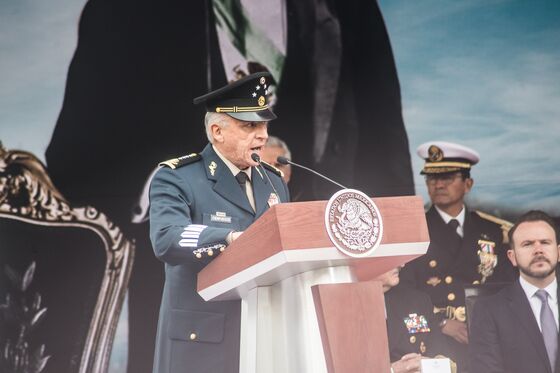 Lopez Obrador denied media reports that Mexico had threatened to expel Drug Enforcement Administration agents.
Mexico expressed dissatisfaction with both its relationship with the D.E.A. and the security partnership in general, said a person familiar with the discussion, asking not to be identified because the talks were private.
The U.S. was told it couldn't have it both ways, by asking for extraditions, and agents on the ground, and then running undercover operations behind the Mexican government's back, another person familiar with the conversations told Bloomberg News.
"This was an assault on Mexico's sovereignty," said Ignacio Morales, a former Mexican attorney general who oversaw the implementation of the 1992 pact, speaking in an interview. "If he is not judged in Mexico, it will be because the D.E.A. evidence was obtained illegally in Mexico by not informing and following the treaty."
The U.S. National Security Council and the Justice Department declined to comment on Wednesday evening.
In an unusual demand, Judge Carol Amon made Acting U.S. Attorney Seth DuCharme appear in court in person on Wednesday to explain the turnabout.
"There was a balancing, frankly, of interest," he told Amon. This involved "the United States' relationship with Mexico and with cooperative law enforcement efforts that touch upon this case, including public corruption," he said.
Mexico's justice system will now be put to the test. Historically, the vast majority of crime in Mexico goes unpunished, and there's a high chance that the Cienfuegos case goes nowhere, said Vanda Felbab Brown, an organized-crime expert at the Brookings Institution.
"There is a reason why the DOJ did not cooperate with Mexico: they didn't trust anyone on the other side," Felbab Brown said. "If you have complicity with drug trafficking how could you trust in these prosecutorial efforts?"
Cienfuegos was accused by the U.S. of helping the H2 drug cartel by targeting its rivals for military action and warning it of U.S. investigations, among other acts.
Prosecutors cited thousands of intercepted Blackberry messages to paint a picture of Cienfuegos, nicknamed "Padrino," or Godfather, as an all-powerful benefactor who made sure thousands of kilograms of methamphetamine, cocaine, heroin and marijuana made their way into U.S. cities.