AMLO Backs Banxico Inflation Fight Opposed by Two Appointees
(Bloomberg) -- Mexican President Andres Manuel Lopez Obrador said Wednesday he supported the central bank's recent efforts to control inflation, given their importance in helping the nation's poor.
"It's important that Banco de Mexico acts so there's control over inflation," Lopez Obrador said in response to a question by Bloomberg News at a daily press conference. If salaries and income rise, "but we don't have inflation under control, we don't increase purchasing power."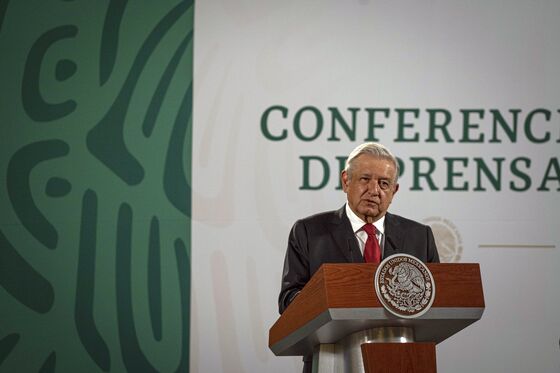 Mexico's central bank, known as Banxico, has raised its interest rate by a quarter point in two straight meetings as annual inflation runs at roughly double the official target. Policy makers had previously not delivered a borrowing cost increase since 2018. The five-member board was split in the last two decisions, with Lopez Obrador appointees Gerardo Esquivel and Galia Borja opposing the hikes. 
Lopez Obrador, known as AMLO, who came to power promising to fight poverty, said that despite the government's sharp increases in the minimum wage, the lowest earners still aren't able to buy a lot more goods due to high inflation.
He added that Banxico should take into account growth as well, having focused too exclusively on inflation "for a long time."
The president said he planned to ask Mexico's central bank for a $12 billion windfall paid out by the International Monetary Fund. Central bank Governor Alejandro Diaz de Leon told Bloomberg News last week that the government would have to buy the funds from the bank's dollar reserves. AMLO said the returns on the funds given to Banxico would be a fraction of what the government pays on its national debt, which argues in favor of using the funds to pre-pay government obligations. 
He was critical of Esquivel and other economists who'd said that AMLO's proposal to use the funds to pay off national debt wasn't possible under Mexican law. AMLO said employees of the central bank should remember they're "public servants, not employees of financial institutions" and that money in reserves belongs to the nation. 
Three members of the board have been been selected by AMLO, and with his nomination of Arturo Herrera as governor starting in 2022, there have been questions raised about the continued autonomy of the bank. Even so, some economists doubt AMLO's rhetoric could force the bank to assist in debt-reduction.
"It's good that a populist government wants to keep fiscal accounts in check and reduce debt," said Joan Enric Domene Camacho, senior economist for Latin America at Oxford Economics. "Banxico is unlikely to do anything to allow for additional repayment of debt, because that's not within Banxico's objectives. At the end of the day, this comes to Banxico's independence. It is very independent. Its only objective is to keep inflation close to 3%."