Merkel Sees Strong Economic Rebound If Covid Variants Contained
Merkel Sees Strong Economic Rebound If Covid Variants Contained
(Bloomberg) -- Chancellor Angela Merkel said Germany is on track for a strong recovery from the coronavirus pandemic but warned that new strains of the disease remain a risk.
"The economic and labor forecasts for the future are good, business sentiment shows a positive trend, and we're looking at vigorous growth," Merkel said on Wednesday in a speech to parliament in Berlin.
Despite the progress, she said it was important for Germany to push ahead with vaccinations to protect against the risks posed by the delta variant, noting rising Covid-19 infections in countries such as Russia and Portugal.
Germany has been unwinding pandemic restrictions as infection rates fall and vaccinations increase, reinvigorating Europe's largest economy. As of Wednesday, the country had 7.2 cases per 100,000 people over the past seven days, compared with a peak in late April of nearly 170.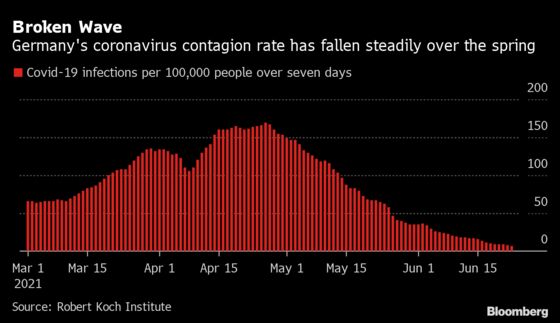 "Even if the third wave has been impressively broken, the pandemic isn't over, and we're still treading on thin ice," Merkel said. "The key to overcoming the pandemic is immunizations."
More than half of Germany's residents have received at least one dose of a coronavirus vaccine. She repeated that all Germans will be offered at least an initial shot by the end of the summer, but conceded that not all would get themselves inoculated. A percentage of around 80% would "not be so bad" or perhaps 85%, she said.
Germany needs to play a role in supporting the rollout of Covid-19 vaccines to countries around the world, Merkel said. Otherwise, new strains risk could revive outbreaks.
"We must expect different variants to emerge as long as the whole global population isn't vaccinated," the chancellor said in one of her last appearances in the Bundestag before Germany votes for her successor in September.