Merkel Seals $145 Billion Stimulus to Lift Battered Economy
Merkel secured a stimulus package to help the German economy recover from the coronavirus crisis.
(Bloomberg) -- Chancellor Angela Merkel's coalition agreed on a sweeping 130 billion-euro ($145 billion) stimulus package designed to spur short-term consumer spending and get businesses investing again.
The wide-ranging plan to lift Germany out of the crisis unleashed by the coronavirus exceeded the top end of expectations by 30%. Alongside an immediate jolt from a temporary reduction in value-added tax, coalition officials allocated money to build out 5G data networks, improve railways and double incentives for electric vehicles.
In one of the most contentious issues in the talks, the auto industry fell short of its goal of getting direct government support for purchases of conventional cars, as Merkel sent a signal that she intends to take a longer term view in fostering a recovery of Europe's largest economy.
"We couldn't just set out a stimulus package that was done in the traditional sense," Merkel told reporters late Wednesday in Berlin. "It had to be a package of measures that contained a view to the future. And this is precisely what we have emphasized."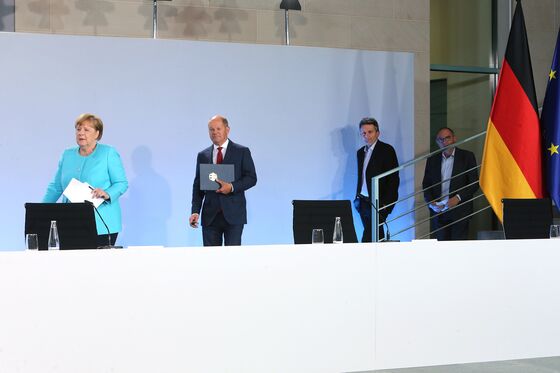 Following an initial shot of stimulus in March, Merkel's administration vowed to spend whatever it takes to get the country growing again. Including programs to guarantee company liquidity, Germany has made more than 1.3 trillion euros available -- the most in the European Union by far. Still, the efforts couldn't prevent unemployment rising in May to the highest level since late 2015.
"It's big, it's bold, but let's face it, that's what's needed," Simon Wells, HSBC's chief European economist, said in an interview with Bloomberg Television. Christian Schulz, an economist at Citigroup Inc. in Frankfurt, said the tax cut in particular was "a big and welcome surprise to us."
"The idea is that households bring forward some spending on discretionary items, which then sets off a virtuous cycle of rising demand feeding on itself," Schulz wrote in a note to clients.
After tense negotiations over two days, the chancellor overcame an impasse in the governing parties to broker a deal, which covers programs running through 2021.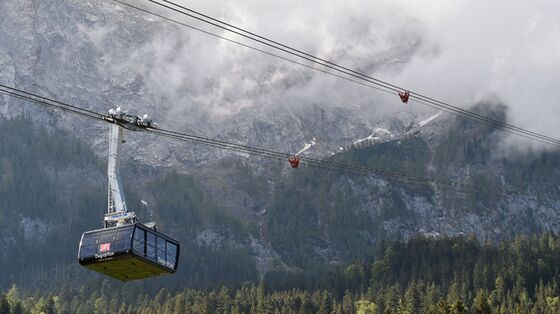 The euro briefly extended its advance after Bloomberg first reported the agreement Wednesday, reaching an almost 12-week high of $1.1257, before paring its gains.
Bunds extended their decline Thursday, taking the rise in yield on 10-year bonds this week to about 10 basis points. Not only are they headed for their biggest five-day drop since March, they're also on course to stretch their weekly losses to the longest run since 2018.
Virus Recovery
Highlights of New Stimulus Plan
Value-added tax cut to 16% from 19% through the end of 2020 at a cost of 20 billion euros
Bridge financing for small and medium-sized businesses of as much as 25 billion euros
Accelerate 10 billion euros in investment in digital, security and defense projects
Tax incentives for corporate investment, impacting government revenue 6 billion euros
5.9 billion euros in aid for municipalities
Bonus of 300 euros per child, totaling 4.3 billion euros
Rescue Package (agreed in March)
156 billion euros in new borrowing to finance higher social spending and a 50 billion-euro liquidity fund for self-employed people
600 billion-euro rescue fund, including: 100 billion euros to buy stakes in stricken companies, loans through state-run development bank KfW and 400 billion euros in guarantees
KfW has extra 500 billion euros available to boost liquidity of German companies
After a brief period of unity at the height of the pandemic, party differences waylayed efforts to revive Germany's faltering economy. Merkel's Christian Democrat-led bloc was keen to limit the amount of new debt and get businesses investing again, while the Social Democrats were pushing for higher spending and measures focusing on workers and families.
The latest stimulus package could represent the last major spending initiative before elections late next year, meaning stakes for the ruling parties were high.
Finance Minister Olaf Scholz said Germany's frugal budget policy in recent years means it can afford to spend big now and promised that the government will work to reduce debt back below 60% of gross domestic product from an expected increase to around 80%.
"We all have to ensure that the economy quickly starts growing again," Scholz, a Social Democrat who is also vice chancellor, said Thursday in an interview with ZDF television.
"If we suffer a long-lasting depression, which lasts for 10 years then we have a problem," he added. "But if output returns to pre-crisis levels at the end of next year or at the beginning of the following year then we have a good chance to generate the revenues we need to pay for it."
The package is part of a deeper shift by Merkel. In the final phase of her political career, the chancellor is looking to take a more activist approach to managing Germany's economy.
The first step is to pull Germany out of deep recession. Weeks of stringent restrictions to contain the virus hurt demand for everything from Volkswagen cars to Adidas shoes and prompted the landmark 9 billion-euro bailout of Deutsche Lufthansa AG. The economy is expected to contract by more than 6% this year, which would be a more severe contraction than during the financial crisis.
"We have tried to do the best we can in a very, very difficult situation," Merkel said.