With Cops Shot, Gun Violence Top Priority for New Manhattan D.A.
(Bloomberg) -- Hours before gunfire in Harlem left one police officer dead and another fighting for his life, Manhattan District Attorney Alvin Bragg said addressing gun violence is his top priority as shootings soar.
The death of the 22-year-old officer, who was responding to a domestic dispute, comes two weeks after a teenager was murdered working the night shift at an East Harlem Burger King. The violence has drawn outcry from residents of New York's densest borough -- where shooting incidents have doubled from a year prior -- and scrutiny of Bragg's approach to public safety.
Bragg, who has been under pressure over a memo he issued forswearing prosecutions of certain crimes, said street crime will be a top priority for his office, especially shootings. He said he hopes to use gun-tracing technologies and go after the "drivers" of violence.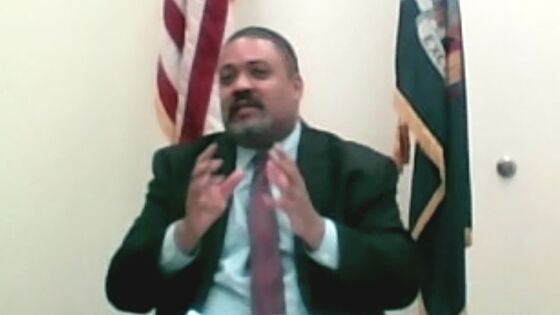 "We have a real crisis going on with guns, particularly in the upper part of Manhattan, that is really destabilizing communities," Bragg said in an interview Friday with Bloomberg Television's "Balance of Power With David Westin."
There have been 13 shootings in Manhattan so far this year, compared to seven during the same period in 2021, according to New York Police Department statistics. Among the most shocking of those was the murder of 19-year-old Burger King clerk Kristal Bayron-Nieves in an apparent botched robbery. The shootings of the officers Friday were two of several that have occurred citywide in 2022.
Bragg, 48, sought to strike a different tone on Friday than the memo he released days after his Jan. 1 inauguration. In that memo, he set new guidelines for his office's prosecutors, who were instructed not to bring charges that stem from incidents like low-level drug arrests or fare evasion and to prioritize alternatives to pretrial incarceration by limiting the use of cash bail.
Though he pledged to take such steps during his campaign, the memo resulted in sharp criticism, including from New York Police Commissioner Keechant Sewell, the first Black woman to hold that job. Many noted that resisting arrest was among the crimes that would no longer prosecuted.
On Friday Bragg said he was talking about a "narrow area" of cases where resisting arrest was charged alone and not along with assault, for example. 
"Violence against police officers is never going to be tolerated," he said. "Anyone who tries to punch or kick or otherwise harm an officer is going to be held accountable." 
Bragg also said he would expand resources devoted to hate crimes and domestic violence, which he said has been on the rise during the pandemic. The hate crime unit has "great leadership" but is very small and needs to be expanded and must partner with local communities, he said.
"What I've heard as I've traveled throughout Manhattan is that there's a reluctance to come forward to law enforcement from some communities, and some people are more willing to go forward through a community group," Bragg said. "We are both focusing on building cases and prosecuting cases and also mindful that we might not be hearing about everything that we want to be, so strengthening our community ties as well."
Though he was far from the most progressive candidate in the Democratic primary for district attorney, Bragg's push to downgrade crimes has led to comparisons to his counterparts in Philadelphia and San Francisco. Critics says progressive prosecutors in those cities have driven a spike in crime rates.
Bragg rejected the comparison in an interview with Bloomberg editors and reporters. "I resist the notion of that kind of painting with a broad stroke," he said. "New York state is different, and my background is different" from Philadelphia's Larry Krasner and San Francisco's Chesa Boudin, both of whom had been public defenders before running for district attorney.
"I'm a career prosecutor here," said Bragg. "I've spent the last 20 years focused on public safety."
At the same time, Bragg said the system, as it functions now, doesn't seem to be fair. "I am deeply concerned about the racial disparities," he said. "What we're doing right now is not working."
Bragg said he and Mayor Eric Adams are regularly in touch and have both talked about their "similar trajectories" as Black men who experienced issues with law enforcement in their youths and made it their careers. 
The new district attorney grew up in Harlem and during his campaign he promised that he would address some of the racial imbalances of law enforcement in New York City, where the majority of people arrested and charged with low-level crimes are Black. He also pledged to hold police officers accountable for misconduct. Just prior to taking office, Bragg worked as a lawyer on behalf of the family of Eric Garner, who died in 2014 when a NYPD officer held him in a choke hold.
Bragg inherited a tax-fraud prosecution of former President Donald Trump's company and its longtime chief financial officer, who have pleaded not guilty. If the case broadens, Trump himself could be charged. 
"I'm not going to deny that it's certainly consequential," Bragg said of the case. "I'm not aware of this type of investigation in the history of the country, so I am mindful of that. I'm not a stranger to high-profile, complicated white collar investigations."
As a Manhattan federal prosecutor, Bragg helped win convictions of various public officials in New York. And as a deputy to former New York Attorney General Eric Schneiderman, Bragg worked on the office's investigation of the Trump Foundation, which was eventually shut down.
"I feel very prepared to handle complex high-profile, white collar investigations and give them the care and attention that they need," he said. "Ultimately, you follow the facts where they take you. That's what I'm going to do here."
Asked whether it's sensible to devote significant resources to the Trump probe, Bragg said his office is "adjusting our resources within our white collar enforcement. 
"So we're still able to do what we can. And as I said, some areas, street crimes, given everything that's going on, public safety is our priority," Bragg said. "We've got a history of doing white-collar crime enforcement, so therefore, we've got personnel and a structure around that.
"This is a case that's consequential and will take some resources, calling from other white collar enforcement, looking at our priorities. As you know I'm relatively new to office and so I'm not in any way prejudging that investigation and obviously we're gonna follow the facts when they go."