Lula Says Zelenskiy, Biden Share Blame for Russia War on Ukraine
Lula Says Zelensky, Biden Share Blame for Putin's War on Ukraine
(Bloomberg) -- Brazil's presidential front-runner Luiz Inacio Lula da Silva said Ukraine's Volodymyr Zelenskiy shares part of the blame for Russia's invasion of his country as he believes the leader failed to negotiate more with Moscow.
"This guy is as responsible as Putin for the war," Lula told Time magazine in an interview published on Wednesday. "The president of Ukraine could have said: 'Come on, let's stop talking about this NATO business, about joining the EU for a while. Let's discuss a bit more first.'"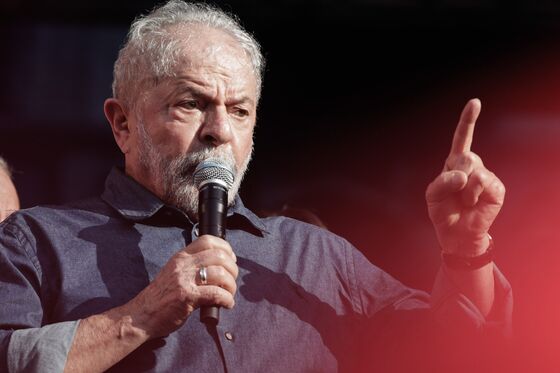 Lula, 76, also took aim at Western leaders for failing to prevent the war in Eastern Europe, including U.S.'s Joe Biden, who he believes "could have taken a plane to Moscow to talk" to Vladimir Putin. The Russian president spent months amassing troops along the Ukraine border before launching an invasion. 
"The United States has a lot of political clout. And Biden could have avoided [the war], not incited it," he said.
The U.S. State Department didn't immediately respond to a request for comment.
Russia attacked Ukraine on Feb. 24, starting an invasion that has resulted in several shelled cities and accusations of war crimes against civilians. Members of the North Atlantic Treaty Organization have condemned Putin's actions, sent weapons to Kyiv, and imposed major economic sanctions on Moscow. 
Lula said he believes such sanctions are only making things worse as they have a negative impact on the entire world. "Now we are going to have to foot the bill because of the war on Ukraine," he said. "You're not punishing Putin. You're punishing many different countries, you're punishing mankind."
Brazil's leftist leader and two-term former president has seen his lead over incumbent Jair Bolsonaro narrowing ahead of October's election after a series of controversial comments he made about hot-button issues, including criticizing the middle class and the illegality of abortion. Bolsonaro has also benefited from other less popular candidates dropping out of the race.
In the interview with Time magazine, Lula declined to give an indication of what policies he would adopt to boost Brazil's lackluster growth and fight inflation that's running above 11%.
"I am the only candidate people should not be concerned about," he said. "Because I've been a president twice already. We don't discuss economic policies before winning the elections. First, you have to win the elections."
Lula also dismissed the idea to pivot away from oil, as suggested by other Latin American leaders, including Chile's recently elected President Gabriel Boric and Colombia's presidential front-runner Gustavo Petro.
"No, as long as you don't have alternative energy, you will continue to use the energy that you have."