Law-Breaking Boris Johnson May Survive to Fight New Election
Law-Breaking Boris Johnson May Survive to Fight Next Election
(Bloomberg) -- Boris Johnson appears on track to lead his Conservative Party into the next general election despite becoming the first sitting U.K. prime minister found to have broken the law.
People within Johnson's ruling Tories and the main opposition Labour Party are starting to assume that the prime minister will be running for a second term as they prepare for a vote due in two years' time.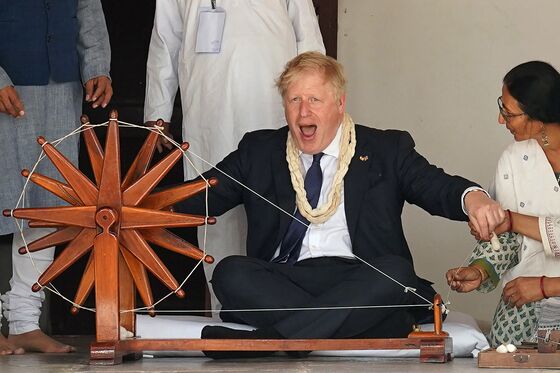 It's a dramatic turnaround for Johnson, who just weeks ago was battling to save his job as allegations of pandemic rule-breaking parties in Downing Street emerged. The scandal came with Tories already frustrated at Johnson's botched handling of an ethics row and support for the party plummeting.
Johnson survived then because Conservative Members of Parliament heeded his request for them to wait for the police findings on what the British media have dubbed "partygate." The consensus was that Johnson would face a leadership challenge if found to have broken laws his own government had set.
But Russia's war in Ukraine has shifted Tory thinking about changing leader. Despite a humiliating parliamentary session on Tuesday in which he was forced to repeatedly apologize for breaking the law, Johnson has emerged intact.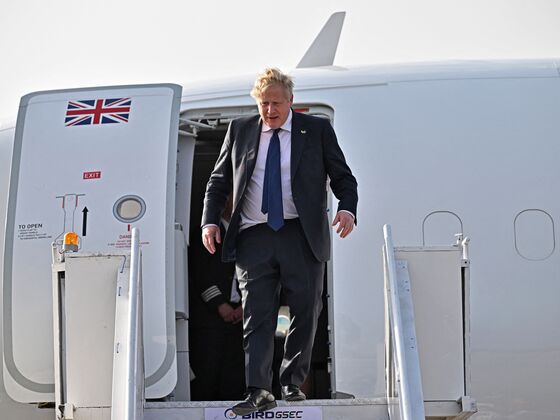 The coming weeks could still be critical, especially if the Tories perform badly in local elections on May 5, or if more damaging allegations emerge. One MP predicted the prime minister will be in trouble come early summer.
Still, half a dozen MPs spoke of the realization that the party is not about to change leader, given the backdrop of the Ukraine crisis, a domestic squeeze on living standards, and the slumping popularity of Chancellor of the Exchequer Rishi Sunak -- who had been widely viewed as the favorite to replace Johnson.
Johnson himself told reporters on a flight to India last night that he intends to lead his party into the next election, according to Sky News. 
While many Conservative MPs remain unhappy with the prime minister, their political calculus is shifting as they consider who will give them the best chance of retaining their jobs at the next election.
Johnson was generally well-received addressing rank-and-file Conservatives later on Tuesday, according to people who were in the private meeting.
Even long-term critic Aaron Bell, who had called the premier's position "untenable" in February, merely asked Johnson for reassurance that the birthday party police fined him for attending had "really" been a work event. "Yes," Johnson replied, according to two people familiar with the matter.
Earlier in Parliament, Steve Baker -- a thorn in the side of successive Tory leaders who frequently criticized Johnson's administration over its pandemic response -- also surprised colleagues by urging forgiveness. The only thing he asked for was an assurance that the premier would not err again.
Conservative MPs who spoke to Bloomberg said given Johnson's colorful career, there's little likelihood he'll avoid future setbacks. Nobody is ruling out the prospect of future fines emerging from the police probe into a dozen gatherings in government buildings.
Yet they also calculate that if the prime minister is going nowhere, criticizing the face of the Conservative Party's next election campaign will damage their own hopes of holding on to their seats.
It's a significant gamble. "Partygate" has been disastrous for the Tories in polls so MPs like Baker, who is defending a majority of 4,214 votes in High Wycombe, will be hoping there's enough time for Johnson to shift the narrative.
Meanwhile Labour strategists plan to use voters' anger over "partygate" against the Tories both next month and as attention shifts to the next national vote due in 2024, when they expect Johnson will still be in charge.
"This is a prime minister who is not fit to run a bath, never mind this country," Labour MP Ruth Jones said during the weekly Prime Minister's Questions in the House of Commons on Wednesday.
Labour will seek to embarrass Johnson again on Thursday by trying to persuade MPs to refer him to Parliament's standards committee once the police inquiry is finished. With a working majority of 75 seats, though, the prime minister knows he is unlikely to lose. 
The focus will instead be on how many Tories abstain, indicating their dissatisfaction with the party leader. Some Conservative rebels are digging in, including Nigel Mills and Mark Harper, who said Tuesday Johnson is not "worthy" to be prime minister.
Still, the view of some of Harper's colleagues is that his comment highlighted how removed he is from the majority of Conservative MPs, who grumble in private but stop short of challenging Johnson publicly.