Kim Jong Un's Sister Takes Bigger Role in Threats to South Korea
Kim Yo Jong emerges as the face of a new pressure campaign against South Korea.
(Bloomberg) -- Siblings of North Korean leaders have been more likely to disappear than be extolled on the front pages of state media. That is, until Kim Yo Jong emerged as the face of a new pressure campaign against South Korea.
On Saturday, Kim Jong Un's younger sister issued an unusual statement saying that it was "high time" to break ties with South Korea. She said that the next action against the "enemy" would come from the army, raising memories of a decade ago, when North Korea shelled a South Korean island, killing four, and was suspected of torpedoing the South Korean warship, killing 46 sailors.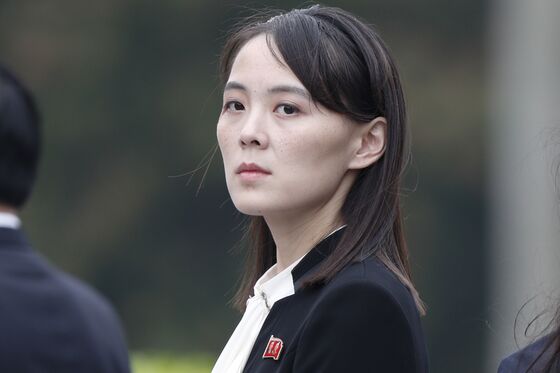 The decision to elevate Kim Yo Jong, who the U.S. Treasury Department says is 30, lets the outside world know she's the favorite to continue the family bloodline should anything happen to her brother. The move also reminds South Korea that the Kim regime sees inter-Korean relations as a personal matter, warning President Moon Jae-in of dire consequences it he doesn't help ease sanctions battering its economy.
"North Korea is attempting to change South Korea's policy through intimidation," said Chun Yungwoo, Seoul's former top envoy to international nuclear-disarmament talks with North Korea. "Kim Yo Jong is the second-most powerful person in North Korea by virtue of her bloodline, and as the most-trusted confidante of her brother," said Chun, one of the few people who has helped negotiate a nuclear deal with Pyongyang.
The geopolitical gambit is fraught with risk for Kim Yo Jong. Kim Jong Un has turned on his family before, ordering the execution of his uncle and one-time deputy, Jang Song Thaek in 2013 after he helped Kim take over as leader.
For now, Kim Yo Jong's continued rise demonstrates that she has the deep trust of her brother. She has been by his side at summits with U.S. President Donald Trump and Chinese President Xi Jinping and in 2018 became the first immediate member of the ruling family to visit Seoul.
When Kim Jong Un's three-week disappearance this April prompted questions about his health, Kim Yo Jong was the person most often cited to succeed him. Rather than fade into the background, she has since become the main face of North Korea's strategy toward South Korea.
This month, state media identified her as first vice department director of the Central Committee for the ruling Workers' Party. In her messages to Seoul, Kim Yo Jong has alternated between calls for unity and announcing that communications links were being cut.
North Korea appears to be hoping that it can pressure Moon to make good on his promises for rapprochement after April elections gave his Democratic Party a supermajority in the National Assembly. That would mean breaking from the U.S.-led sanctions campaign aimed at forcing the Kim regime to give up its nuclear weapons.
Moon has sought to de-escalate, agreeing to Kim Yo Jong's demand that he block groups from sending anti-Kim leaflets by balloon across the border. On Monday, Moon urged North Korea not to cut off communication or create tension that would set back relations, pledging that Seoul would "make its best efforts" to continue a dialogue.
"North Korea may ramp up its military provocations," said Yoon Sang-hyun, an opposition member of parliament and a former chairman of its foreign affairs committee. "We need to be extra careful. We shouldn't give them any reason that may justify their provocations."
North Korea gave a hint of some of what it had in mind when it threatened on Tuesday to send troops back into the demilitarized zone buffer that divides the peninsula if it sees the situation between the neighbors worsening.
Choosing woman to deliver such a pointed message is notable for the Kim family, which has ruled the male-dominated society since the 1940s. Kim Yo Jong has become the highest-ranking female member of the family, and a rare sibling allowed to stay in a prominent position or even get mentioned in state media.
Kim Jong Un has also been accused of ordering the murder of his older half-brother and his most serious rival, Kim Jong Nam, in 2017. Former leader Kim Jong Il's brother was found drowned when they were children and his half-brother was effectively exiled for decades.
Still, Kim Jong Un and Kim Yo Jong spent much of their youth together. They were sent abroad to study in Switzerland at the same time and both lived at a sealed-off family compound in the coastal North Korean area of Wonsan.
Kim Yo Jong's clout has been on global display since Kim Jong Un began his unprecedented diplomatic push in 2018. In March of this year, she responded to a letter from Trump offering assistance to fight Covid-19, saying the U.S. president's "close relations" with her brother weren't enough to settle differences between the longstanding enemies.
"We all knew she was more than Kim Jong Un's sister and that she was involved in party policies, but this is the first time North Korea unveiled her exact portfolio," said Rachel Minyoung Lee, a former analyst for the U.S. government specializing in North Korea. "North Korea said she is in charge of South Korea affairs, and that seems to have been intended to lend more authority to North Korea's policy to its neighbor and the steps it is taking."
Get Your
Daily Newsletter
Get market moving news, top news & compelling perspectives
---