Boris Johnson's Poll Gamble Just Got a $199 Million Vote of Confidence
Boris Johnson's Poll Gamble Just Got a $199 Million Vote of Confidence
ETF investors in the largest fund targeting U.K. small caps are sending bullish signals on the nation's economic path ahead of an expected election victory for Prime Minister Boris Johnson this week.
More than 151 million pounds ($199 million) has flowed into BlackRock Inc.'s iShares MSCI UK Small Cap UCITS ETF in the past three weeks, setting it on course for a record December. Assets in the 343 million-pound product have swelled by more than half this month.
The bumper inflows are seen as a sign of confidence that a Tory government would benefit U.K. business through fiscal stimulus and a deal on Brexit. That's even as a key opinion poll shows a narrowing lead for the Conservative Party in the Thursday vote.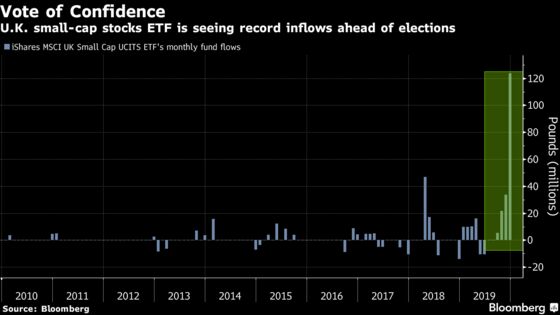 The inflows are a "play on enhanced forward growth prospects aligned with a Conservative majority and Brexit's relative clarity," said Chris Bailey, a European strategist at Raymond James in London. "I sense some investors have been closing underweights and it does not take much liquidity to move small caps."
The pound and U.K. stocks have advanced on the back of rising global risk appetite and optimism that the country won't crash out of the European Union. Johnson has pledged to deliver Brexit by Jan. 31 and strike a trade agreement with the EU by the end of 2020. His Labour opponent Jeremy Corbyn is pitching left-wing policies including higher corporate taxes and nationalization.
Many investors have missed the recovery in U.K. stocks. The iShares ETF has surged a whopping 23% this year thanks in part to holding larger companies than those included in the comparable FTSE gauge.
British small caps are "due some catch up, which is happening rapidly now as valuations move towards historic relative norms due to the improving political clarity," said Roger Jones, head of equities at London and Capital Asset Management Ltd.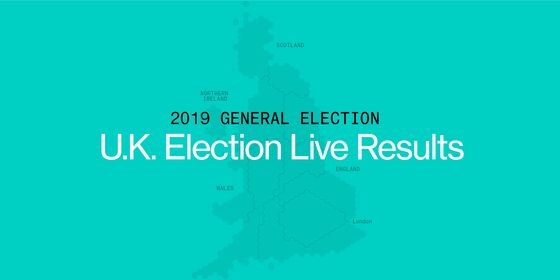 To contact the reporter on this story: Ksenia Galouchko in London at kgalouchko1@bloomberg.net
To contact the editors responsible for this story: Blaise Robinson at brobinson58@bloomberg.net, Yakob Peterseil, Sid Verma